ICON 2003 – 2013 RAM 2500/3500 4WD 3-5? COILOVER CONVERSION SYSTEMS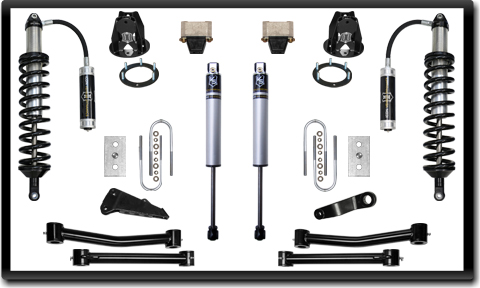 The 2003-2013 RAM 2500 / 3500 chassis is a solid foundation that makes for a competent heavy-duty work truck or a tough weekend warrior that's able to take some serious off-road abuse. While these heavy-duty RAM trucks perform quite well off the lot, ICON Vehicle Dynamics engineers have spent a significant amount of time at the drawing board developing suspension systems to extract higher levels of performance. ICON's new 3-5" Coilover Conversion Systems address the issue of a lack of adjustment in OEM components that may force RAM owners to set up their trucks for one situation or another. For example, maximum wheel travel and comfort may be experienced at a particular ride height, but when a winch setup or a snow plow is outfitted to the truck the front end is susceptible to a loss in height or ride quality. With the features of the ICON Coilover Conversion System, RAM owners can now make a simple change to the coil adjuster to acquire the look and performance they desire without adding parts or sacrificing ride quality.
The RAM Coilover Conversion System has been tested and tuned to offer comfort, stability, and drivability over a wide range of terrains. 2.5" remote reservoir coilover shocks provide exceptional ride characteristics while tubular steel or billet aluminum link arms add strength and decrease bushing bind. ICON offers several staged systems that include upgraded components and additional features along with all parts required for a straightforward install. ICON's unique CDC (Compression Damping Control) Valve can be incorporated into the RAM Coilover Conversion System for the ultimate in adjustability and user-defined tuning.
Key Features:
Made in the USA
Adjustable ride height 3-5″ lift height
Increased ride quality over stock with no change in towing capacity
Decreased body roll
ICON engineered 2.5 coilover shocks with Eibach coils
Corrosion-resistant CAD plated shock body
7/8 polished NitroSteel® shaft
Remote reservoir for consistent damping at extreme temperatures
Tubular steel upper and lower links feature dual rate bushing assemblies
Correctly positioned steering and track bar components
No drive shaft modifications needed