TEAM ICON | LOORRS RD.1, RD.2 RECAP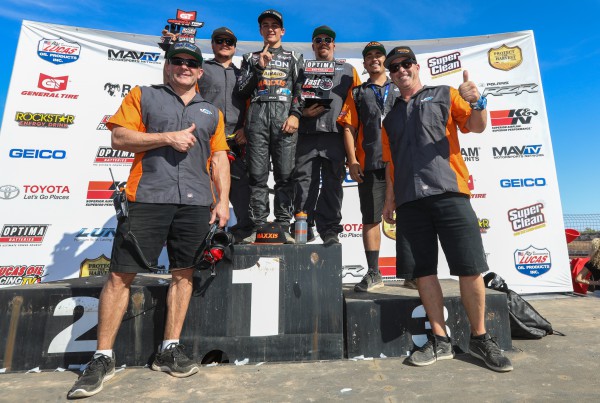 If short course racing had an award for MVP, Brock Heger would have taken it home in Arizona. Brock drove his #12 ICON Vehicle Dynamics, Maxxis Tires, Airaid, Pro Lite to the top step of the podium both days. The weekend didn't start off that way for Heger. The # 12 took a huge hit from a rookie driver in practice causing the truck to roll over and need significant repairs. Brock regrouped Saturday morning, qualified first and led the race wire to wire taking his first Pro Lite victory. Sunday was a little more eventful starting in row 2, then getting a flat tire. Heger rejoined the race in last place with 6 laps to go. With the heart of a lion Brock pushed his way to the front and made the winning pass on Hallie Deegan and Jerrett Brooks in turn 3 on the last lap. "I can't believe I am standing here again on the top step of the Podium. The JM2 team worked so hard on this truck, ICON Vehicle Dynamics gave me the suspension I needed, my Maxxis tires hooked up all weekend and my Vic Hill engine was strong out of every corner. What a great weekend. Thanks for all the support Mom and Dad! This one is for you!" Said an excited Brock Heger on the podium Sunday.
Jeremy McGrath had a solid performance in the opening weekend of the Lucas Oil Series as well. The Maxxis tires, ICON Vehicle Dynamics Pro 2 finished 3rd on Saturday and 4th on Sunday. McGrath was at the front of the pack all weekend battling for wins. McGrath had this to say, "I feel great about the JM2 program right now. My truck was solid and I feel fast. I had battles with Bryce Menzie, Rob Mac, and RJ Anderson. I am confident we will be winning races soon. I am really proud of Brock Heger and all the guys on this team, we are having a lot of fun racing. I want to thank Maxxis tires, ICON Vehicle Dynamics, Safecraft, Airaid, Traxxas, Gibson Exhaust, Rigid Industries, Rugged Radio, and the entire Bluemedia staff for the support this weekend."
Team ICON's Eric Barron put in a solid effort in his #32 Pro 4 during the weekend's opening races. After qualifying in 6th place on Saturday, the #32 truck lined up for the first race of the year. On the very first lap Eric got caught in a pileup crash resulting in terminal, race ending damage. After dealing with his bad luck on Saturday, Eric and his team managed to repair the truck in time for qualifying on Sunday, where he scored the #4 position. Eric looked smooth and fast during the race and was laying down some very quick lap times, but issues with the truck plagued the #32 yet again, causing his pace to decline as he brought it home for a 5th place finish. We look forward to seeing Eric battle for the top spot on the podium at rounds 3 & 4 of the Lucas Oil Off-Road Racing Series!