OFF-ROAD PERFORMANCE MEETS ON-ROAD COMPLIANCE
Any hardcore off-road enthusiast knows the numerous benefits that lower tire pressure offers such as improved ride quality and a larger contact patch for increased traction. However, low pressure also increases the risk of de-beading the tire during extreme side loads or aggressive driving. While traditional beadlock wheels address this issue by clamping the tire's bead, they also need frequent maintenance, require specialty tools/parts, increase rotational mass, and are NOT legal for on-road use.
The ICON Alloys Rebound PRO with patent pending InnerLock technology offers the best of both worlds by using a robust bead retention system to keep the tire bead secured to the wheel while also being fully DOT compliant. This provides confidence in knowing that your wheels are prepared to tackle whatever situation you encounter - on or off the beaten path. InnerLock is ready for any type of terrain and every single adventure.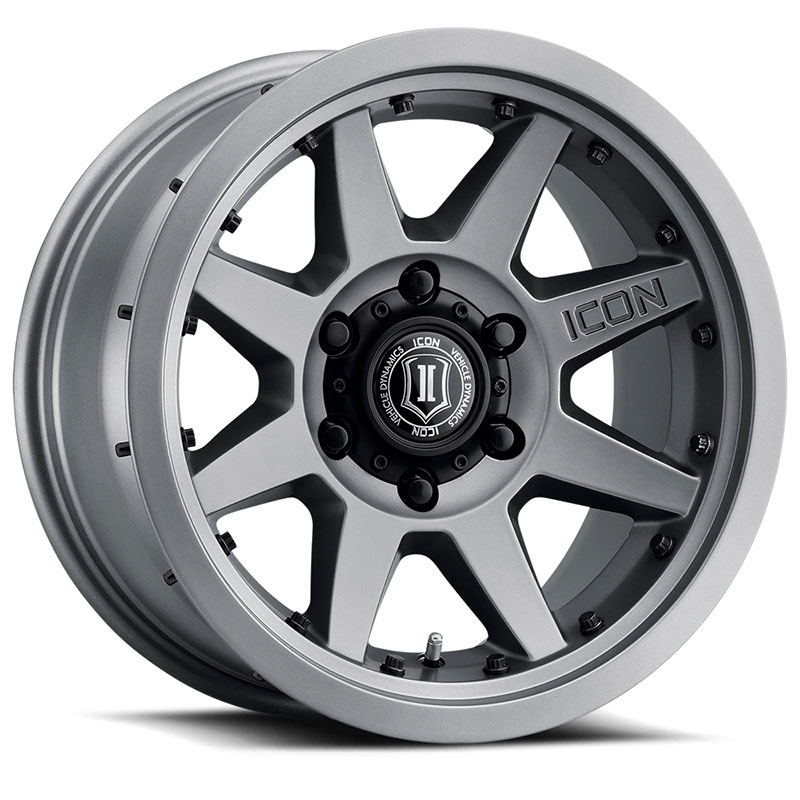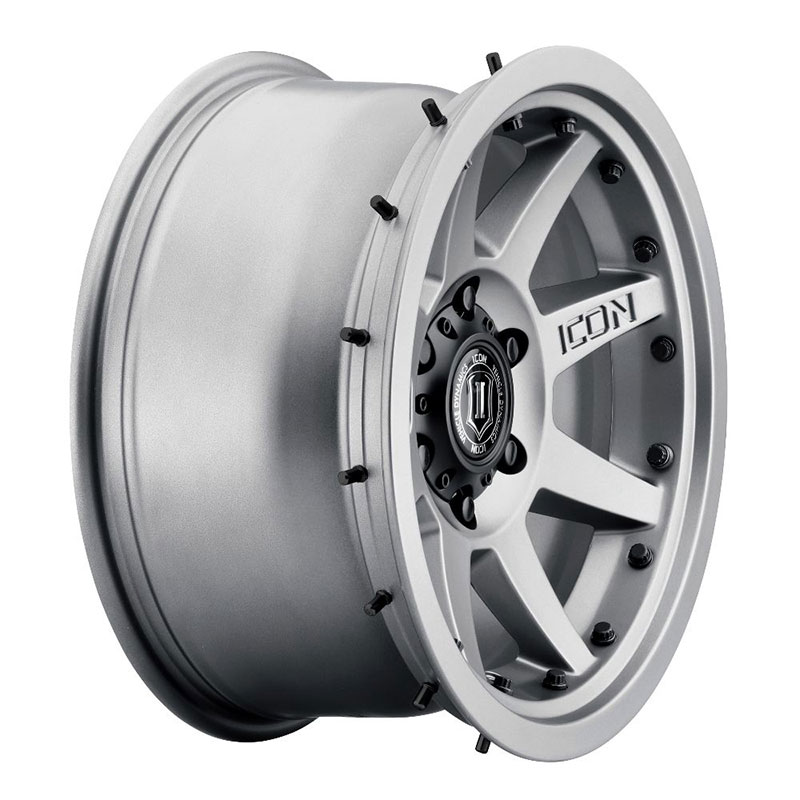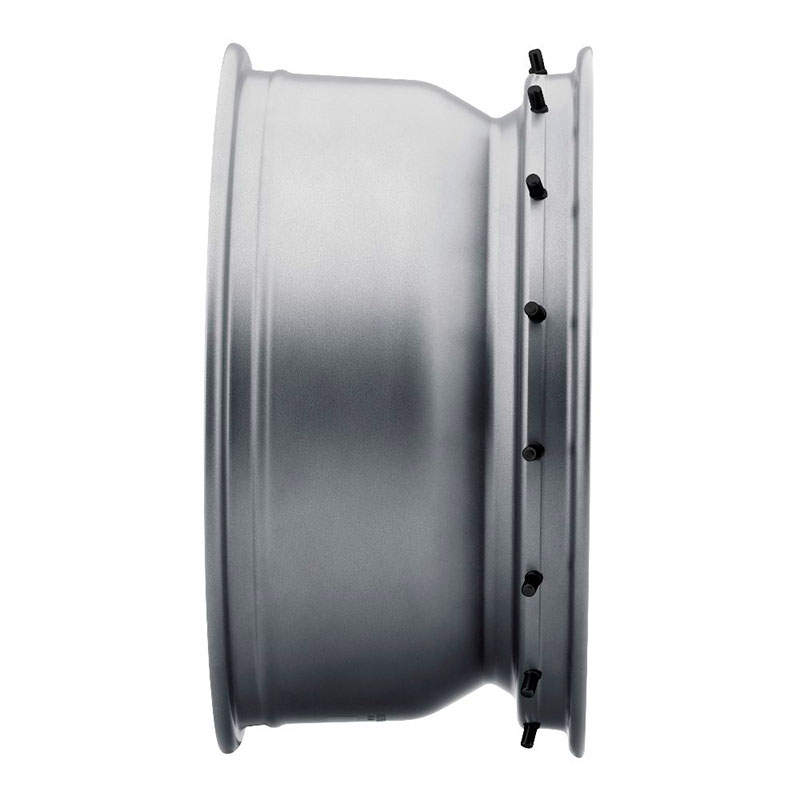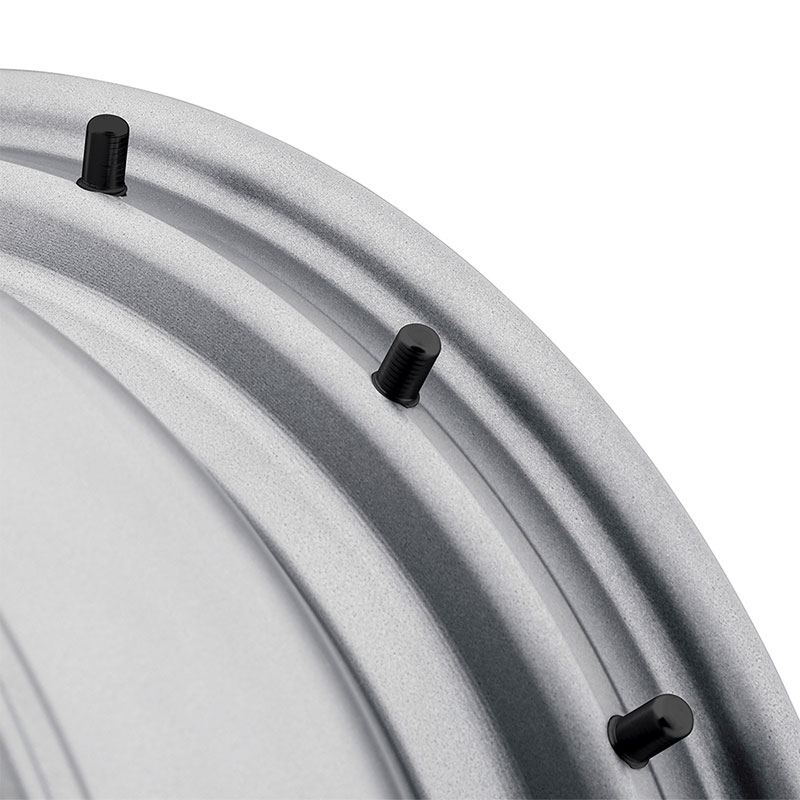 What is InnerLock Technology?
Patent pending InnerLock technology is an all-new way of capturing the tire bead and retaining it onto the wheel. InnerLock uses a series of O-ring sealed, hardened alloy pins that are inserted radially on the inner side of the tire bead to create a barrier that prevents the tire from unseating during extreme side loads. Additionally, InnerLock wheels are lightweight, strong, don't require bolt retorquing, and are DOT compliant for the ultimate blend of on-road safety and off-road performance.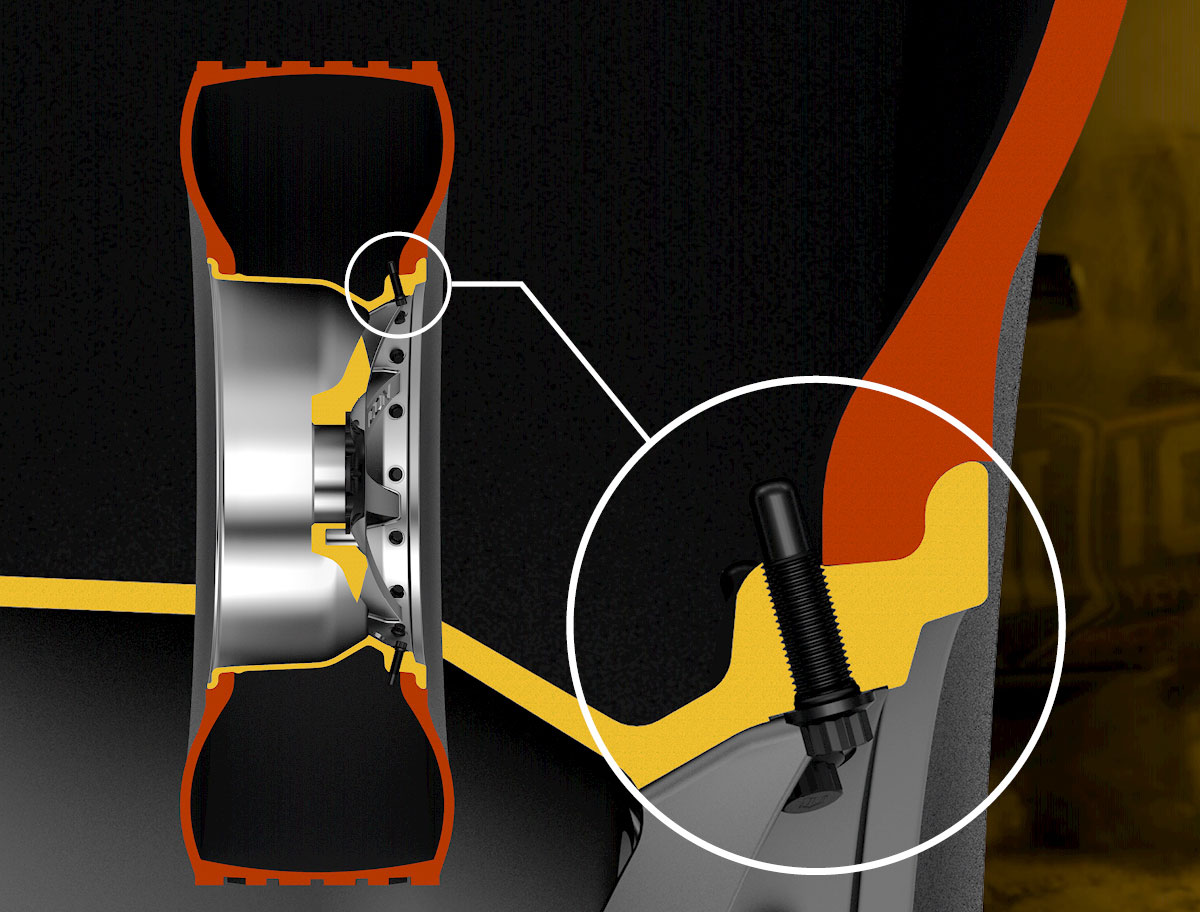 Used. Abused. Lab Approved.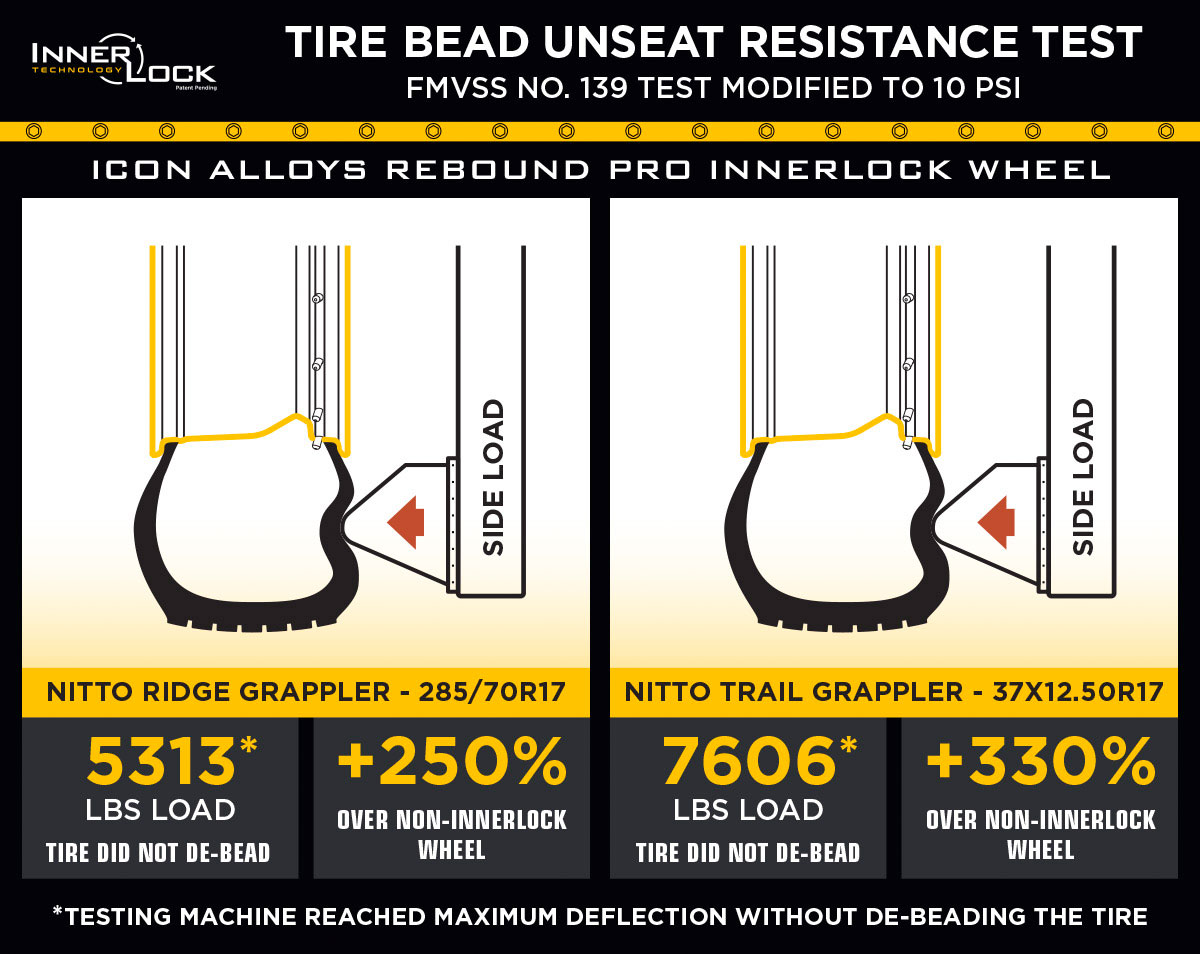 During an accelerated R&D process ICON engineers subjected the Rebound PRO to thousands of miles of real-world abuse throughout harsh and unforgiving environments. After on-vehicle testing was concluded, the Rebound PRO was sent to an independent contractor for precise lab testing, specifically the FMVSS No.139 Tire Bead Unseat Resistance Test (modified to 10 psi). Results from multiple tests validated the effectiveness of ICON's InnerLock technology by exceeding the mechanical limits of the machine (over 7600lbs load) without ever de-beading the tire.
KEY FEATURES
Engineered for DOT compliance
Patent pending InnerLock technology provides the ultimate blend of on-road safety and off-road performance, ideal for the "weekend warrior"
Bead retention system features alloy pins that are removable, reusable, and replaceable
Hardened bead retention pins utilize SAE J1926 O-ring seals and are constructed from high strength alloy that is thermochemically treated for extreme corrosion resistance
Quick, easy, and safe tire installation and removal
Strategically placed hardware for maximum protection from trail damage
Compatible with a wide variety of tires without the need for any shims or special tools
Application-specific dimensions optimize vehicle dynamics and tire clearance
Reduced unsprung weight and rotating mass (compared to a traditional beadlock) improves handling characteristics and vehicle dynamics
Aluminum alloy construction provides high-strength properties that are well suited for off-road use
Weighs 28 lbs fully assembled
Super strong 3200 lbs load rating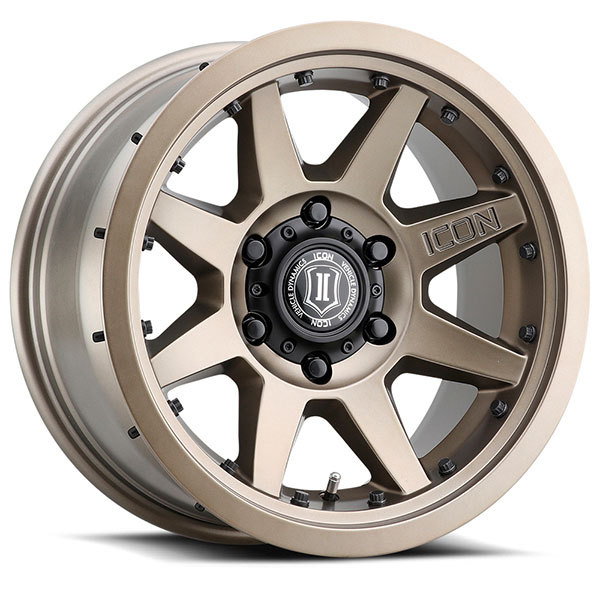 REBOUND PRO INSTALLATION
Wheels Designed With Suspension In Mind.
Staying true to the ICON Alloys approach, the Rebound PRO has been engineered to maximize caliper clearance and optimize wheel position for un-hindered suspension travel and steering function. Backspace and wheel offset dimensions have been strategically developed to reduce scrub radius, improving all-around handling and ride quality. The Rebound PRO has also been strength tested to yield a 3,200lb load rating - making it one of the strongest wheel options on the market. With build features such as these, it's clear that a set of ICON Alloys wheels is the perfect complement to any truck, Jeep, or SUV.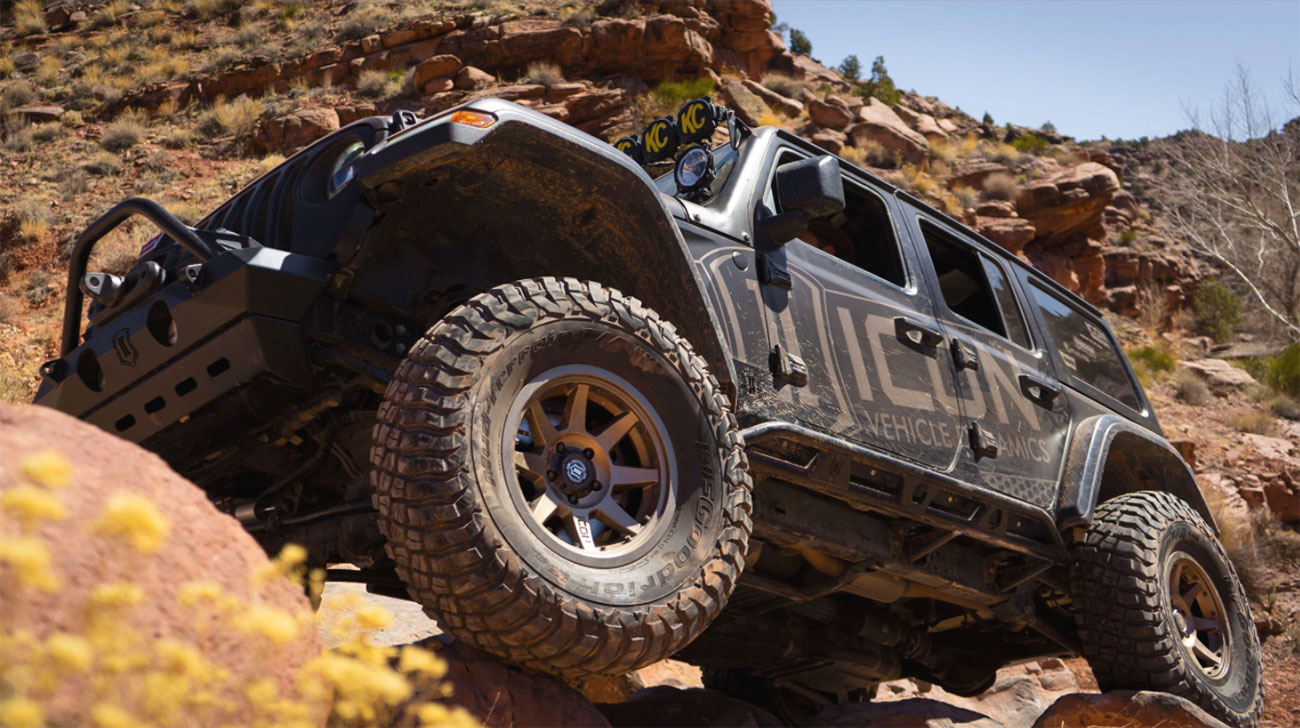 ABOUT ICON ALLOYS
Developed by ICON Vehicle Dynamics (manufacturers of industry-leading performance suspension systems and shock absorbers) ICON Alloys was established with an objective to provide the off-road market quality wheels built with precision, performance, and strength in mind. Time after time in the development of suspension components the ICON R&D team ran into clearance, fitment, and steering geometry issues that limited the drivability and performance of a given vehicle. As this trend continued, the idea of manufacturing a line of wheels with the "form follows function" approach made more and more sense, and off to the drawing board it was…
PRECISION – Application-specific dimensions optimize vehicle dynamics and tire clearance for many of today's most popular vehicles.
PERFORMANCE– Engineered to reduce unsprung weight and rotating mass for increased vehicle performance both on and off-road.
STRENGTH – Aluminum alloy construction provides high-strength properties that are well suited for heavy off-road abuse.