NEW PRODUCT: 2016-UP NISSAN TITAN XD (DIESEL) 2-3-INCH SUSPENSION SYSTEMS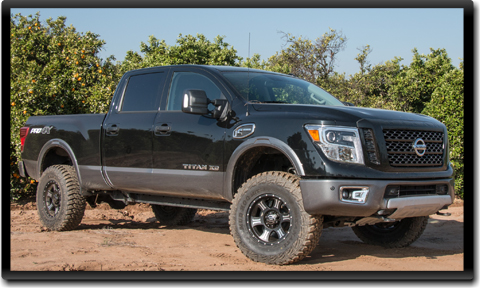 The 2016 Nissan Titan XD is an all new truck with a heavy-duty build that's aimed to blend the lines between ½ ton efficiency and ¾ ton capability. With this in mind, ICON Vehicle Dynamics has developed a complete suspension system for the Titan XD Diesel that drastically increases the ride quality of the new Nissan. Available in three unique "stages" that have been organized to compliment unique driving styles and uses, ICON's 2016-UP Nissan Titan XD 2-3" Suspension System offers the perfect balance of on-road handling and off-road performance.
The new chassis found on the Titan XD means that ICON's engineering team would take a "blank-slate" approach to the design of new products for this vehicle. During a thorough research and development process, ICON assessed the 2016 Titan XD's chassis and driveline while taking notes on OE component limitations and areas for potential improvement. From there, engineers completed on-road and off-road testing in stock form, repetition of these tests with ICON components, shock dyno study, and several product revisions to achieve the level of performance that is the ICON Vehicle Dynamics standard.
Once products were finalized for the Titan XD, they were organized into "staged" systems that are suited for unique driving styles, vehicle setups, and intended uses. ICON's focus on quality and performance are established with the Stage 1 system's combination of 2.5 Series coilovers , 2.0 Aluminum Series rear shocks, rear lift blocks, and u-bolts. These products feature high-quality components such as ICON-designed coil springs, precision machined internals, FK Rod End bearings, and a vehicle-specific shock tune that translates to a ride quality that is second to none. Each increasing stage adds to the performance of the Titan XD with upgrades such as remote reservoir shocks, uniball upper control arms, and ICON's CDC (Compression Damping Control) Valve technology.
Each of these suspension systems offers 2-3"of lift allowing the use of larger, more aggressive wheel and tire combinations. A 100% bolt-on design makes for a simple install and the ability for the vehicle to be returned to stock form if need be. All fabricated components in this suspension system are covered under ICON's lifetime warranty, while the ICON coilovers and shocks are covered under a one year warranty against manufacturer defects. ICON products are proudly made in the USA at our Southern California-based facility by a team of passionate off-road enthusiasts. With a reputation for quality, performance, and service ICON Vehicle Dynamics is the top choice for performance suspension systems and shock absorbers for the 2016-UP Nissan Titan XD Diesel.
KEY FEATURES:
2-3" adjustable lift height
Fits 2WD and 4WD applications
Approximately 32% increased front wheel travel over stock
Vehicle specific tuned ICON shocks for superior performance and ride quality
Corrosion resistant anodized shock body with 5/8″ shaft (2.0 Aluminum Series shocks)
Corrosion resistant CAD plated shock body with 7/8″ shaft (2.5 Series shocks)
FK Rod End bearings for extended longevity and minimal deflection
ICON CDC Valve allows quick and easy end-user compression adjustability
Lifetime guarantee against coil spring breakage or sag
100% bolt-on design
Made in the USA
TECH INFO:
Lift heights based on 4WD Crew Cab Diesel configuration
2WD will yield slightly taller front lift height