ICON-EQUIPPED 2016 NISSAN TITAN XD A HIT AT 2015 SEMA SHOW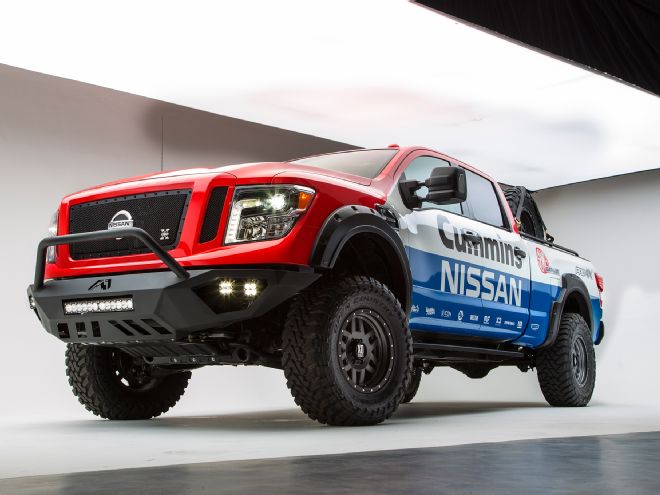 "What you see here is the world's first fully customized '16 Nissan Titan XD. Members of the Specialty Equipment Market Association built it after they were given special early access to the diesel-powered truck. By attending a members-only measuring session at the SEMA Garage, aftermarket employees were able to get up close and personal with the pickup more than seven months before it would go on sale to the public. With firsthand information available, 14 companies joined the "Measured for Success" project and were able to get this Titan XD completed in time to be displayed for everyone to see at the 2015 SEMA show in Las Vegas, Nevada. Here's how the truck is equipped:
Off-Road Attire
To provide ground clearance, improve the ride, and make room for 35-inch tires, Icon Vehicle Dynamics built a Stage 5 suspension kit with 2.5 inches of lift. In the front are Uni-Ball seamless tubular control arms and 2.5-inch-diameter coilover shocks with remote reservoirs, and the rear features lift blocks and 2.5 Series shocks with piggyback reservoirs. The wheelwells are expanded and armored with bolt-on fender flares designed specifically for the Titan XD by EGR. Mud-terrain 35×12.50R18 Open Country M/T tires by Toyo Tires provide traction for all conditions. The rolling stock and spares are wrapped around 18×9 KMC Wheels XD Series XD128 Machete wheels powedrcoated in matte gray with black simulated-beadlock rings.Measuring for Success
More than 70 companies participated in this official measuring session held at the SEMA Headquarters in Diamond Bar, California, just months before the big show in Las Vegas, Nevada. The finished "Measured for Success" Titan XD you see in this article is the exact same truck from the measuring session. The build was completed after a "SEMA thrash," during which manufacturers spent sleepless nights getting all-new parts designed and ready to be shown to the public.Before this Titan XD was sent to SEMA for transformation, Nissan used the truck to promote its new addition to the diesel game. Its debut tour included a trip to our Los Angeles office for an inspection by staff members of Diesel Power, Truck Trend, Four Wheeler, Truckin, Petersen's 4Wheel & Off-Road, Work Truck Review, 8-Lug, Automobile, Hot Rod,and Motor Trend. In our Tech Center, editors were able to get an up-close look at the first truck powered by the all-new 5.0L Cummins V-8 diesel engine.
At the SEMA Garage, teams of aftermarket engineers inspected the truck using everything from laser guns connected to laptops running 3-D CAD programs to pencils and even old-fashioned 3×5-inch index cards attached with staples. Some companies already had prototypes ready. These parts were installed to check tolerances and make adjustments to products that will be available when the new truck goes on sale in 2016. As you can tell by these photos of the finished project, the aftermarket will definitely be ready to help owners upgrade their new Titan XDs.
The "Measured for Success" '16 Nissan Titan XD is a project designed to show off what members of the Specialty Equipment Market Association can pull off before a vehicle even goes on sale to the public. After SEMA hosted a measuring session, aftermarket companies worked on upgrades for what became the first fully built, diesel-powered Titan XD in the world.
The list of upgrades made to the SEMA-built '16 Nissan Titan XD is extensive:
-Icon Vehicle Dynamics Stage 5 2.5-inch suspension lift
-Banks Power Ram-Air cold-air intake system
-MagnaFlow Pro Series 5-inch, stainless steel exhaust with a cooled tip
-T-Rex Stealth X-Metal grille
-Fab Fours Vengeance front and rear bumpers
-Baja Designs OnX6 20-inch LED lightbar and Squadron Pro LED 3×3-inch light pods
-Westin Automotive Thrasher running boards
-EGR bolt-on fender flares
-35×12.50R18 Toyo Open Country M/T tires
-18×9 KMC Wheels XD Series XD128 Machete wheels
-LGE*CTS Motorsports Custom Baja Rack
-ARB 37-quart fridge/freezer combination and Premium Recovery Kit
-Warn Industries Zeon8 Multi-Mount winch
-Hi-Lift 48-inch All-Cast jack
The Fab Fours Vengeance front bumper for the Titan XD is designed to provide superior protection even though it's relatively lightweight. It includes a pushbar, vents to maximize airflow, and mounting locations for off-road lamps. These positions are filled with four 3×3-inch Squadron Pro LED pods and a 20-inch OnX6 LED lightbar by Baja Designs.
The Titan XD presented a challenge when it came to the grille, because the Nissan Around View video system features a camera mounted in the Nissan emblem. The team at T-Rex came up with the solution of incorporating the part into a Stealth X-Metal studded blackout grille.The Ram-Air intake system designed by Banks Power makes numerous improvements over the factory part. It features a high-flow conical filter inside of a completely sealed airbox and a large-diameter intake feed pipe that eliminates the bends and accordion-style section found on the stock tube.
An aggressive look at all four corners (and up in the bed) is created using 35×12.50R18 Open Country M/T rubber by Toyo Tires. The mud-terrain upgrades are mounted on 18×9 KMC Wheels XD Series XD128 Machete wheels in matte gray with black simulated beadlock rings.
The suspension upgrades designed by Icon Vehicle Dynamics lift the truck by 2.5 inches while providing a smooth ride and clearance for the 35-inch tires. In front, there are tubular Uni-Ball upper control arms, and 2.5-inch-diameter shocks are surrounded by custom coilover springs that have remote reservoirs mounted on the framerails. In the back are lift blocks that work alongside Series 2.5 shocks with piggyback reservoirs.
Westin Automotive designed these Thrasher running boards exclusively for the all-new Titan XD. The frame-mounted, black powdercoated steel steps feature cutouts to reduce weight and prevent buildup of mud, and they are engineered to match the unique styling of the all-new pickup.
The Fab Fours Vengeance rear bumper protects the back of the Titan XD and houses two Baja Designs 3×3-inch LED light pods.
A Custom Baja Rack was designed by LGE*CTS Motorsports for the SEMA "Measured for Success" project. It features mounting locations for ratchet straps that keep two fullsize spare tires in place, two levels of storage near the cab, a bar to keep fuel cans in place, a toolbox, and a tray for the recovery kit. Utilizing the space are an ARB electric refrigerator/freezer combination, an ARB Premium Recovery kit, a compressed air tank, and a securely mounted 48-inch Hi-Lift All-Cast jack, along with a Warn Industries Zeon8 Multi-Mount winch in the bed.
The Cummins 5.0L V-8 diesel engine gets help expelling spent gases thanks to an exhaust system designed by MagnaFlow. The diesel particulate filter-back kit includes 5-inch-diameter, mandel-bent tubing made of stainless steel and a polished tip with vents to keep output cool during DPF regenerations."