2015 LUCAS OIL OFF-ROAD EXPO RECAP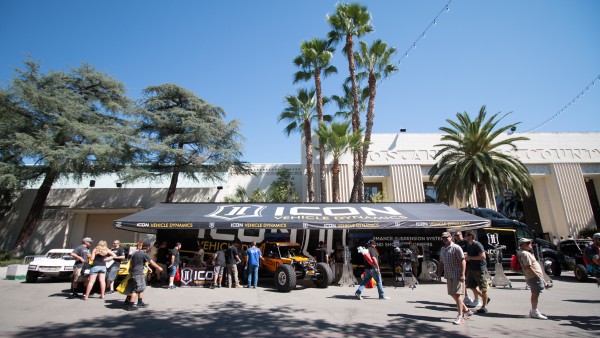 The 2015 Lucas Oil Off-Road Expo took place last weekend at the Pomona Fairplex, and the ICON Vehicle Dynamics crew had a great time interacting with off-road enthusiasts and ICON fans throughout the 2-day event. With plenty of ICON-equipped vehicles scattered throughout the event and a booth packed with awesome suspension components our team aimed to answer questions, educate those interested in our products, and provide information on what makes ICON the leader in performance suspension systems and shock absorbers for on and off-road use.
Team ICON racers Tom Wayes, Dustin Nelson, and Eric Barron made appearances both Saturday and Sunday to sign autographs, take photos with fans, and show off their Ultra 4 and Lucas Oil Off Road Racing Series race vehicles. The generosity of these drivers' sponsors allowed ICON to host a raffle in our booth in which many kids and adults walked away with Tonka Off-Road toys, t-shirts, and other great prizes. The ICON staff and our Team ICON racers had a great time doing this – and if you were a part of it we hope you did as well!
Thanks to Eric Barron and his crew ICON was able to raffle off a very special prize for off-road racing fans… a ride along in a 400 horsepower Eric Barron Motorsports two-seater ProLite! With a small donation of $10 participants were entered in a raffle to be invited out to the next Team ICON / Eric Barron test session at Lake Elsinore Motorsports Park, where they will be able to experience short course off-road racing first-hand! 100% of the proceeds of this raffle are being donated to St. Jude Children's Research Hospital to assist in understanding, treating, and defeating childhood cancer and other life-threatening diseases. After a big shake-up of our entries, we've picked a winner from Saturday's entries and a winner from Sunday's entries.