4WAAM INSTALLS ICON STAGE 5 JEEP JK 4.5? SUSPENSION SYSTEM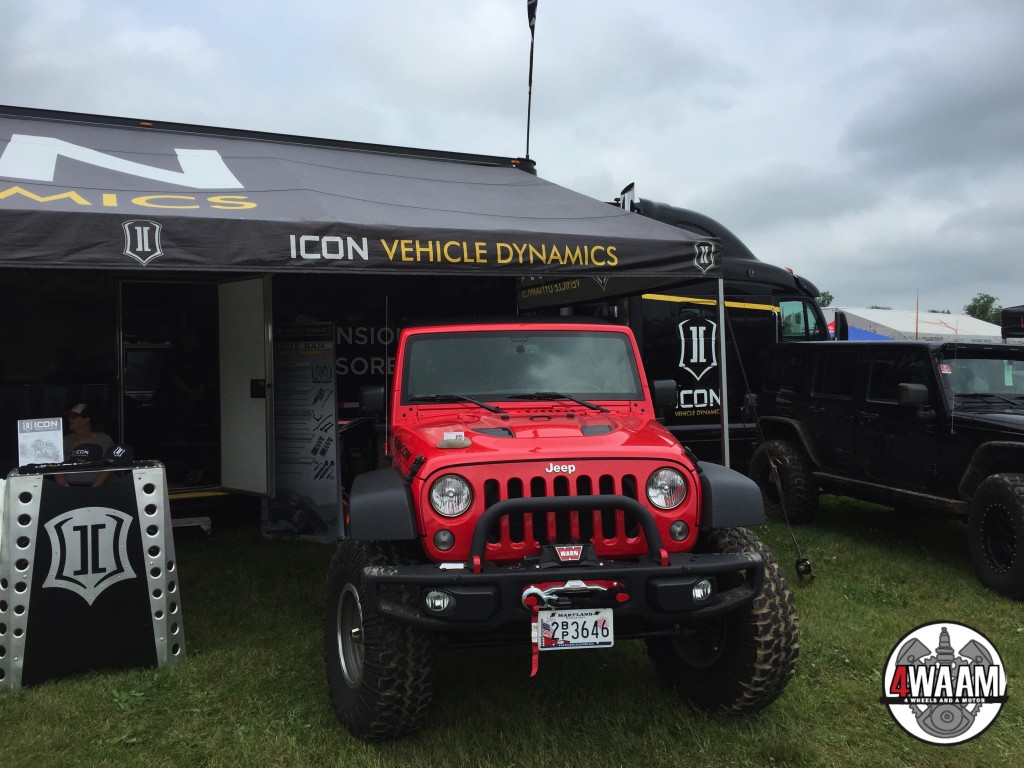 It was a pretty fortunate week for us here at 4 Wheels. We spent an all nighter Sunday into Monday, and almost Tuesday, to finish up our new suspension and then ran the shakedown 5 hours to Bantam Jeep Festival in Butler PA. The trip was worth it to witness a bit of history.
"ICON Vehicle Dynamics is a premiere performance suspension manufacturer specializing in aftermarket suspension components for trucks, SUV's and off road suspension development. The company's business is customer-driven, technology-influenced, engineering-oriented and focuses on world-class manufacturing processes and techniques. Led by head engineer and SCORE champion driver Dylan Evans, ICON Vehicle Dynamics has the unique qualities to design and build the highest quality suspension components and test them in both real world applications as well as race conditions."
All of that really tells you nothing about ICON Vehicle Dynamics. Company tag lines have become as vanilla as everything else, where is the hubris, the ego, the moxie? Thankfully they remembered to put all of that into the product – but a little more in your face company descriptor would be a nice change.What do you get in the kit?
Dual-rate coil springs front and rear guaranteed never to sag
High-steer flip kit for proper steering geometry without a drop pitman arm and increased ground clearance over stock
Stainless steel high-steer taper adapter eliminates drilling the factory knuckle
All links and track bars utilize dual-rate bushings or PTFE-lined rod ends for tuned vibration isolation, controlled deflection, with maximum articulation and responsiveness
Track bars are on vehicle adjustable designed for optimizing axle position
Includes high-performance re-buildable and re-valvable reservoir 2.5 Omega bypass shocks
Easy to operate compression and rebound adjustable bypass shocks for complete tune-ability front and rear
Shocks feature an internal bump zone for added bottom out control
Out-handles most JK kits on the market both on and off-road
Increased wheel travel and articulation over stock
Level front to rear stance
No welding or cutting required
100% returnable to stock
made in the USA
For our build we also added some extras. We included the Hydraulic Bump Stop kit, the high clearance steering stabilizer and aftermarket drive shaft to IVD specifications.The install.
There is no point in covering every step in the install process – it isn't different from most every other lift. Instead we will go over a few minor differences, show some awesome pictures and move on.
ICON markets the kit as 100% returnable to stock. We don't disagree that this is true – they also say no welding or cutting – also true with a caveat. The shock relocation bracket is a bolt on item and if you are going to mall crawl you could leave it that way and be happy. If you plan to run this system as hard as it is designed to – you need to weld the bracket in place. The bracket moves the bottom of the shock outboard from the original location – in other words it is subjected to a crap ton of abuse.The steering flip kit is also a bit different. Instead of drilling the steering knuckle and installing a new taper they use a spindle that goes through and mounts a tie rod end on it. This is connected to a new drag link and reuses the stock pitman arm, tie rod end, and clamp.
Beyond these two items the kit itself is straight forward to install if a bit time consuming. There is always something in these installs that seems to eat up time and the more in a hurry you are the longer they take.
Installing the bump stops breaks the no-cutting claim of the kit. (These are an optional add on so their claim still stands for the Stage 5 kit.) Get out the sawzall and cut along the weld line on the top of the shock tower until the stock bump stop can be removed. Slide the new one into place with the factory isolator, use the retaining bolt to hold it and reinstall the spring. Don't forget to install the lower bump stop extension before putting the spring back on.
What to expect.
The plan is to do what we always do. Run this setup through it's paces both on and off road and see what it can do in any condition. We already have plenty of on road after this trip and even some comments on towing a trailer.
Initially we can say it rides very controlled and compliant. We wouldn't call it soft but it is comfortable. Steering is very responsive and accurate with only minor corrections needed as you drive. It is a lifted Jeep after all, this is to be expected and the ICON systems does keep it to a very minimal amount. Far less than any other similar setup we have sampled.
Don't forget to check out our Featured Partners page as always and stay tuned for the On Road review in the next weeks.