ANDREW TALKS ICON AT TRUCKYEAH.JALOPNIK.COM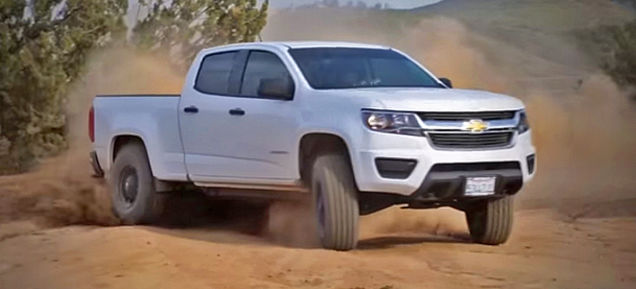 GM fired us right up with the tough-and-tidy 2015 Chevrolet Colorado ZR2 off-road concept, but all we get in showrooms are the flaccid Z71 trim and pointless "Trail Boss" package. If you want to see the Colorado turned into a solid off-roader that can you can still drive every day, the
Folks have been throwing lifts and leveling kits on the 2015 Chevy Colorado since the first few rolled off the assembly line, but ICON Vehicle Dynamics (not to be confused with Jon Ward's ICON 4×4 outfit) has put together an off-road package for the truck that gives us all we really wanted out of the ZR2 idea: A really clean, complete, and adjustable suspension setup that does heaps for capability without making the Colorado look ridiculous or render it undrivable on the road.
For about $4,200, their Stage 5 Colorado/Canyon Suspension System gives the truck 2.5″ remote reservoir coilover shocks just like the ZR2. Those keep damping consistent and help shocks stay cooler in heavy use, while a Compression Damping Control Valve (CDCV) lets the driver adjust the suspension's firmness on the fly.
Wheel travel increases by 25% over stock and lift height is adjustable from 1.75″ to 3″ on a 4WD Crew Cab. Icon uses Eibach springs, FK rod ends, tubular uniball supports, and their shocks are fully rebuildable. Every "stage" option is completely bolt-on.
Any of the kits make room for wheels up to 8″ wide with 5.25″ of backspace and 32″ by 11″ tall tires without cutting the truck's body.If you don't need the higher performance of remote reservoirs or adjustable compression, you can get a Stage 1 kit for $1,800. Equipment and price increases incrementally through Stages 2, 3, and 4 which you can check out on ICON's siteif you're interested.
But for my money I'd be all about throwing the Stage 5 setup on an RWD manual-shift base Colorado, get some great tires for another $1,000, and have a brand-new desert-devouring prerunner pickup for about $25,000. There's your GM mini-Raptor right there, forget the pipe-dream ZR2 concept and ridiculous looking Reaper.
Check out some more photos of the setup fitted to a couple of 4WD Crew Cab Colorado's. I love how it's able to look serious while staying subdued; with OEM wheels this would look downright civil.Alternative Off-Road built Chevrolet Colorado