ICON 2007-UP GM 1500 2WD / 4WD 1-3? LIFT SUSPENSION SYSTEMS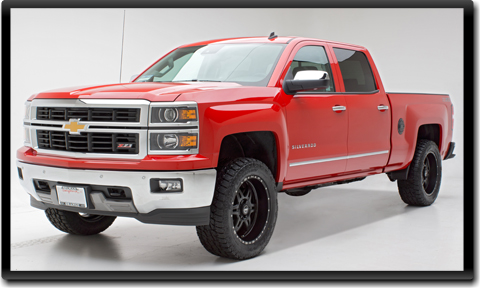 ICON Vehicle Dynamics' 2007-UP GM 1500 1-3" suspension systems are designed to dramatically increase the on and off-road ride quality of Chevy Silverado and GMC Sierra pickups. With wheel travel and ride quality in mind, ICON engineers researched each component of the GM platform's suspension and addressed any areas where performance could be extracted. After this initial step, an array of products including coilovers, rear shocks, and upper control arms were developed and put to the test in varying terrain and extreme conditions. Once these products had seen many miles of on and off-road abuse without failure, they were organized into several stages that deliver unique levels of performance to the vehicle.
ICON's reputation of quality and performance are established with the Stage 1 system's combination of 2.5 Series coilovers and 2.0 Aluminum Series rear shocks. These products use high-quality components such as Eibach coil springs, precision machined internals, and FK rod end bearings to provide a tuned ride quality that is second to none. As the stages increase, the products that make up the systems begin to include tubular steel upper control arms, additions of remote reservoirs, and ICON's CDC (Compression Damping Control) Valve technology. The Stage 5 system combines the best products that ICON makes for these trucks for the ultimate in on and off-road performance.
ICON Vehicle Dynamics 2007-UP GM 1500 systems all offer 1-3" of vehicle lift height, allowing for the fitment of larger and more aggressive wheel and tire combinations. These systems are also 100% bolt-on making for an easy install and the ability for the vehicle to be returned to stock if need be. ICON products are all proudly made in the USA at our Southern California-based facility by a team of passionate off-road enthusiasts. With a reputation for quality, performance, and service ICON is the top choice for performance suspension systems and shock absorbers.
ICON Part #78600 – 2007-UP GM 1500 UCA KIT (STEEL SUSPENSION)
ICON Part #78601 – 2014-UP GM 1500 UCA KIT (ALUMINUM SUSPENSION)
KEY FEATURES
Fits 2007-UP GM 1500 steel suspension and 2014-UP aluminum suspension Chevy Silverado / GMC Sierra
Increased wheel travel and ride quality over stock with no change in towing capacity
Vehicle-specific tuned front and rear shocks provide superior shock damping and vehicle control
Coilovers are adjustable to yield 1-3″ of lift height
CNC machined 6061 aircraft-grade aluminum components
Corrosion-resistant CAD plated coilover shock body with hardened 7/8" corrosion-resistant shaft
CNC machined and heat treated alloy bar pin
FK rod end bearings for extended longevity and minimal deflection
2.0 Aluminum Series rear shocks with hardened 5/8″ corrosion-resistant shaft
100% bolt-on system, no drilling or welding necessary for install
Made in the USA