COMPLETE CUSTOMS CLASSY GMC UPSCALE BRAWLER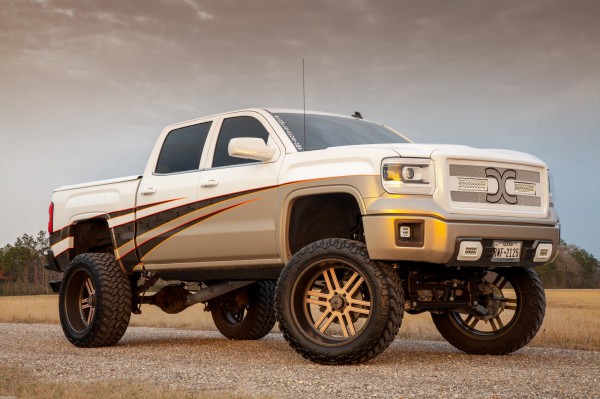 Like Chuck Norris dressed in a suit, this '14 GMC Sierra looks fancy but is ready for a throw down at any moment. A lot of full custom trucks are built with an in-your-face look, but what if you want a lifted truck and don't want to stand out too much? Though Shaun Freilich has built several of these trucks with loud paint jobs, he had a vision to create a beast of a truck that's not only aggressive but could be subtle enough to fit in high-class neighborhoods. The opportunity came for him to build what he truly wanted, so he ran with it.
Shaun does have a bit of a history when it comes to building badass trucks for him and others. What started out as a hobby has led him to a full-time business of turning his visions into real-life vehicles. His biggest break was in 2008 when he built a Toyota Tundra that was showcased at the SEMA Show. He really made a name for himself there and since he did such a good job putting together a full build, he got a few offers to do the same for some others. This led to Shaun opening his own shop, Complete Customs in McKinney, Texas, and now by partnering up with Mathew Hoerauf, a second shop Complete Custom in Odessa, Texas, has opened up as well.
Now that his business is in full swing, Shaun is consistently trying to spread the word to keep customers flowing through the shop doors. He feels that he could do several different things, but building trucks and taking them to shows is the best way to get new customers. He saw a huge opportunity with the new '14 GM full-size trucks that hit the market mid-2013. Because Shaun had been a fan of GMC trucks, he opted to purchase a new 4×4 Sierra for the purpose of building it for SEMA and promote the shop. With a rendering done by KEG-Media, he was sold.
Like most of Shaun's personal trucks, the plan was to give this Sierra a substantial lift. Luckily, Bulletproof Suspension already had a 12-inch kit available, which drops the front components with a single-piece cage and drop-down components and a set of leaf springs do the trick in the rear. Before Luis Salas could install the lifting parts, they were sent out to Cross Link Powder Coating to get covered in a brown hue. To soften the blow of driving over bumpy terrain, a pair of Icon Vehicle Dynamics coil-over shocks with remote reservoirs was installed. On the back end are a set of Icon remote reservoir shocks and a Firestone Ride Rite air spring kit. The GMC now sits comfortably over a set of 38-inch Nitto trail grapplers that provide some good off-road traction while keeping the noise level down when traveling over paved roads.Not only do the American Force Vector FP6 wheels have a slick design, but they also come with three aluminum faceplates, which allowed Complete Customs to paint them to match the rest of the truck.
Going with the sophisticated look, the exterior paint scheme is stylish yet classy. Darren Wenzel of Garage Art designed the swooping graphics painted in muted dark brown and Dune Pearl Beige with orange and yellow striping. In the brown parts Darren added the shop logos to mimic high-end fashion designs. On the tailgate, Darren laid down some engine-turned gold leaf along with some custom pinstriping. Once all of the graphics were laid down over the GM Summit White, Chendo Moreno finished it off with several coats of clear. Stepping up the game on the OE headlights, Shaun had Plain & Simple by Design pop the lenses off, remove the amber reflectors, add two Oracle LED strips, and then paint them to match the bodyIn an effort to customize this truck and market it at the same time Shaun had a custom CC Edition grille made in-house that holds two 10-inch Rigid Industries LED lights and has an over-sized shop logo. The front and rear bumpers have also been equipped with Rigid LED lights for better nighttime visibility. The bed floor is covered with a Bed Rug liner and Undercover SwingCases were customized to carry an audio system for tailgating parties. Other accessories include and Undercover LUX tonneau cover and Amp Research PowerStep running boards. Topping off the exterior is a set of 24 x 12 American Force Vector FP6 wheels that have multiple faceplates allowing them to be painted to match the color scheme.
The party doesn't end with the interior, the bed has these Undercover SwingCases that were modified to fit a nice little Alpine sound system that is perfect for tailgating.
On the inside you won't find a crazy outlandish interior, but it was customized tastefully to coincide with the rest of the truck. Alea Leather Specialist provided the Nappa leather cream-colored seat covers with Coffee Bean suede inserts. To continue the look, Billy Hinojosa covered the headliner with matching suede provided by Ultrasuede. To boost the sounds coming from the factory head unit, two sets of Alpine component speakers were placed in the factory locations on the doors. For some extra bump two 12-inch Alpine shallow subwoofers and amps were mounted in a clean-looking box beneath the rear bench.The seats were upgraded with Nappa leather and suede covers with from Alea Leather Specialist.
Though this Sierra came with a 5.3L EcoTec3 V-8 engine with six-speed automatic transmission, the weight of the oversized wheels and tires ate away at the performance. To combat this, an Airaid cold-air intake and a Magnaflow cat-back exhaust were installed. For the ultimate in retuning the engine, an Edge Evolution CTS was installed, which provides several tuning options, and best of all it recalibrated the speedometer for the tires. Afterwards, Shaun was ready to roll with this thing and represent the many services Complete Customs provides.
Shaun would like to thank his wife Courtney and daughter Greenely, the entire crew of Complete Customs and the Sewell family.
Owner:
Shaun Freilich
2014 GMC Sierra 4×4
McKinney, TX
Engine:
5.3L EcoTec V-8
Automatic six-speed transmission
Airaid cold-air intake
MagnaFlow cat-back exhaust with RBP tip
Edge Evolution CTS tuner
Suspension:
Shop: Complete Customs
Bulletproof Suspension 12-inch lift kit powder coated by Cross Link Powder Coating
Icon Vehicle Dynamics front coil-overs with remote reservoirs and rear shocks with remote reservoirs
Firestone Ride Rite air spring kit
Wheels & Tires:
24 x 12 American Force Vector FP6
38 x 13.50R24 Nitto Trail Grappler
Body & Paint:
Shop: Complete Customs Paint Shop
Custom graphics by Darren Wenzel of Gasoline Art
CC Edition grille with two 10-inch Rigid Industries LED light bars
Rigid 4-inch LED light bars in custom housings on front bumper and D2s mounted in fog light pockets and on rear bumper
Amp Research PowerStep running boards
Bed Rug liner
Undercover LUX tonneau cover and SwingCases to modified to fit Alpine IVE-W535HD head unit, PDX-V9 amp, SPS-60 speakers and SWR-843D subwoofer
Horn Blaster train horn kit
Monster Hooks recovery hook
Headlights modified by Plain & Simple by Design
Interior:
Shop:
Alea leather Specialists Nappa leather cream-colored seat covers with Coffee Bean suede inserts
Headliner covered in Ultrasuede
Custom speaker box under rear bench
Factory head unit
Alpine SPR-60C Type-R component speakers, SWR-T12 Type-R subwoofer and PDX-F6 and PDX-M12 amplifiers
Escort radar detector