ALEXANDER MOTORSPORTS MAKES VALIANT EFFORT AT THEIR FIRST BITD VEGAS TO RENO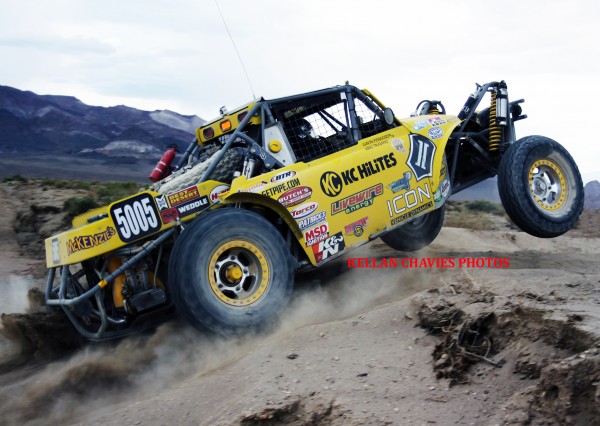 Alexander Motorsports showed up to the Best in the Desert "General Tire Vegas to Reno" debuting not only their Longero Motorsports fabricated front boxed trailing arms that deliver 16″ of travel but also a new Type 4 2820cc by Wiks Racing Engines and a new air filtration system using K&N air filters. The plan was to run a clean race, putting the new package to a full test by finishing 534 miles.
The first racers left the starting line in Beatty, NV before the sun came up while Alexander Motorsports had their final pit meeting with their 3 chase crews assuring everyone knew where they had to be. The trucks were loaded with pit boxes, tires, several cases of water and Livewire Energy chews to keep everyone alert. Alexander Motorsports left the line as the second Class 5 around 11 o'clock. 5 minutes later the GPS called it quits, after 3 attempts to bring it back to life Steve Alexander informed navigator Gavin Ferguson that they were going to be racing "old school style" – if you can't see it, get off the gas. Within 20 minutes 5005 had taken the lead. The new Wiks racing engine was delivering unbelievable torque to the bulletproof RC Trans prepped Mendeola; no matter how deep the silt was, car 5005 pushed past every stuck vehicle that fell victim to the relentless Nevada silt. 2 hours after the start they reached Pit 3, 99 miles into the race for their first fuel stop. The car was performing flawless. After a quick splash of fuel they went on to attack more silt. Pit 5, 192 miles into the race, car 5005 still running flawless was due for fuel and a driver change – Doug Roorda would change out with Steve, navigator Gavin was staying in the car. Alexander Motorsports received word that they were the only class 5 still running. Pit 9, 307 miles into the course was the next scheduled pit stop for fuel and a rear tire change. While averaging almost 44 mph and with 7 hours and some change since the start Doug and Gavin charged out of Pit 9 to battle the night with one thing on their minds – a finish. Unfortunately 8 miles later the steering rack had other plans and snapped leaving car 5005 without steering at mile 315. Luckily it broke loose in an area without cliffs or other dangers that could have been critical for passengers and car. With no possible way of fixing the damage, Steve Alexander had to make the unfortunate call to end the race. Alexander Motorsports would be a given a first place DNF.
Everything performed just as we had planned, no matter what the terrain dished out. Unfortunately due to an unforeseen circumstance out of our hands we had to end the race early. Our next race will be the Best in the Desert Bluewater Challenge in Parker, AZ on October 13th and 14th, 2012.
Thanks to everyone that made this possible starting with the expert maintenance of the Alexander Motorsports crew and the support of the following sponsors: KC HiLiTES, Livewire Energy, ICON Vehicle Dynamics, Wiks Racing Engines, RC Trans, Mickey Thompson Tires, Longero Motorsports, FK Rod Ends, K&N Filters, MSD Ignition, Torco Advanced Lubricants, BTR Wheels, Butch's Speed Shop and Patrick Sign's.