BMF WHEELS FORD F250 SUPERDUTY FEATURE IN TRUCKIN MAGAZINE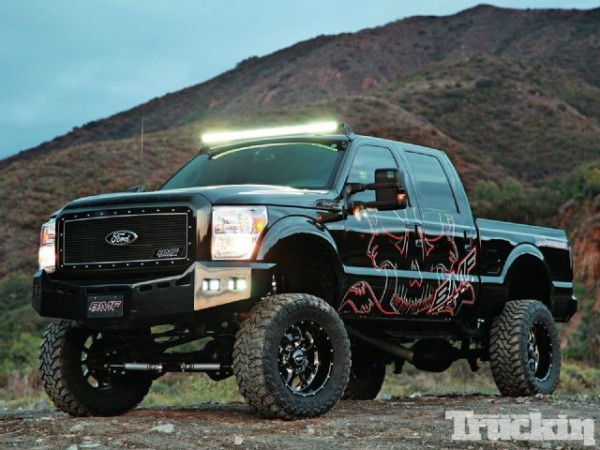 Ever just wished you could smash that Prius in front of you doing 51 mph in the carpool lane? Yeah, so have we. One problem with that scenario is all the red tape of police, insurance, and blah, blah, blah. Much like the Death Machine in the epic movie Animal House, we wish there was nothing but chaos felt from the wake of our traffic demolition. If we drove this lifted F-250 every day, we probably wouldn't have a license or much freedom left because during our brief stint behind the wheel of the Super Duty, we felt more like crazy man Mad Max than law-abiding Barney Fife. Being a post-apocalyptic outlaw is one thing when the streets are clear, but in congested, knucklehead-filled LA traffic, all you want to say to other drivers is "Outta My Way!"
The person responsible for this beast of a Super Duty is Blake Ramthum, Vice President of BMF Wheels. As one of the men dedicated to bringing new and different-looking wheels to the truck market, Blake wanted a truck that oozed the pissed-off attitude that is BMF. After picking up this new 2011 F-250 from the local dealer, the short trip was made to Greg Foster, of Industrial Motoring, in Anaheim, California, and a plan was devised. Blake wanted a functional, show-worthy truck that he could be a menace to commuter traffic in. Greg humbly accepted this challenge.
Adjusting from 7-9 inches, the ICON lift kit features a large bolt on 2.5″ coil over and 2.0 Aluminum series remote reservoir secondary shock
To make the Ford taller than the econo-boxes clogging up the SoCal freeways, Greg and his Industrial Motoring team bolted on a custom-configured lift from Icon Vehicle Dynamics. Up front, an Icon coilover system serves as the centerpiece, with an Icon coilover mounting kit holding it and the Icon 2.0 aluminum reservoir shock in place. With an adjustable four-link and dual 2.0 steering stabilizer shocks, the ride and driving manners are surprisingly compliant. Out back, 5-inch Icon leafsprings get the bed up high, while matching Icon 2.0 aluminum shocks damp the freeway inconsistencies. Thanks to the front adjustability, Blake can drive his truck comfortably with 7-9 inches of lift. Providing the sinister looks, 20×10 BMF Novakane wheels in Death Metal black finish were mounted to 37-inch Toyo M/T tires. A black truck with a lift kit isn't anything new, so it was on to the next step to make the truck show worthy. During our brief stint behind the wheel of the Super Duty, we felt more like Mad Max than Barney Fife.
No big surprise here, 20-inch BMF Novakane wheels are mounted inside 37-inch Toyo M/T tire
All Quality Collision, in Orange, California, smoothed and painted the front and rear Fusion off-road bumpers, and while they were at it, they smoked the taillights, and painted the chrome grille shell. Back at Industrial Motoring, the guys bolted on the new BMF mesh grille in matching Death Metal black finish. Amp Research power steps with stainless trim were installed and help get passengers into the elevated rig, while hiding away in a stealth fashion when the doors are closed. Randy Pratt, of Street to Sand, in Reno, Nevada, then cut custom Ford Blue Oval logos out of billet aluminum for the front grille and tailgate. Billet badges from Street to Sand were also made for the upper front fender that read "BMF-250 Off Road." For the rare, but always important nighttime off-roading missions, a 50-inch Rigid LED light bar was mounted atop the roof using SoCal Super Trucks light brackets. Rigid LED lights were also affixed inside the front and rear bumpers for the ultimate after-dark visibility.
Adding even more attitude to the one-man, hell-on-wheels machine is a skull-clad vinyl wrap by Crazy Fish Graphics installed at Findlay Customs, in Las Vegas. Keeping those 37-inch mud-terrain tires churning no matter the terrain, a Banks Power intake, MBRP DPF-back exhaust, and H&S tuner were added to the Power Stroke turbodiesel. Inside, the factory black leather and SYNC navigation system remain unmolested, for now. A BedRug keeps cargo from sliding around in the back, and also serves as bed protection from hauling gear around. For those jerks that do drive their econo-boxes 10 mph under the speed limit, Blake always has the HornBlasters' train horns at the ready.
Taking the truck to multiple shows and driving it every day, Blake loves his lifted F-250. Admittedly, he's already toying with the idea of redoing it and making it really crazy. Until then, we'll keep asking for the keys so we can go smash every Prius in sight.
Inside the Build
Year Make Model: 2011 Ford F-250
Owner and City/State: Blake Ramthum • Placentia, California
Engine:
Type: 6.7L turbodiesel
Induction: Banks Power intake
Exhaust: MBRP 5-inch
Engine Management: H&S Tuners Mini Maxx
Output: 465 hp and 910 lb-ft
Built by: Industrial Motoring
Chassis:
Front suspension: ICON Vehicle Dynamics 7-9-inch suspension lift with coil overs, 2.0 secondary shocks, adjustable four-link
Rear suspension: ICON Vehicle Dynamics 5-inch leaf springs, 2.0 aluminum series remote reservoir shocks
Wheels & Tires:
Wheels: 20×10 BMF Novakane in Death Metal black
Tires: 37×13.50R20 Toyo Open Country M/T