ALEXANDER MOTORSPORTS TAKES 5TH PLACE AT 2012 BEST IN THE DESERT MINT 400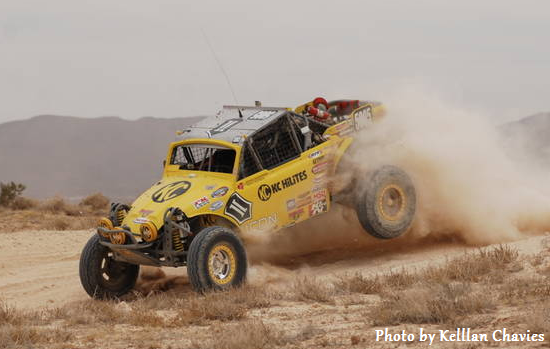 Alexander Motorsports started fourth off the line with a total of 9 entries in Class 5000. Steve Alexander and ICON's Sean Kepler started the race. They had a flawless first lap and were running a strong second place. The new ICON Vehicle Dynamics Omega double bypass shocks on the front of the car smoothed out everything the MINT 400 dished out. Steve said that his car has never handled this good, and Sean is confident that ICON can make some more adjustments to make the ride even smoother. The new K&N filters along with the MSD ignition were doing a great job keeping the Torco lubricated Bill Shapley Racing engine running clean and strong. 20 miles into the second lap they suffered their first flat tire and quickly made a tire change. With 16 miles to the first Pit it was clear that it just wasn't going to be their day as they suffered two more rear flats. After driving almost 7 miles in this condition, they made the decision to put the good front tires on the rear. This limited the ability to steer the car and a mile from pit one Steve high-centered the car. They were now at the mercy to BITD retrievals and thankfully they were able to get them two more tires from the pit and tow it off the berm.
By the time they got back into the race they already lost 2 hours but they came back strong. Everything on the car was working perfectly but the course looked like the aftermath of a battlefield. Steve and Sean completed their second lap in the dark and thanks to KC HiLiTES every obstacle could be seen. The car was handed over to Doug Roorda and Gavin Ferguson who charged into the night to try to make up some time. They ran a great third lap but unfortunately for the team they timed out at the end of the third lap, unofficially giving a fifth place for the 2012 MINT 400.
Alexander Motorsports wants to thank all of their sponsors: KC HiLiTES, ICON Vehicle Dynamics, Bill Shapley Racing Engines & Transmissions, FK Rod Ends, Torco Advanced Lubricants, K&N Filters, MSD Ignition, Mickey Thompson Tires, BTR Wheels, Getpipped.com, Patrick Sign's, Butch's Speed Shop, and Allcoat Powdercoating. This would not be possible without their support.