RANDY MERRITT AND MONGO RACING FINISH BITD "MINT 400" ON ICON SUSPENSION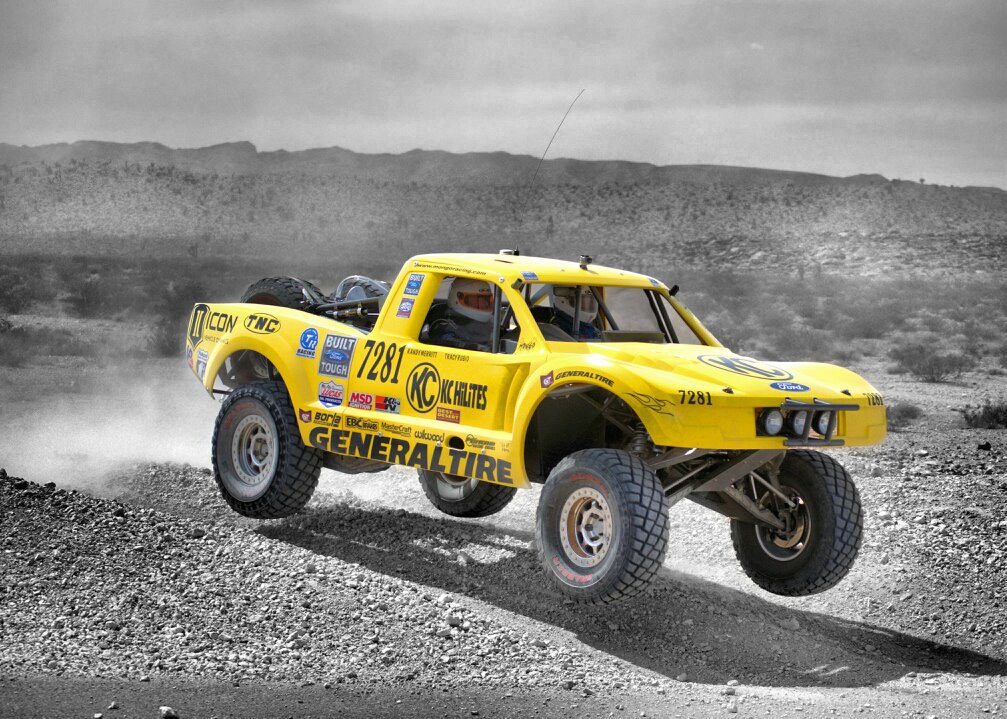 Randy Merritt was excited to debut his new Best In The Desert Class 7200 Unlimited KC HiLiTES, General Tire, Ford at the 2012 Best In The Desert General Tire "Mint 400". Randy said, "This is a new race for Best In The Desert and a new truck for me."
The Mongo Racing, KC HiLiTES, General Tire Ford finished unofficially 7th in a class that saw 35 starters take the green flag. The Mongo Racing, KC HiLiTES, General Tire Ford was piloted by Randy Merritt and Tracy Rubio. Less than 33 percent of the class finished this rough and challenging course and the Mongo Racing, KC HiLiTES, General Tire Ford was tough right out of the box.
Randy stated, "The truck was completed in the shop about 9 am Friday morning and took the green flag at 1:30 pm on Saturday afternoon. To beat 28 other trucks in our first race is a testament to work of TNC Machine, the crew at Mongo Racing and all those companies that supply parts for this truck."
The new Mongo Racing Class 7200 Unlimited KC HiLiTES, General Tire Ford is an all new state of the art chassis designed by Tracy Rubio at TNC Machine in Kingman, AZ. The new truck is powered by a V-6 engine by Kincaid Racing Engines of Lake Havasu City AZ and is backed by a Steve Culhane Race Transmission. K & N Filters keep the engine clean while a stainless steel Borla Exhaust system ensures peak performance. TNC Machine custom fabricated the suspension and is controlled by ICON Vehicle Dynamics new Zeta Series shocks. Stopping the new truck is handled by Wilwood brake calipers and EBC Brake Pads. The 37" General Tire Grabbers on Trail Ready Beadlocks allow Randy to cross the harshest of desert terrains with confidence as he sets out on a new chapter in his off-road racing career and lit of course by KC HiLiTES HID lights as usual.
Randy and the team at Mongo Racing made the move from Class 8100 Full Stock, where they were one of the premier teams in the class. Career highlights include Winning the 2006 BITD Class 8100 Championship and finishing in the top 3 for the last 9 BITD Seasons. Randy has also Won the "Vegas to Reno", also known as the Longest Off-Road Race in the United States, twice. Randy also drove the all new Ford F-150 Raptor R in the 2008 "Baja 1000" and co-stared in the cable documentary "Born in Baja".
Randy stated, "It's hard to believe that the sponsors and great friends I have made over the years have the confidence in me and my team to go out and kick ass in this new truck and to believe in US really amazes me."
The Mongo Racing Class 7200 Unlimited Ford number 7281 is sponsored by KC HiLiTES, General Tires, TNC Machine, ICON Vehicle Dynamics, Trail Ready Bead Lock Wheels, Kincaid Racing Engines, Yukon, Wilwood, Pro AM, EBC Brakes, Master Craft Safety Innovations, Lucas Oil, K&N Filters, Borla Exhausts, MSD Ignition, and Mongo Made Graphics.