22-23 TUNDRA 1.25-3.25" STAGE 1 3.0 SUSPENSION SYSTEM BILLET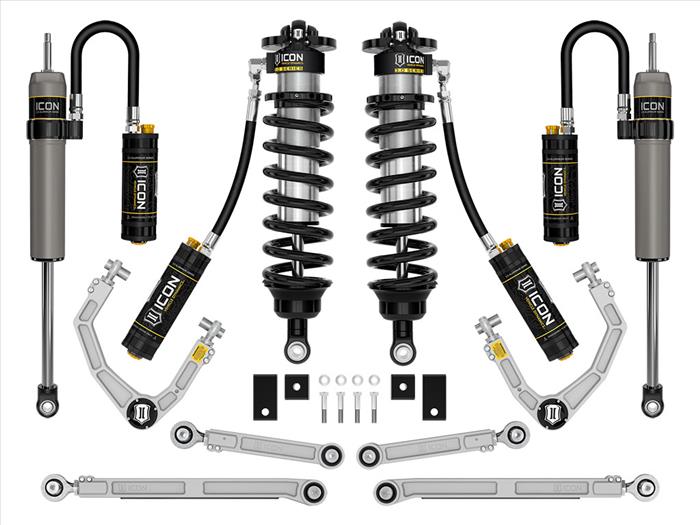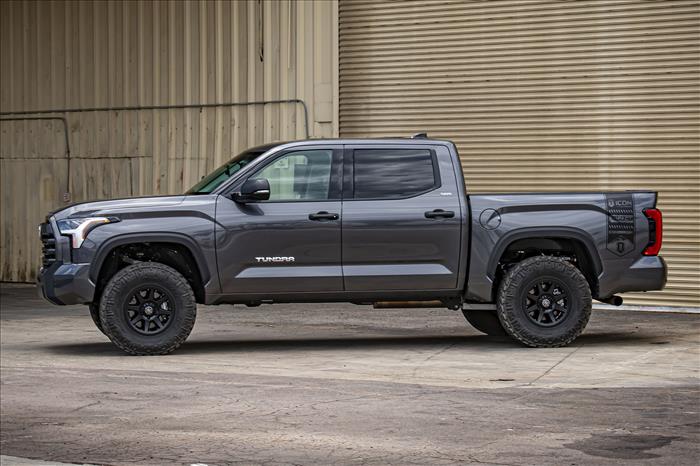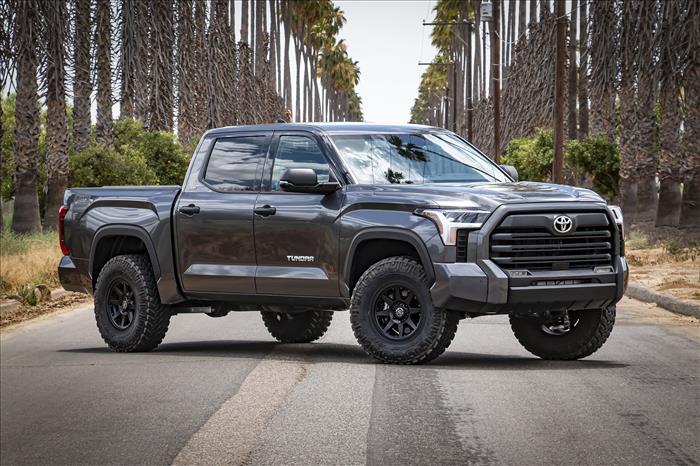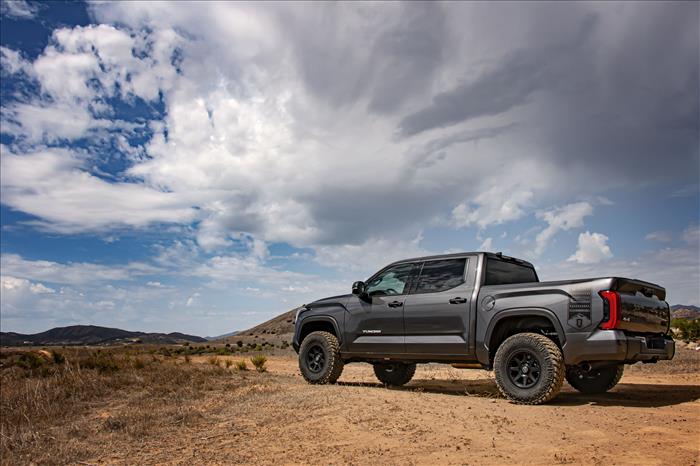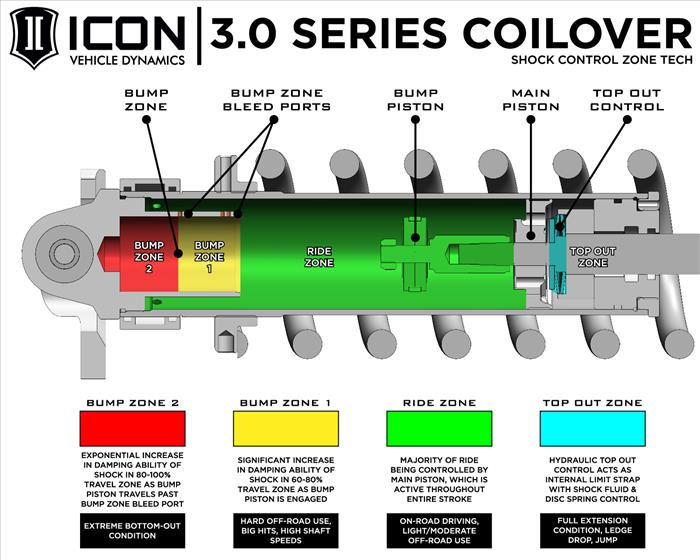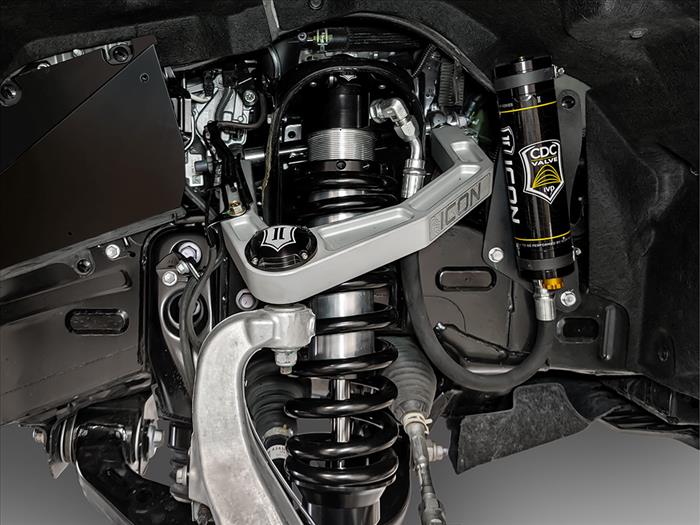 overview
The ICON Vehicle Dynamics Stage 1 3.0 complete suspension system for the 2022-2023 Toyota Tundra builds upon the Stage 10 2.5 suspension system with the upgrade to 3.0 Series front coilovers. To compliment the 3.0 Series coilover shocks, 2.5 Aluminum Series CDCV rear remote reservoir shocks are included along with billet aluminum front upper control arms and a billet rear upper/lower link combo, and a front sway bar drop kit. This system offers improved on- and off-road performance with adjustable compression damping, as well as improved alignment specs and increased front-end lift height range for a proper stance and fitment of up to 35" tires.
This Stage 1 system features the 2022-2023 Toyota Tundra VS 3.0 Series remote reservoir front coilovers equipped with CDC Valves. These adjustable coilovers allow up to 1.25-3.25" of lift height adjustability over stock when using the ICON billet front upper control arms, allowing the use of larger, more aggressive wheel and tire combinations. The larger 3.0 Series shocks offer 50% more piston surface area in the ride zone of the shock's travel, and 100% in the "Bump Zone", compared to 2.5 Series shocks. The multi-stage hydraulic Bump Zone exponentially increases bottom-out resistance as the shock travels through the last 40% of travel, keeping vehicle dynamics in check during those hard hits or unexpected obstacles. The included ICON CDC Valves are externally adjustable valves that restricts oil flow into the reservoir which creates 10 levels of compression damping force ranges. Additionally, ICON's Vehicle-specific shock length yields the maximum travel possible (up to 40% increase over stock), all translating into increased stability and vehicle control at the extremes of off-road use, with benefits also making themselves apparent in on-road driving conditions.
The included ICON billet aluminum upper control arm kit is designed to improve the overall performance of the new 2022-2023 Toyota Tundra with corrected front-end geometry, increased on-vehicle camber and caster adjustment, and improved suspension component clearance. Additionally, replacing the OE ball joint with the all-new, serviceable, and rebuildable ICON Delta Joint PRO allows for full bump and droop travel of the front suspension while eliminating bind.
The included sway bar drop brackets help minimize sway bar link bind through the suspension travel range. This helps the suspension move more freely and allows for the full range of wheel travel without overstressing any OE components.
ICON billet aluminum adjustable rear upper and lower links are made from CNC machined 6061 aluminum and anodized for corrosion resistance. These link arm kits feature PTFE-lined FK rod ends for increased suspension articulation, reduced deflection, and on-vehicle link arm length adjustability using ICON's double adjuster system. Additionally, multi durometer bushings are installed that allow for noise free operation and maximum angularity without the need for periodic greasing and/or other maintenance.
Rounding out the Stage 1 suspension system are 2.5 Aluminum Series rear remote reservoir shocks specially tailored for the 2022-2023 Tundra. The 2.5 Aluminum Series shocks' larger diameter offers outstanding performance off-road and a smooth ride on the street. Remote reservoirs ensure optimum performance by increasing the duration of consistent damping regardless of situation, keeping the shocks at a cooler operating temperature during heavy use. They also feature a unique internal Bump Zone that when used creates an additional 20% of damping force to help better control hard bottom outs. Also equipped with CDC Valves, these offer 10 settings of compression damping adjustment from soft to hard. Their pairing with the ICON V.S. 3.0 Series CDCV front coilovers results in balanced vehicle control from front to rear and an excellent overall driving experience for your Tundra.
features & Benefits
Vehicle specific design for 2022-2023 Toyota Tundra
3.0 Series front coilovers with ICON's multi-stage, tunable hydraulic "Bump Zone"
Adjustable front ride heights from 1.25-3.25" of front lift over stock when used with included billet aluminum UCAs
All shock absorbers equipped with CDC Valves for 10 settings of compression damping adjustment, from soft to hard
Billet aluminum UCAs for added strength, durability, and on-vehicle caster/camber adjustment for optimum drivability
UCAs feature the patented (U.S. Pat. 10,731,700) Delta Joint Pro with 90 degrees of total articulation
Included sway bar drop brackets reduce bind in OE sway bar links
Allows for up to 40% increase in front wheel travel over stock without overstressing OE components
Billet rear upper and lower links improve rear end articulation and allow for on-vehicle pinion angle adjustment
2.5 Aluminum Series rear remote reservoir shocks provide increased performance, 20% increase in wheel travel, and balanced tune with coilovers
All ICON shock absorbers are fully rebuildable and re-tunable
download installation guide
Tech Info:
OEM Wheels & Tires Fitment: Yes
Recommended Aftermarket Wheels: 17x8.5" w/ 5.75" Backspace / 25mm Offset
Recommended Aftermarket Tires: 35" x 12.50" (Minor fender trimming and modifications may be required)
APPLICATION NOTE #55: Shocks Are Fully Serviceable. Lift Heights Indicated Are For A Stock Equipped Vehicle.
APPLICATION NOTE #85: Advertised Lift Height Ranges Are For A Stock Equipped Vehicle. Increasing Weight Of Vehicle Due To Accessories Will Alter Lift Range.
APPLICATION NOTE #142: Not Compatible With Tundras Equipped With Load-Leveling Rear Height Control Air Suspension.
APPLICATION NOTE #149: For 4Wd Models Without Trd Off-Road Package ICON Recommends Using ICON Diff Drop (Part# 55156) Or Using Toyota Trd Axles (Part# 434200C020 Driver / 434100C020 Pass). Failure To Do So Could Result In Front Axle Damage. Not Required For Trd Pro.
TECH NOTE: If upgrading a Tundra equipped with Adaptive Variable Suspension (AVS) all other vehicle systems remain functional
TECH NOTE: Most Tundra sub-models equipped with i-Force gasoline engine will have front lift height range of 1.25-3.25" over stock
TECH NOTE: Most Tundra sub-models equipped with i-Force MAX hybrid engine will have front lift height range of .75-2.75" over stock
TECH NOTE: Tundra SR5 equipped with TRD Sport Suspension package will have lift height range of 2.25-4.25" over stock
TECH NOTE: Tundra TRD Pro will have front lift height range of 0-1.75" over stock
TECH NOTE: Included rear shocks are compatible with 0-1.5" of rear lift over stock on models equipped with rear coil springs without TRD suspension package. Rear shocks are compatible with 0-1" of rear lift over stock on models equipped with rear coil springs with TRD suspension package and TRD Pro.
TECH NOTE: Tundras equipped with automatic leveling headlights also require part number 55153
System Components:
58775C (QTY: 1) | 22-23 TUNDRA/23 SEQUOIA 3.0 VS RR CDCV COILOVER KIT
58561DJ (QTY: 1) | 22-23 TUNDRA/23 SEQUOIA BILLET UCA DJ PRO KIT
55154 (QTY: 1) | 22-23 TUNDRA/23 SEQUOIA SWAY BAR DROP KIT
54002 (QTY: 1) | 22-23 TUNDRA/23 SEQUOIA BILLET REAR LOWER LINK KIT
54102 (QTY: 1) | 22-23 TUNDRA/23 SEQUOIA BILLET REAR UPPER LINK KIT
57840CP (QTY: 1) | 22-23 TUNDRA 0-1.5"/23 SEQUOIA 0-3" REAR 2.5 VS CDCV RR PAIR
Request a Quote
Don't Forget
the wheels