91-97 LAND CRUISER 80 SERIES 3" STAGE 3 SUSPENSION SYSTEM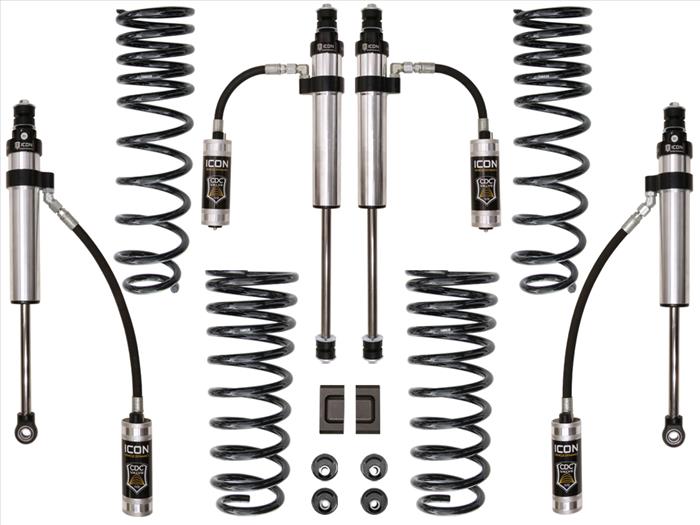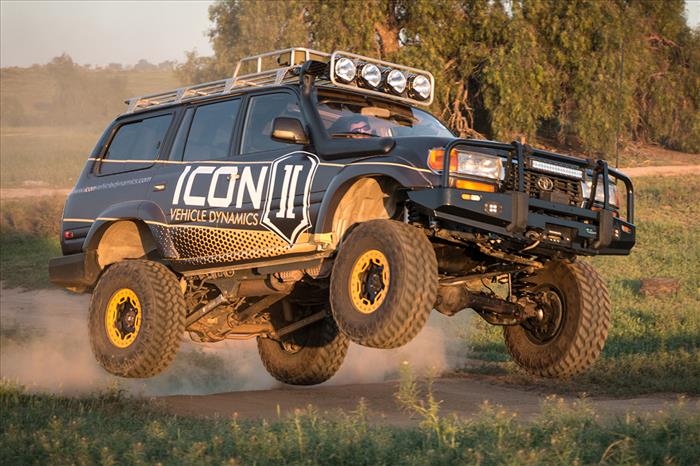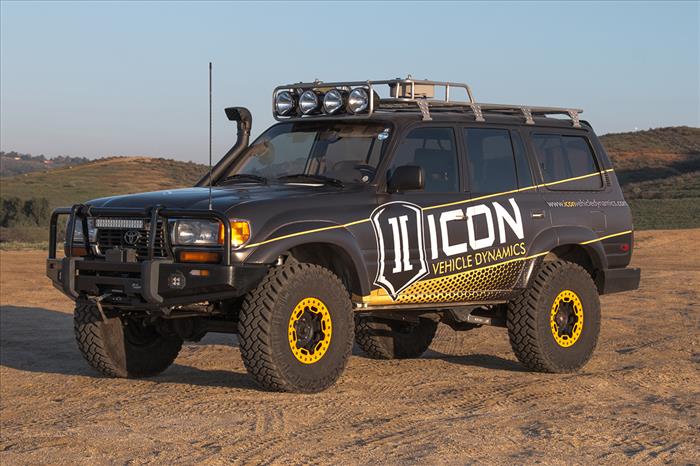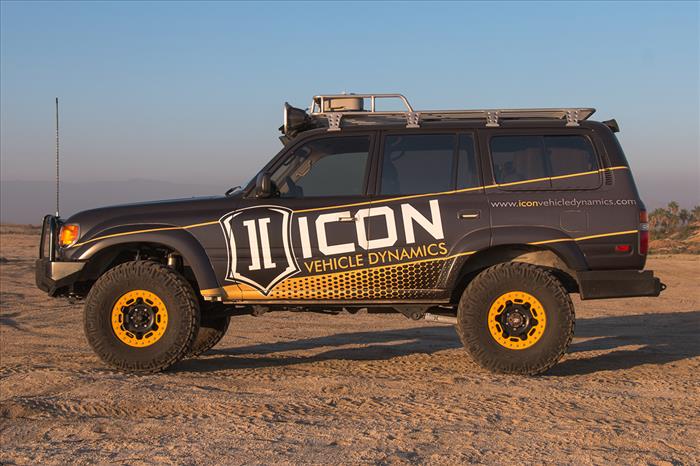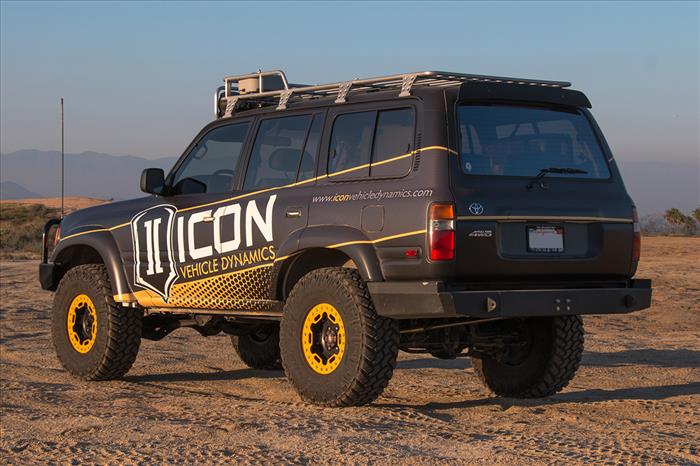 overview
After an in-depth R&D process, ICON engineers have developed a 3" suspension system for the 80 Series that is aimed to improve on-road handling characteristics while also maximizing the Land Cruiser's off-road potential. This Stage 3 system includes ICON-designed dual rate coil springs, caster correction bushings, sway bar relocation components, all bracketry and hardware required for install, and ICON Vehicle Dynamics 2.5 Aluminum Series remote reservoir shocks that feature a vehicle specific valving for optimized ride quality and balanced damping front to rear. The 2.5" remote reservoir shocks front and rear ensure optimum performance by increasing the duration of consistent damping regardless of situation, keeping the shocks at a cooler operating temperature during extended off-road use. The Stage 3 system outfits the 80 Series Land Cruiser with ICON 2.5 Aluminum Series shocks that feature CDCV, or Compression Damping Control Valve. This technology allows end-users to quickly adjust the ride quality of their shocks with the simple turn of a knob – no tools required! With ten high-resolution settings to choose from, the ICON CDC Valve will allow for the perfect ride quality across any terrain. This ICON Stage 3 System is the perfect suspension system for drivers seeking a quality on-road ride with outstanding off-road performance under extreme use, and the ability to fine tune the vehicle's performance for any conditions encountered.
features & Benefits
3" lift height
Approximately 40% increased front wheel travel over stock
Approximately 35% increased rear wheel travel over stock
ICON-engineered dual rate coil springs provide exceptional on-road ride quality and outstanding off-road performance
Vehicle specific tuned 2.5 Series front and rear shocks offer superior shock damping and control
2.5 body remote reservoir shocks with 7/8" shafts
2.5 Aluminum Series shocks feature one-piece impact extruded aluminum cylinders for excellent corrosion resistance and consistent finish
6061 aircraft grade aluminum CNC machined components
ICON CDC Valve allows quick and easy end-user compression adjustability
100% bolt-on design means no drilling, cutting or welding necessary for install
download installation guide
Tech Info:
OEM Wheels & Tires Fitment: Yes
Recommended Aftermarket Wheels: 17x8.5 with 4.63" Backspace
Recommended Aftermarket Tires: 33" x 11.50" (Larger tires may fit but fender trimming and modifications will be required.)
APPLICATION NOTE #55: SHOCKS ARE FULLY SERVICEABLE. COILOVER HEIGHTS INDICATED ARE FOR A STOCK EQUIPPED VEHICLE
APPLICATION NOTE #71: ANY KIT WITH PART #57802P/CP IN IT WITH STOCK REAR COIL SPRINGS VEHICLE WILL RIDE IN BUMP ZONE OF SHOCK. STOCK OR SOME AFTERMARKET COIL SPRINGS MAY COME UNSEATED AT FULL DROOP.
APPLICATION NOTE #150: SHOCKS ARE FULLY SERVICEABLE
TECH NOTE: ICON's advertised lift heights are based around a typical 80 Series build which usually includes added weight of accessories such as heavier front bumper/winch and heavier rear bumper/spare tire. Lift heights may be higher than advertised if installed on a stock weighted vehicle.
System Components:
57801CP (QTY: 1) | 91-97 LAND CRUISER 80 0-3" FRONT 2.5 VS RR CDCV PAIR
53007 (QTY: 1) | 91-97 LAND CRUISER FRONT SWAY BAR RELOCATION KIT
53008 (QTY: 1) | 91-97 LAND CRUISER 4.6 DEG CASTER CORRECTION KIT
53009 (QTY: 1) | 93-97 LAND CRUISER BRAKE LINE KIT +3"
53005 (QTY: 1) | 91-97 LAND CRUISER 3" FRONT DUAL RATE SPRING KIT
53006 (QTY: 1) | 91-97 LAND CRUISER 3" REAR DUAL RATE SPRING KIT
57802CP (QTY: 1) | 91-07 LAND CRUISER 80/100 0-3" REAR 2.5 VS RR CDCV PAIR
Request a Quote
Don't Forget
the wheels