NEW PRODUCT | ICON Impact Trail Series Front Bumper for Bronco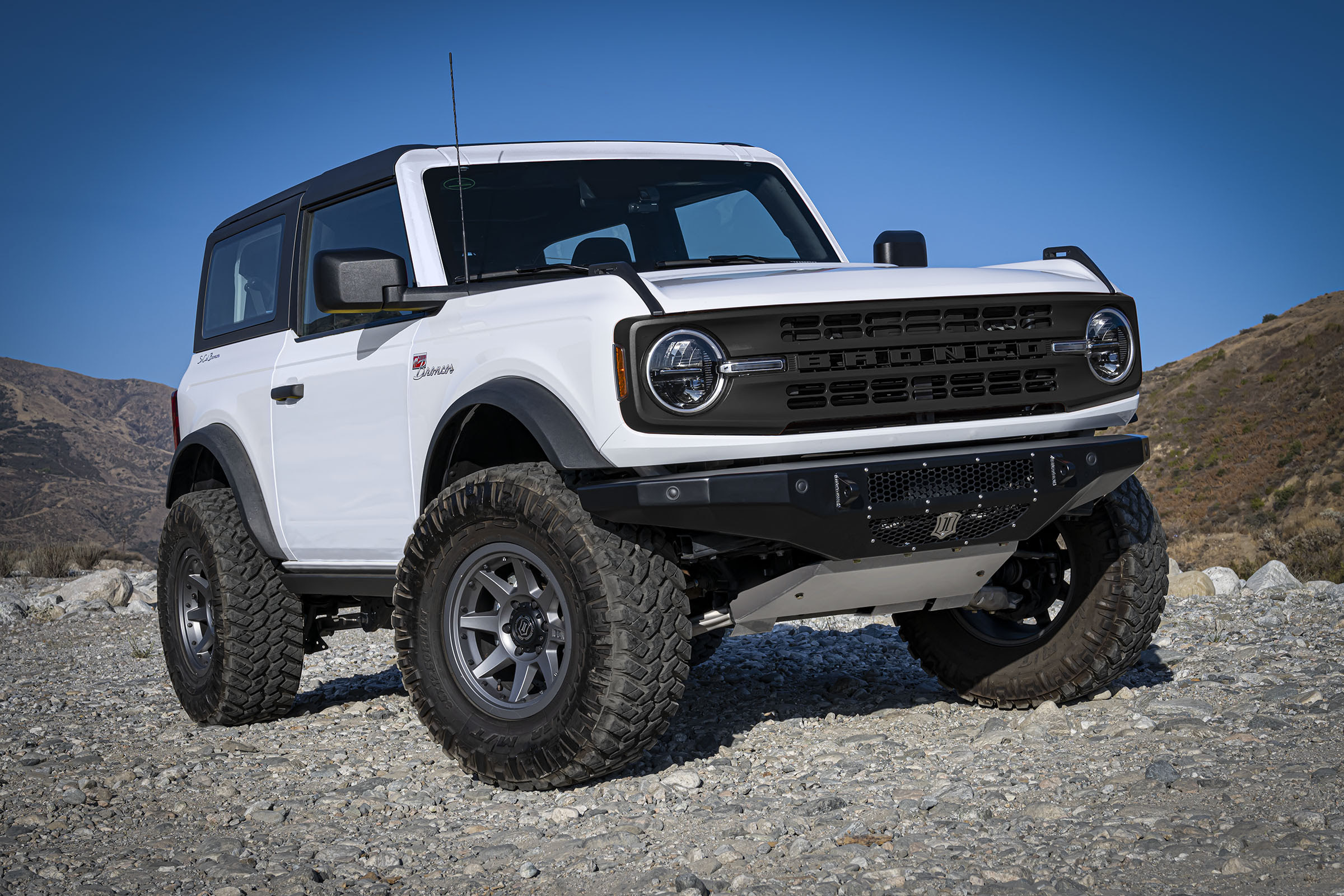 ICON Vehicle Dynamics is excited to announce the next addition to our Impact Armor product line for 2021 & newer Ford Bronco, the Trail Series Front Bumper. ICON Impact products follow our design philosophy of high clearance, high strength and attention to detail.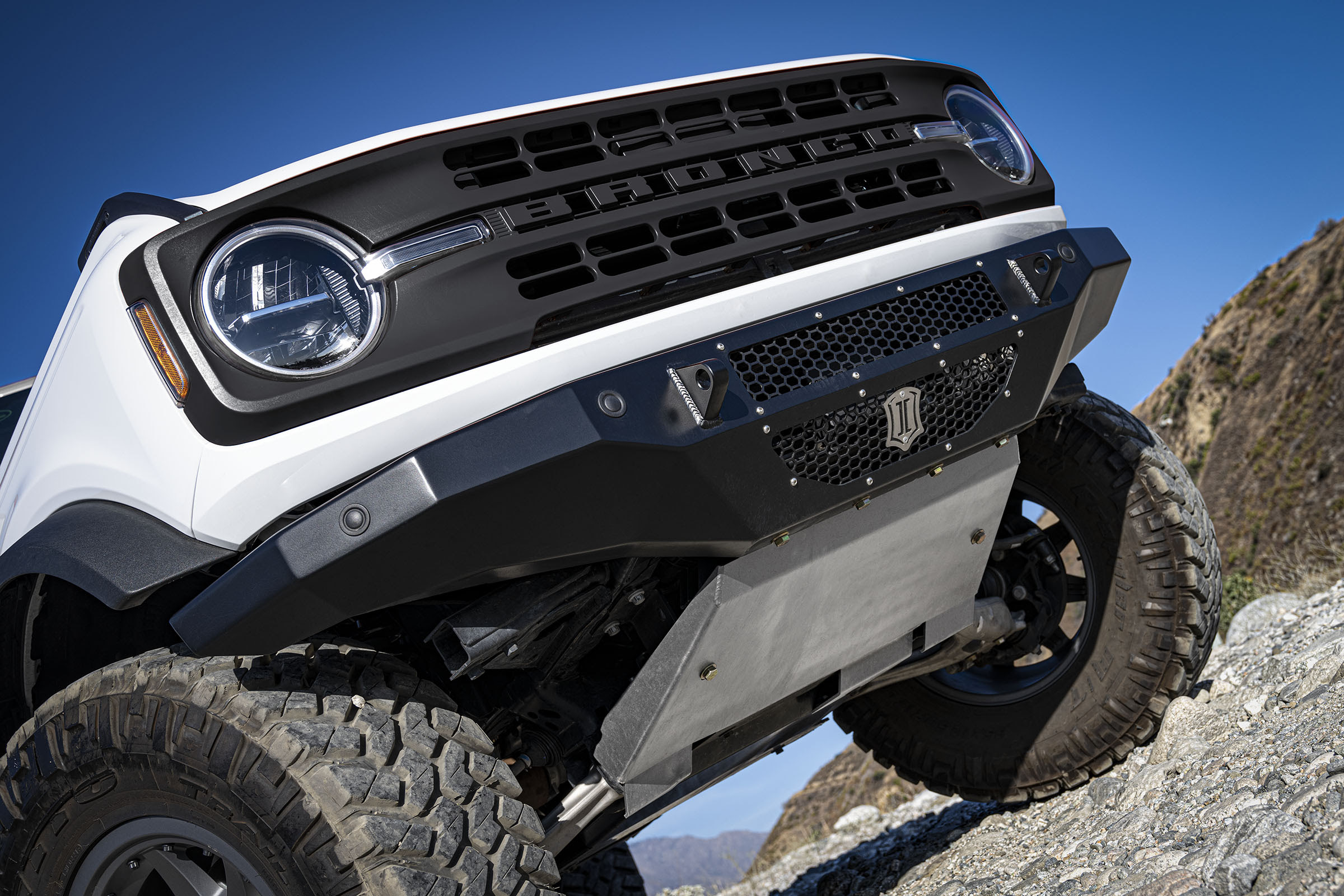 The Trail Series Front Bumper is perfect for those who want to add a rugged, all steel, high clearance off-road bumper to their Bronco but do not need to run a winch. There is an optional center mesh insert that provides for relocating the Adaptive Cruise Control module on so-equipped Broncos.
Keep reading for detailed information on each of these exciting new ICON Impact products for Bronco!
ICON IMPACT TRAIL SERIES FRONT BUMPER

Tackle the toughest trails with the Trail Series Front Bumper from ICON! Designed for the ultimate in off-road form and function, Trail Series features a multi-faceted, high-clearance design that sneaks past the tightest rocks. Tapered ends protect the Bronco's lower grille corners while allowing the front tires maximum access to grip and pull the vehicle over steep obstacles. If you do manage to get yourself into a tight spot, recovery is aided by a pair of extreme duty recovery shackle tabs, CNC machined from beefy 1" thick plate steel.
The bumper comes with provisions to retain the Bronco's parking sensors (caps are provided for Broncos without sensors). A removable aluminum mesh panel promotes airflow through the Bronco's intercooler. The bumper is fabricated from CNC laser cut, precision brake-formed 3/16 plate steel. The bumper looks as great as it performs, with a durable, semi-gloss black powder coat finish.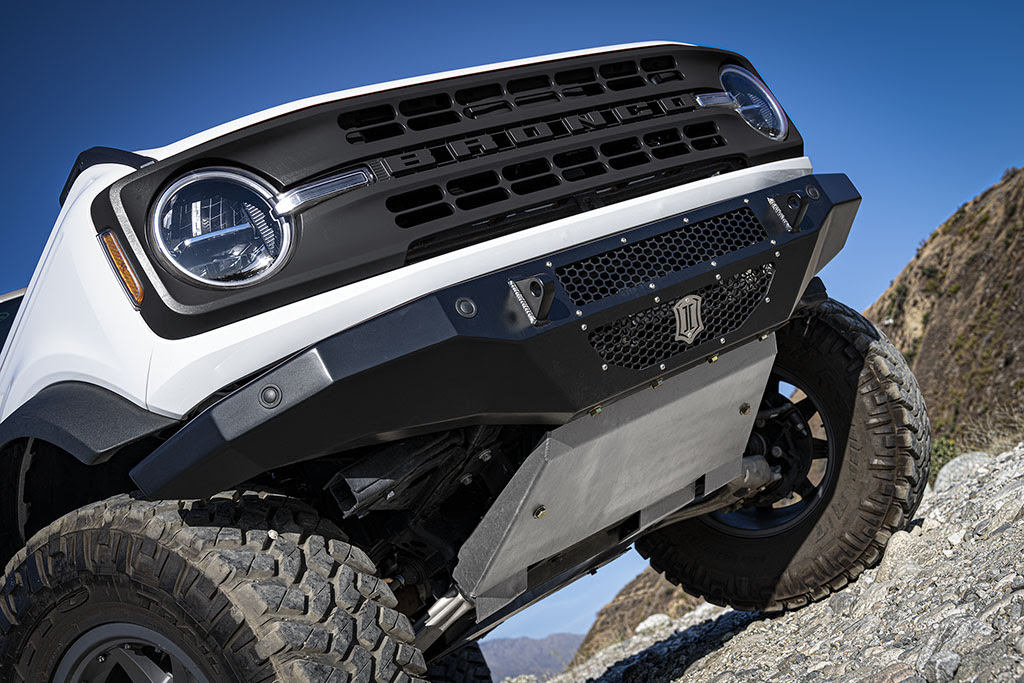 KEY FEATURES:
Design provides sporty, light weight and maximum clearance on the trail
Faceted, high-clearance design to maximize approach angle and off-road performance
Parking sensor mounts with bezels or caps for Broncos without sensors
Extreme duty 1" thick recovery shackle tabs are angled for high clearance
3/16" thick plate steel construction, CNC laser cut and brake-formed
Removable Aluminum mesh panels allow maximum airflow to intercooler
Up to five (5) 3" LED cube lights or a 20" LED light bar (not included) may be mounted behind the center mesh panel using the provided mounting tabs
Optional ACC Relocation Kit (p/n 45210, sold separately) allows continued functionality of the ACC module (note: reduces LED cube light mounting locations from 5 to 4; 20" light bar not compatible)
Easy bolt-on installation with no cutting or drilling
Durable satin black powder coat finish
ICON Impact Series Limited Lifetime Warranty
OPTIONAL: ACC RELOCATION KIT
For those running the ICON Impact Trail Series front bumper on Broncos equipped with Adaptive Cruise Control, this replacement for the bumper's front mesh panel allows positioning the ACC module where it will still be fully functional. With the ACC module relocated by this item, up to four (4) 3" LED cube lights may still be installed in the bumper's center light array mounts, as the ACC occupies the fifth (center) position.
KEY FEATURES:
Relocates ACC module for use with the ICON Impact Trail Series Front Bumper
Retains Adaptive Cruise Control functionality
2mm Aluminum CNC laser cut construction
Durable textured black powder coat finish
Stainless steel hardware included
ICON Impact Series Limited Lifetime Warranty
NOTE: Reduces Trail Series Front Bumper's LED cube light mounting locations from 5 to 4; 20" light bar not compatible