NEW PRODUCT | 2022 Toyota Tundra Stage 1 Suspension System with 2.5 EXP Front Coilovers & 2.0 Rear Shocks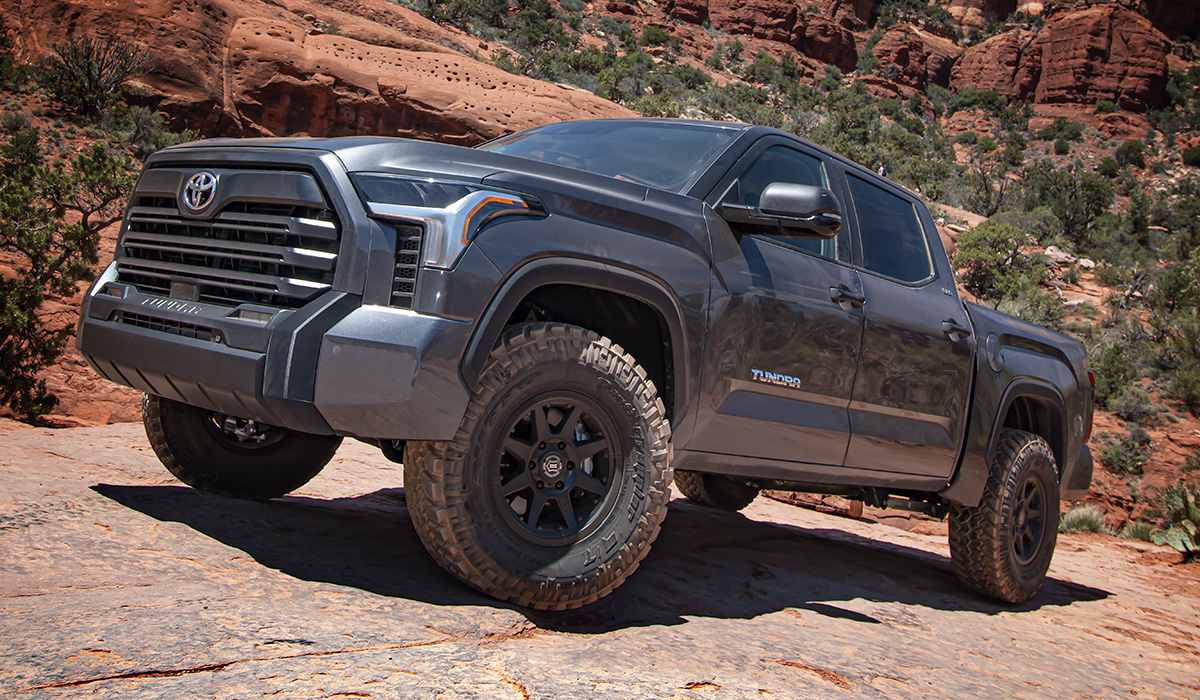 ICON Vehicle Dynamics is excited to announce Stage 1 of our complete suspension systems for 2022 Toyota Tundra. Stage 1 represents our entry level performance suspension system, providing improved on- and off-road performance as well as front-end lift and leveling for a proper stance and fitment of up to 35" tires. This system features the innovative new 2.5 EXP series coilover shocks and swaybar drop kit for the front of the truck along with our proven 2.0 nitrogen charged monotube shock with internal reservoir for the rear.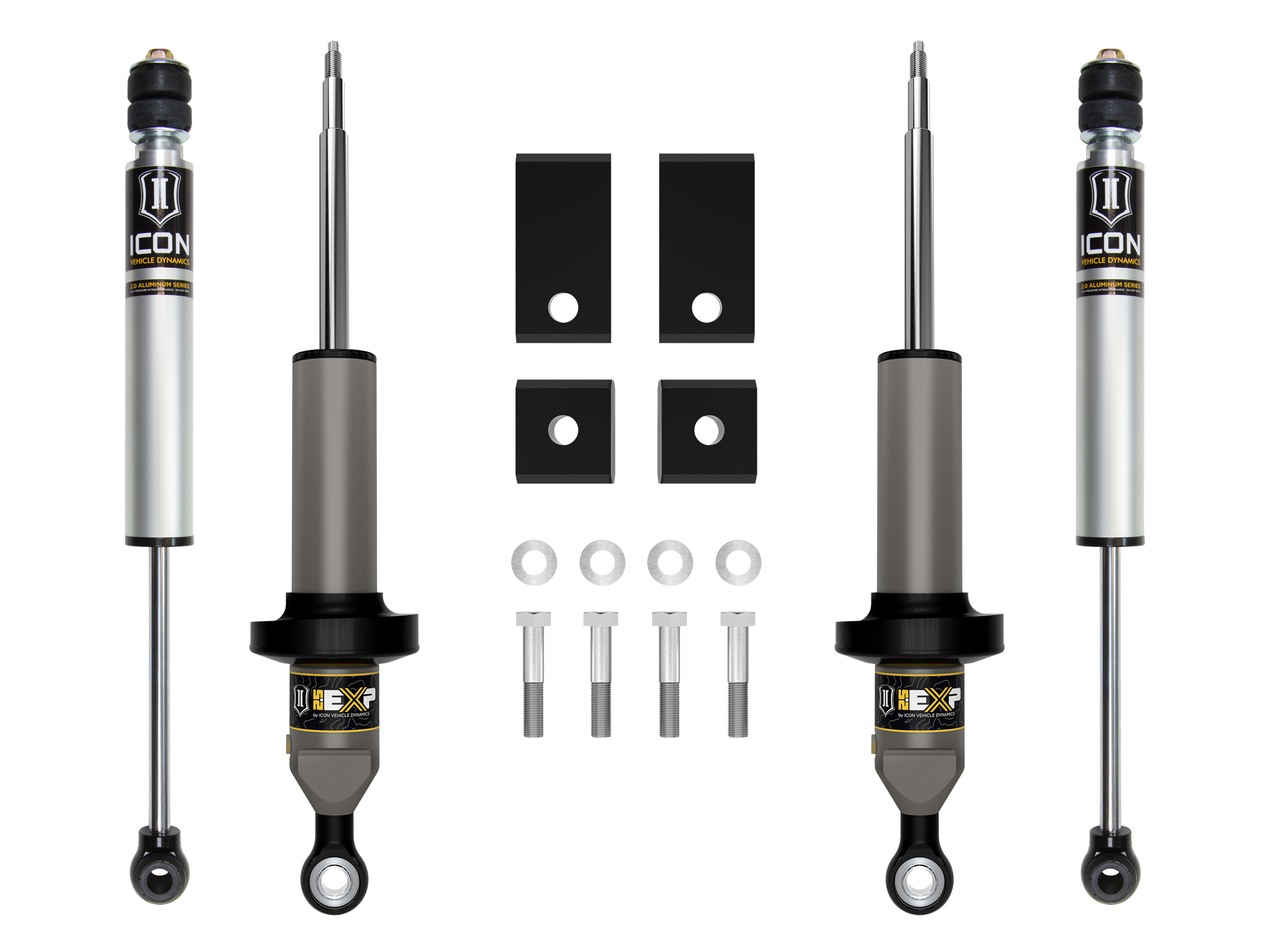 22-UP TUNDRA 0-2.5" STAGE 1 SUSPENSION SYSTEM (p/n K53191) includes:
(2) 58671 22-UP TUNDRA 2.5 EXP
(2) 56516 22-UP TUNDRA 2.0 REAR
(1) 55154 22-UP TUNDRA SWAY BAR DROP KIT
NEW!

2.5 EXP COILOVER SHOCKS - 22-UP TUNDRA 0-2.5" FRONT
The 2022-Up Toyota Tundra EXP Series front shock absorbers by ICON Vehicle Dynamics combine the performance of a fully rebuildable 2.5-inch diameter premium shock absorber with the convenience and cost-benefits of re-using the Tundra's factory coil spring and other components. EXP bridges the gap between spacer lifts and threaded bodied coilovers, providing suspension lift, custom-tuned performance and maximum travel, all in an economical package.
EXP Series is based on ICON's proven 2.5-inch diameter Aluminum Series shock absorber, featuring a one-piece impact-extruded aluminum shock body. Hard anodizing provides a great-looking, consistent finish with superior resistance to abrasion and corrosion. The massive 7/8-inch diameter shaft is induction hardened and chrome plated. EXP shocks use the factory shaft-up orientation, with the shaft ends machined to re-use the Tundra's OE upper shock and spring mounts.
The 6061-billet aluminum coil spring seat is CNC machined to fit the molded heavy duty urethane coil spring seat that is specifically designed to fit the Tundra's OE coil springs. A series of snap-ring grooves machined into the shock body provide easily-selectable front-end ride height adjustment from 0" to 3" of lift over stock.
EXP Series shocks utilize a one-piece digressive piston design and are custom tuned for the Tundra in conjunction with their stock front coil springs to maximize damping performance and provide unsurpassed ride quality, on and off-road. The increased piston size and shock oil volume provided by the 2.5-inch diameter aluminum body also provide superior heat dissipation compared to the smaller, steel bodied OE shocks, resulting in longer-lasting shock performance over prolonged use at higher speeds and through rougher terrain. For those who would like to further tune their suspension, EXP shocks are fully re-valvable (and rebuildable) by any qualified shock technician, with parts available from ICON.

Vehicle specific design for 2022-UP Toyota Tundra

Vehicle specific tuned for superior shock damping and control

2.5 Aluminum Series Shock with Internal Reservoir

Adjustable ride heights from 0-3" of front lift over stock with the use of snap ring

Utilizes factory coil and coil hardware

Inverted shaft up design featuring 7/8" diameter, induction hardened, chrome plated shaft

Impact extruded, hard anodized aluminum cylinder offer excellent corrosion resistance and consistent finish

CNC machined 6061 aluminum components with a black anodized finish

PTFE lined spherical bearing for extended longevity and minimal deflection

Fully rebuildable and re-tunable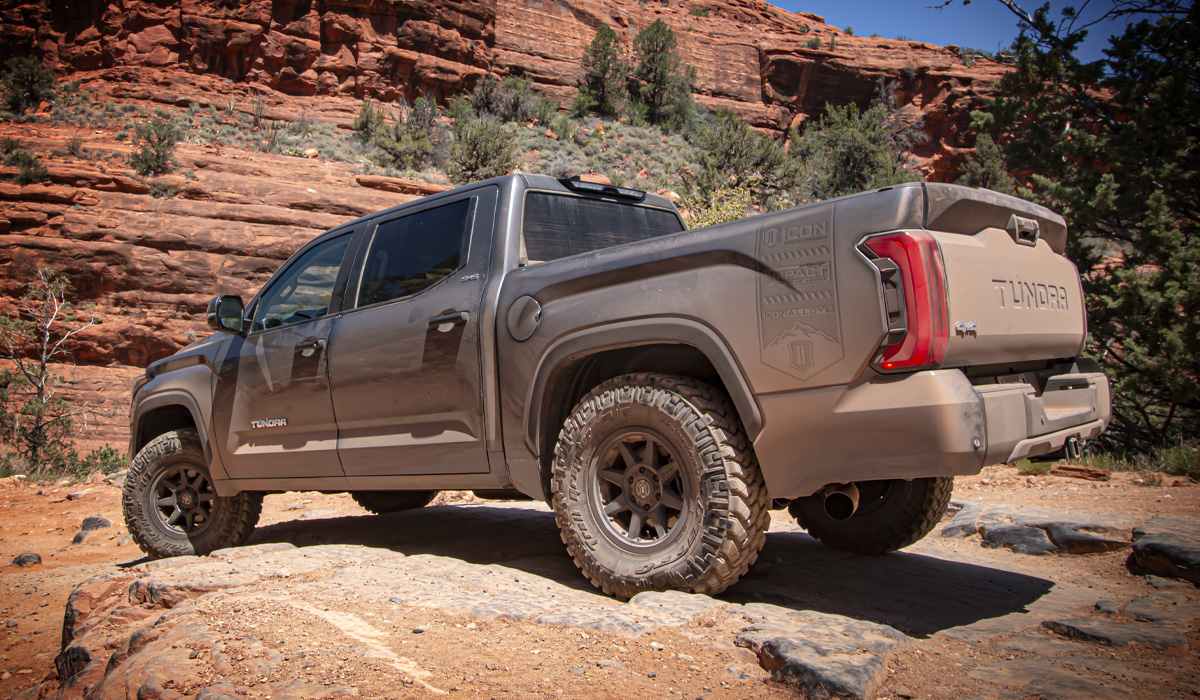 2.0 VEHICLE SERIES INTERNAL RESERVOIR REAR SHOCKS - 22-UP TUNDRA 0-1" REAR

ICON Vehicle Specific (V.S.) 2.0 Aluminum Series shock absorbers are the ultimate in cost effective upgrades, specifically tailored by ICON engineers for your application. The V.S. 2.0 Aluminum Series shocks are a high quality upgrade for the everyday street driver and weekend warrior looking for improved on and off-road performance. Like all ICON shock absorbers, V.S. 2.0 Aluminum Series shocks are 100% rebuildable and 100% revalveable.
Nitrogen charged monotube design with internal reservoir

One piece linear/digressive piston design with vehicle specific valving for unsurpassed performance and ride quality on and off-road

5/8" chrome plated hardened steel shaft resists corrosion and pits

6061 aluminum rod end, top cap, and internals ensure strength and durability

Polyurethane bushings, zinc plated sleeves, and forged steel mounting stems for OE factory type fitment

6063 anodized aluminum body and reservoir tubing for superb heat dissipation, excellent corrosion resistance, and high-tech appearance

Nitrile rubber top out bumper for noise free operation

Fully rebuildable and re-tunable

Premium grade 5WT shock oil for consistent suspension damping along a wide temperature range
TECH NOTES
K53191 22-UP TUNDRA 0-2.5" STAGE 1 SUSPENSION SYSTEM
OEM Wheels & Tires Fitment: Yes
Recommended Aftermarket Wheels: 17x8.5" w/ 5.75" Backspace / 25mm Offset
Recommended Aftermarket Tires: 35" x 12.50" (Minor fender trimming and modifications may be required)
TECH NOTE: Lift heights above 2.25" over stock require aftermarket front UCAs to maintain proper alignment
TECH NOTE: 2022 Tundra SR5 equipped with TRD Sport packages will have lift height range of .5-2.25" over stock
TECH NOTE: Not compatible with Tundras equipped with Load-leveling Rear Height Control Air Suspension. Kits for rear air equipped trucks coming soon!
TECH NOTE: Not compatible with Tundras equipped with Adaptive Variable Suspension (AVS)
TECH NOTE: Not compatible with Tundra TRD Pro
58671 22-UP TUNDRA 2.5 EXP
OEM Wheels & Tires Fitment: Yes
Recommended Aftermarket Wheels: 17x8.5" w/ 5.75" Backspace / 25mm Offset
Recommended Aftermarket Tires: 35" x 12.50" (Minor fender trimming and modifications may be required)
TECH NOTE: EXP Coilovers are sold individually. A quantity of 2 are required per vehicle.
TECH NOTE: Lift heights above 2.25" require sway bar drop bracket kit part number 55154
TECH NOTE: Lift heights above 2.25" over stock require aftermarket front UCAs to maintain proper alignment
TECH NOTE: Tundras equipped with Load-leveling Rear Height Control Air Suspension may not sit level. Rear lift options for air equipped trucks coming soon!
TECH NOTE: 2022 Tundra SR5 equipped with TRD Sport packages will have lift height range of .5-3" over stock
TECH NOTE: Not compatible with Tundras equipped with Adaptive Variable Suspension (AVS)
TECH NOTE: Not compatible with Tundra TRD Pro
56516 22-UP TUNDRA 2.0 REAR
TECH NOTE: Compatible with 0-1" of rear lift
TECH NOTE: Not compatible with Tundras equipped with Adaptive Variable Suspension (AVS)