NEW PRODUCT | 2.5 EXP Front Coilover Shocks for 07-21 Toyota Tundra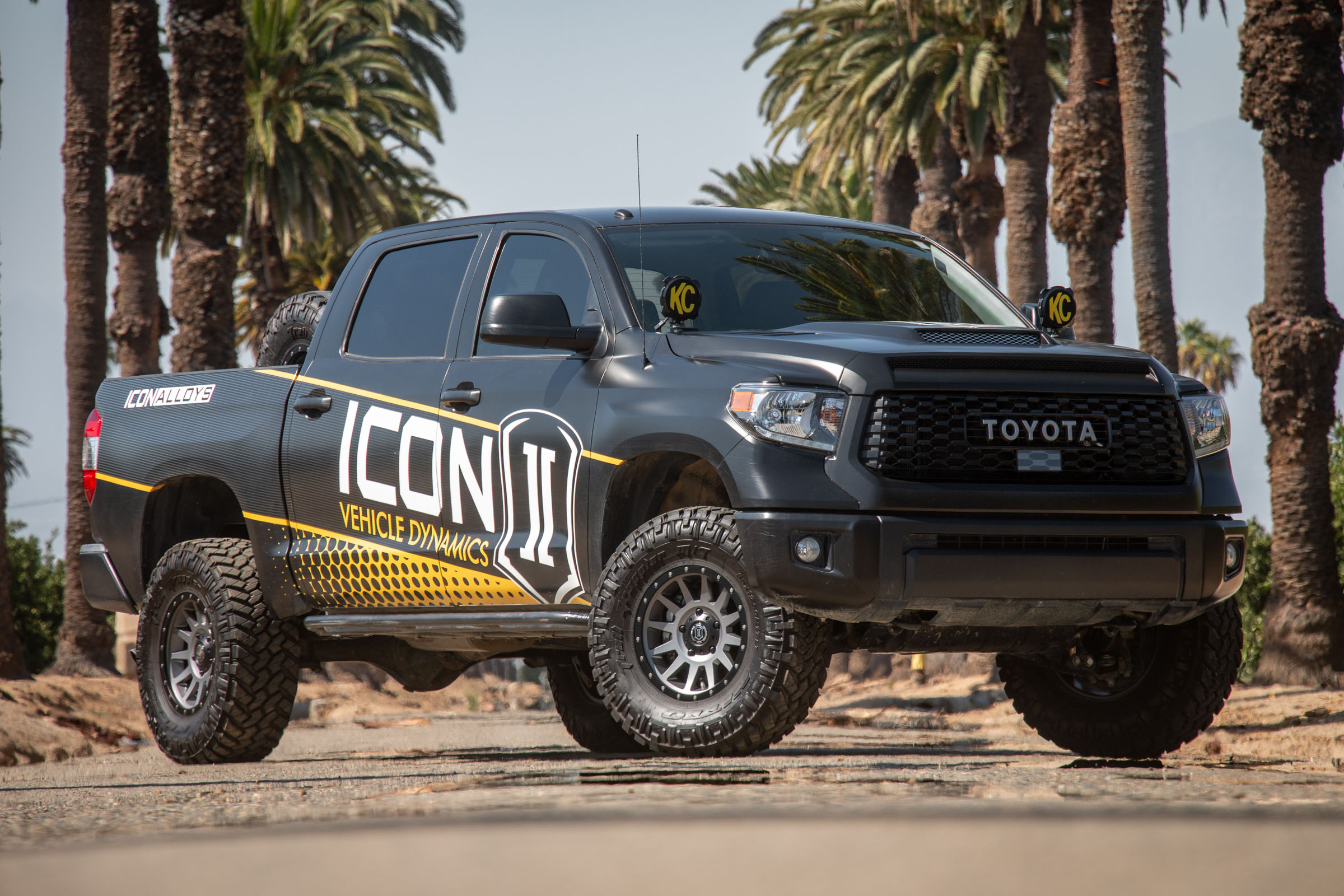 ICON Vehicle Dynamics is excited to announce 2.5 EXP Series Front Coilover Shocks for 2007-2021 Toyota Tundra, along with Stages 1 through 3 of our EXP Suspension Systems. EXP Series Shocks combine the performance of a fully rebuildable 2.5-inch diameter premium shock absorber with built-in lift height of 0 to 2.25 inches and the convenience and cost-benefits of re-using the Tundra's factory coil spring. EXP bridges the gap between spacer lifts and threaded bodied coilovers, providing suspension lift, custom-tuned performance and maximum travel, all in an economical package.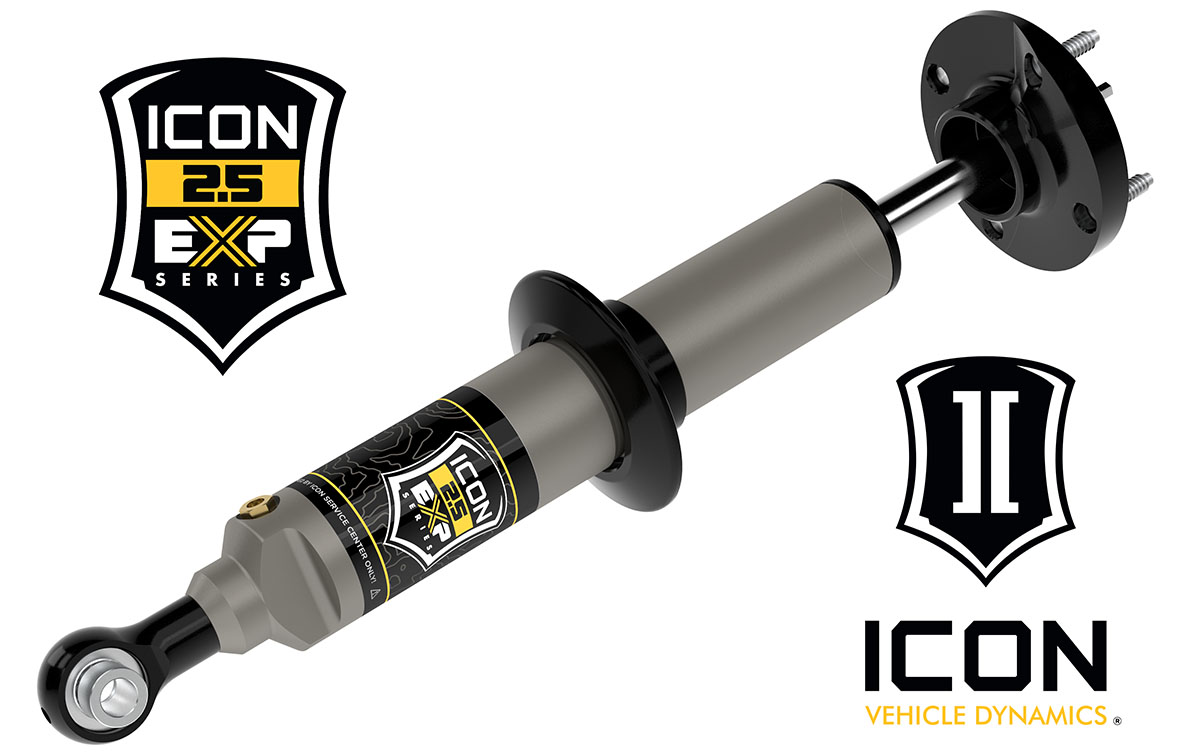 In addition to the 2.5 EXP Shocks for 07-21 Tundra, ICON is also introducing Stages 1 to 3 of our EXP Suspension Systems for 07-21 Tundra. ICON's famous "Stage" suspension systems assist 4X4 owners in selecting and configuring the perfect suspension system to meet their expectations and budget.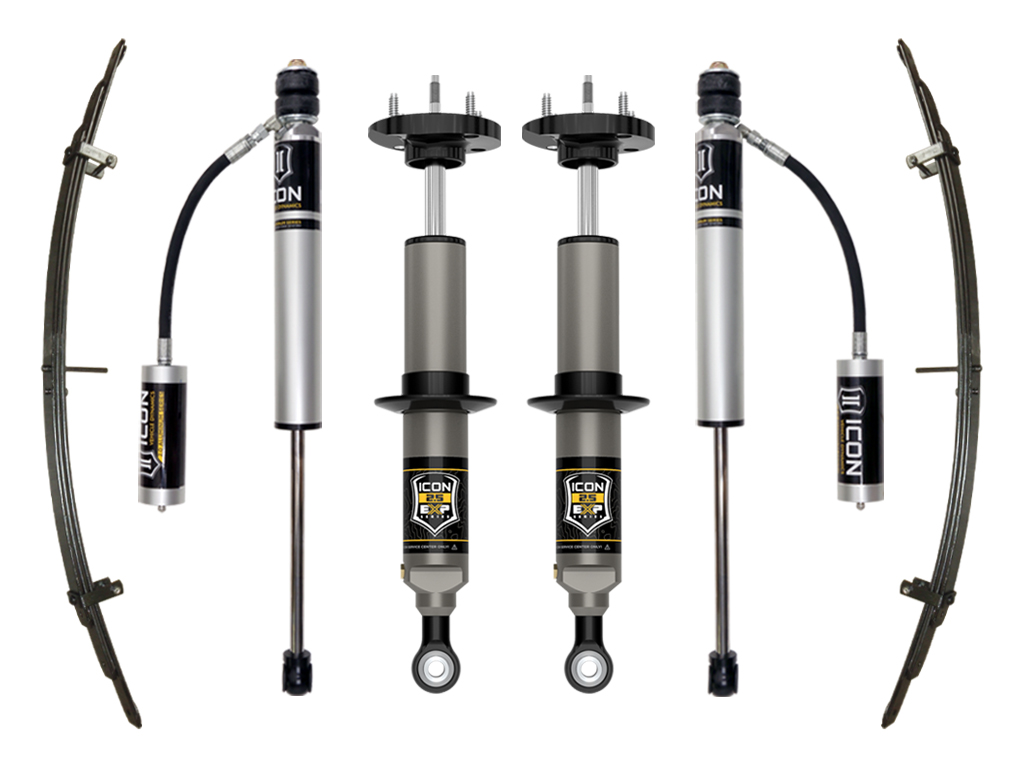 Below you'll find all of the pertinent information and downloadable files to add these items to your product offerings. Scroll down for more in-depth information on each part number or kit number.
07-21 TUNDRA 2.5 EXP FRONT COILOVER SHOCK

EXP Series is based on ICON's proven 2.5-inch diameter Aluminum Series shock absorber, featuring a one-piece impact-extruded aluminum shock body. Hard anodizing provides a great-looking, consistent finish with superior resistance to abrasion and corrosion. The massive 7/8-inch diameter shaft is induction hardened and chrome plated. EXP shocks use the factory shaft-up orientation.

The 6061-billet aluminum coil spring seat is CNC machined to fit the Tundra's OE coil springs. A series of snap-ring grooves machined into the shock body provide easily-selectable front-end ride height adjustment from 0" to 2.25" of lift over stock.

EXP Series shocks utilize a one-piece digressive piston design and are custom tuned for the Tundra in conjunction with their stock front coil springs to maximize damping performance and provide unsurpassed ride quality, on and off-road. The increased piston size and shock oil volume provided by the 2.5-inch diameter aluminum body also provide superior heat dissipation compared to the smaller, steel bodied OE shocks, resulting in longer-lasting shock performance over prolonged use at higher speeds and through rougher terrain. For those who would like to further tune their suspension, EXP shocks are fully re-valvable (and rebuildable) by any qualified shock technician, with parts available from ICON.
KEY FEATURES:
Vehicle specific design for 2007-21 Toyota Tundra
Vehicle specific tuned for superior shock damping and control
2.5 Aluminum Series Shock with Internal Reservoir
Adjustable ride heights from 0-2.25" of front lift over stock with the use of snap ring
Utilizes factory coil spring
Inverted shaft up design featuring 7/8" diameter, induction hardened, chrome plated shaft
Impact extruded, hard anodized aluminum cylinder offer excellent corrosion resistance and consistent finish
CNC machined 6061 aluminum components with a black anodized finish
PTFE lined spherical bearing for extended longevity and minimal deflection
Fully rebuildable and re-tunable
07-21 TUNDRA STAGE 1 EXP SUSPENSION SYSTEM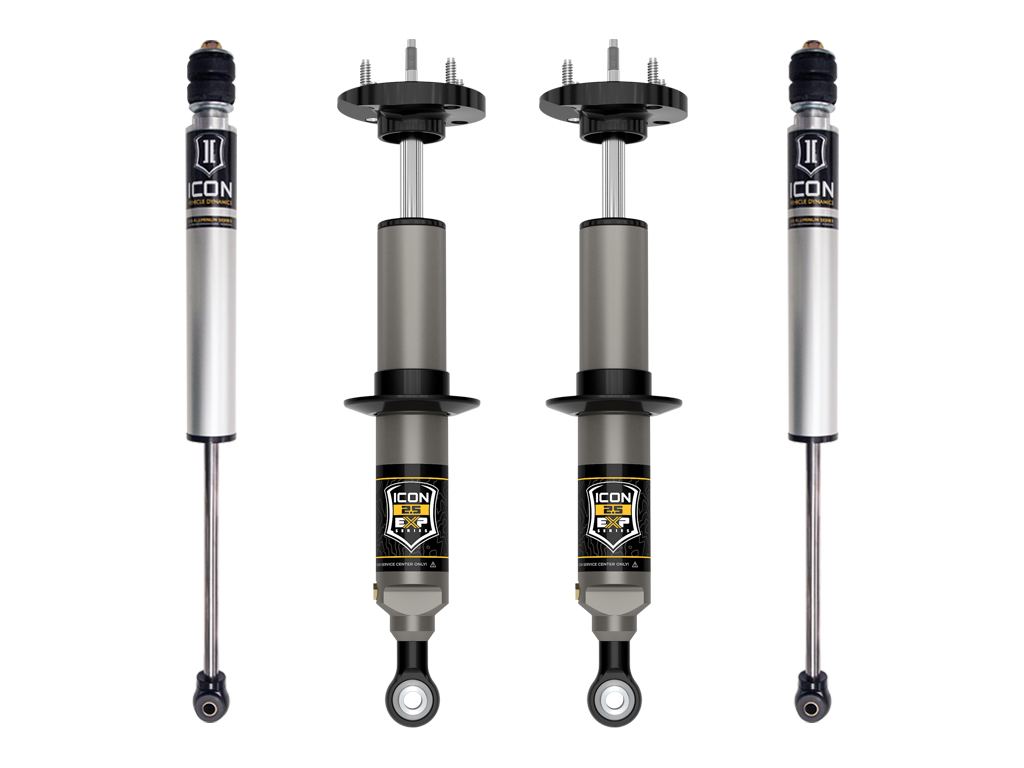 Our Stage 1 EXP system bundles a pair of 2.5 EXP Front Coilover Shocks and a pair of our 2.0 VS Series rear shocks to give your 07-21 Toyota Tundra improved damping performance and either stock height or 2.25" of front lift (does not lift rear).
K53226 07-21 TUNDRA 0-2.25" STAGE 1 EXP SUSPENSION SYSTEM
07-21 TUNDRA STAGE 2 EXP SUSPENSION SYSTEM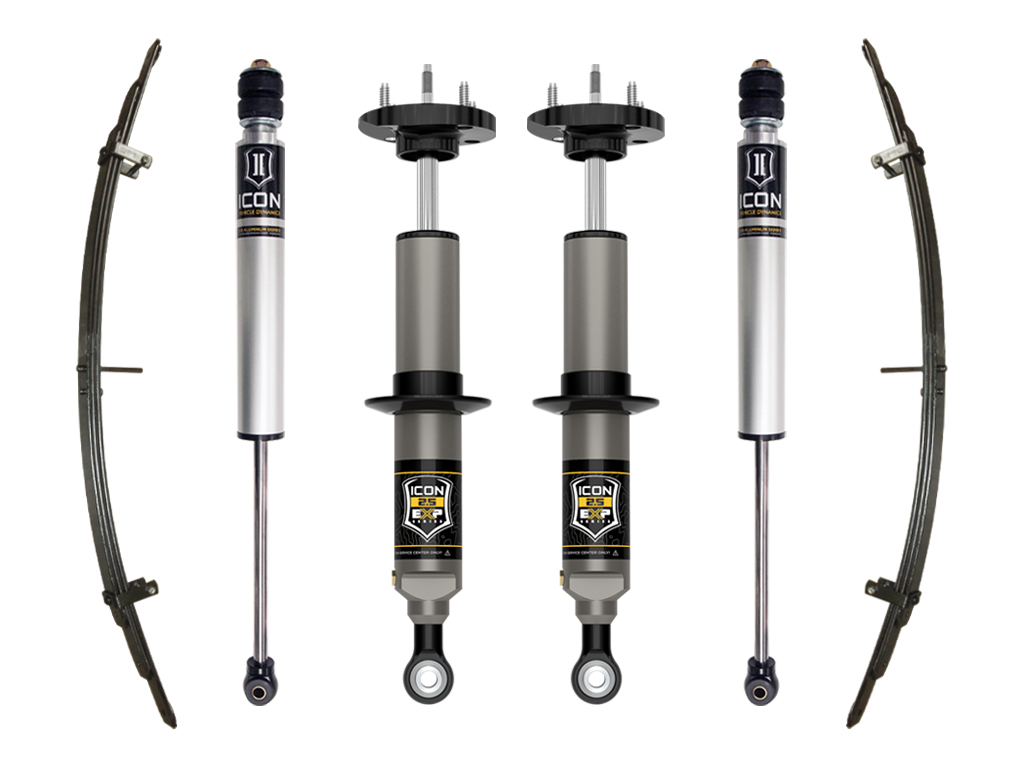 Stage 2 EXP includes everything from Stage 1 and adds ICON's rear leaf spring pack expansion kit to add lift and performance to rear while using the selectable 2.25" height for the front EXP's.
K53227 07-21 TUNDRA 0-2.25" STAGE 2 EXP SUSPENSION SYSTEM
07-21 TUNDRA STAGE 3 EXP SUSPENSION SYSTEM

Stage 3 EXP builds on Stage 2 by adding remote reservoirs to the 2.0 VS rear shocks for increased shock oil volume and heat dissipation, providing improved performance at higher speeds and more aggressive suspension cycling.