NEW PRODUCT | 2022 Toyota Tundra Billet Upper Control Arms, Rear Suspension Links & Adjustable Rear Track Bar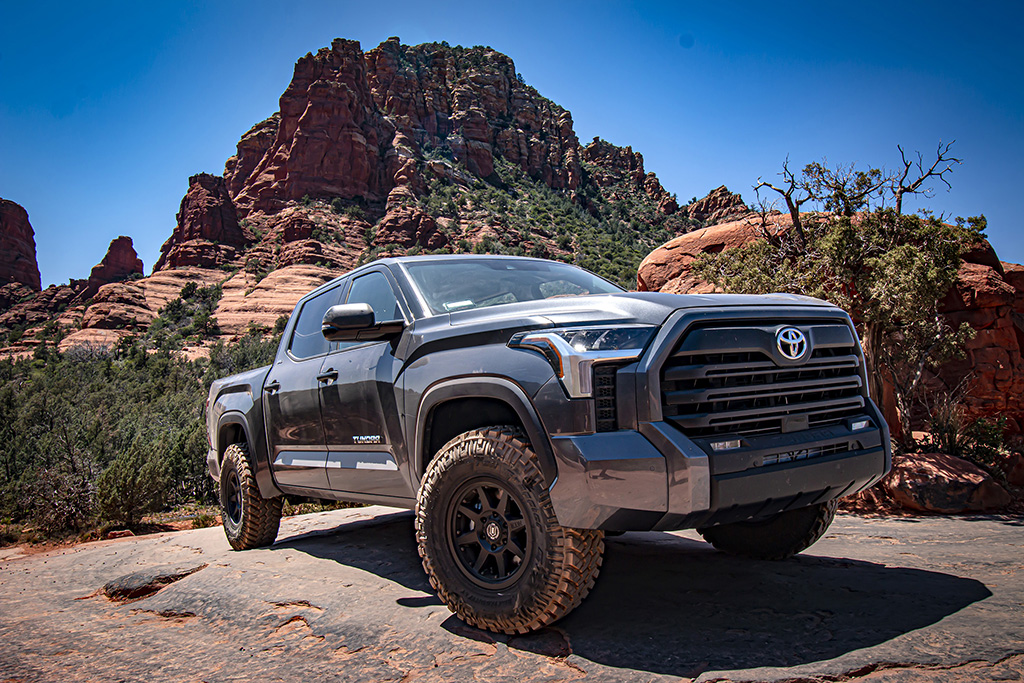 ICON Vehicle Dynamics is excited to announce our Billet Suspension Components for the 2022 Toyota Tundra. Available in kit pairs or as part of our Complete Suspension System "Stage" kits (coming soon!), these billet links and arms provide the ultimate combination of suspension geometry correction, precision adjustment and light-weight. Included in this New Product Release are:
58561DJ - 22-UP TUNDRA BILLET UCA KIT
54002 - 22-UP TUNDRA BILLET LOWER LINK KIT
54102 - 22-UP TUNDRA BILLET UPPER LINK KIT
54202 - 22-UP TUNDRA BILLET REAR TRACK BAR
See below for detailed product information on each of these great New Products from ICON Vehicle Dynamics!
BILLET UCA KIT WITH DELTA JOINT PRO
22-UP TOYOTA TUNDRA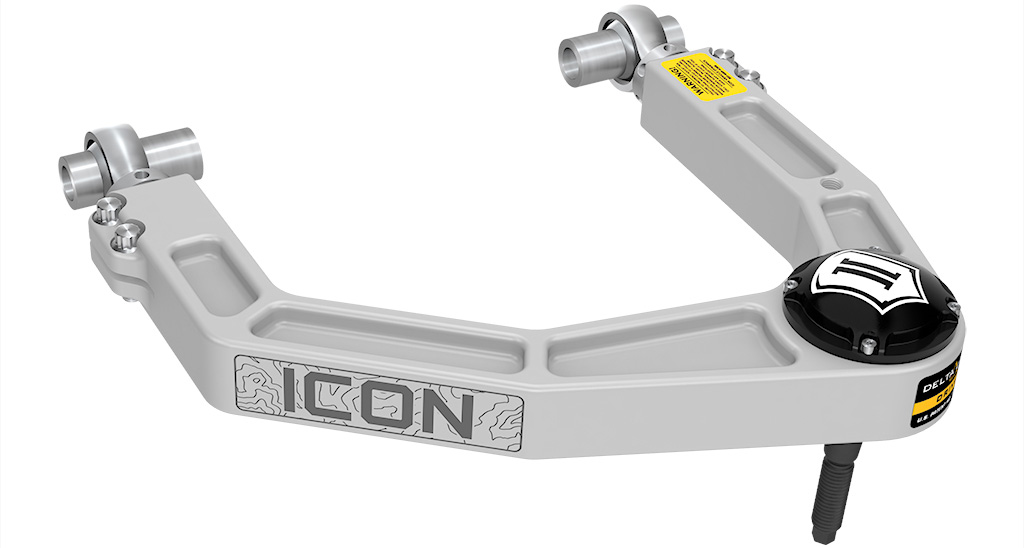 This ICON Billet Aluminum Upper Control Arm Kit is designed to improve the overall performance of the new 2022 Toyota Tundra with corrected front-end geometry, increased camber and caster adjustment, and improved suspension component clearance. Constructed of CNC machined 6061 billet aluminum utilizing a hybrid H-beam cross-section that is light-weight and resists bending forces better than tubular arms. Replacing the OE ball joint with the all-new, serviceable, and rebuildable ICON Delta Joint PRO allows for full bump and droop travel of the front suspension while eliminating bind. FK Rod End 3/4" heim joints provide precise and smooth function throughout the range of travel while ICON's signature double adjuster sleeve allows for on-vehicle camber and caster adjustment. Included with all components and hardware necessary for a complete install, these billet UCAs are the perfect front end upgrade for the 2022 Toyota Tundra.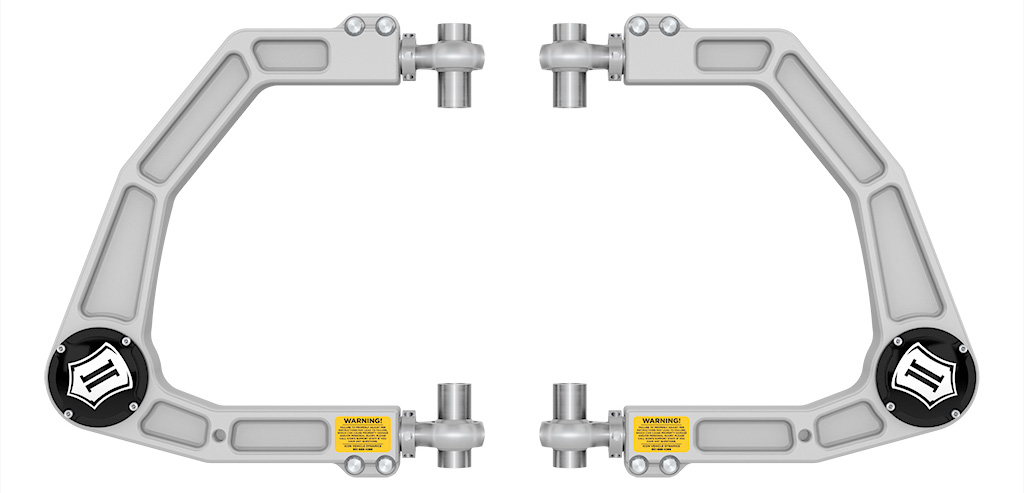 ICON suspension components with the all-new Delta Joint PRO represent the state of the art in off-road performance and durability. Delta Joint PRO is ICON's innovative new suspension articulation joint which combines the durability and longevity of factory style ball joints with performance and strength that exceeds traditional motorsports-style ball joints. The Delta Joint PRO features a new rebuildable, serviceable design in which any component may be removed, inspected and replaced without having to purchase a new joint. Strength and durability are improved by using a larger ball with 56% more bearing surface than our standard Delta Joint, along with improved lubrication sealing. Improved performance is at the heart of the Delta Joint PRO, with a full 90 degrees of articulation, from one extreme to the other. This represents a 14% improvement in range of motion, over the highly capable original Delta Joint, allowing for maximum bind-free suspension movement through the complete range of travel. The Delta Joint PRO is built to take the abuse, with a chromoly ball and shaft that has a bearing surface hardened to Rockwell C 55. The replaceable races are made of graphite-impregnated sintered metal, machined to the finest tolerance to provide a flawless, metal-to-metal bearing interface. We also redesigned the lubrication system, with lubricant channels that distribute grease more efficiently without extending past the bearing seal.
CNC machined 6061 billet aluminum construction with satin anodized finish
Corrects suspension geometry and allows increased travel on lifted or stock height Tundras
Quick, precise, on-vehicle adjustment for both caster and camber
Delta Joint PRO allows maximum articulation without binding
Delta Joint PRO is 100% serviceable and rebuildable
FK Rod Ends at chassis pivots for strength and precision driving characteristics
Built in O-ring sealed dust cover cap
BILLET REAR UPPER SUSPENSION LINKS -
22-UP TOYOTA TUNDRA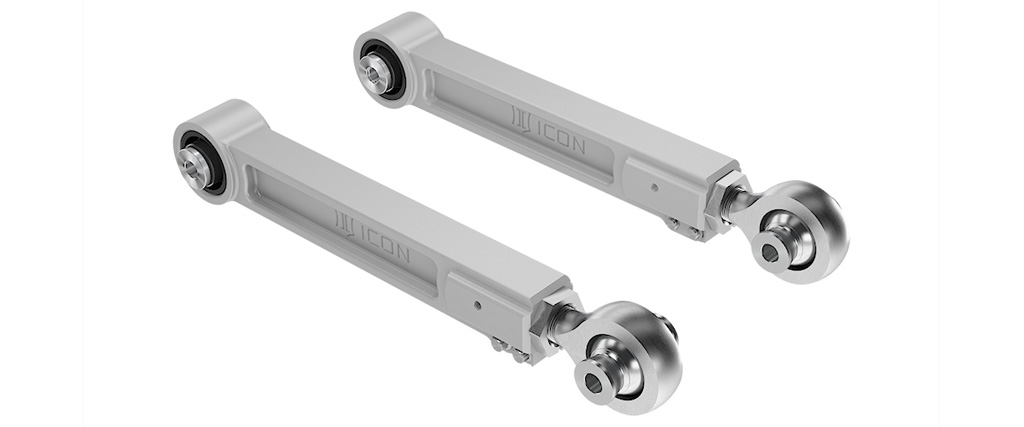 ICON's Billet Aluminum Rear Upper Link Arms for the 2022 Toyota Tundra are a significant upgrade over the factory units due to increases in strength, adjustability, and performance. These links are made from CNC machined 6061 aluminum in-house and anodized for corrosion resistance, providing a major improvement over the construction of the stock units. This upper link arm kit features PTFE-lined FK rod ends for increased suspension articulation, reduced deflection, and on-vehicle link arm length adjustability using ICON's double adjuster system. Additionally, multi durometer bushings are installed that allow for noise free operation and maximum angularity without the need for periodic greasing and/or other maintenance. The quality rod ends and bushings featured in these link arms allow the vehicle's suspension to function as intended, without the bushing bind that limits the vehicle in stock form. After the design phase was completed ICON engineers put these parts through the "ICON1K" real-world test cycle for a final stamp of approval.
CNC machined 6061 aluminum
On vehicle adjustment for different ride heights and pinion angles
Vehicle specific design
Design for maximum articulation
FK JM16T-1 PTFE-lined rod ends
No grease dual durometer bushing for maximum angularity and noise isolation
Covered by ICON's lifetime warranty
NOTE: ICON part number 55153 (22-UP TUNDRA AIR RIDE BRACKET KIT) is required for air ride equipped vehicles.
BILLET REAR LOWER SUSPENSION LINKS -
22-UP TOYOTA TUNDRA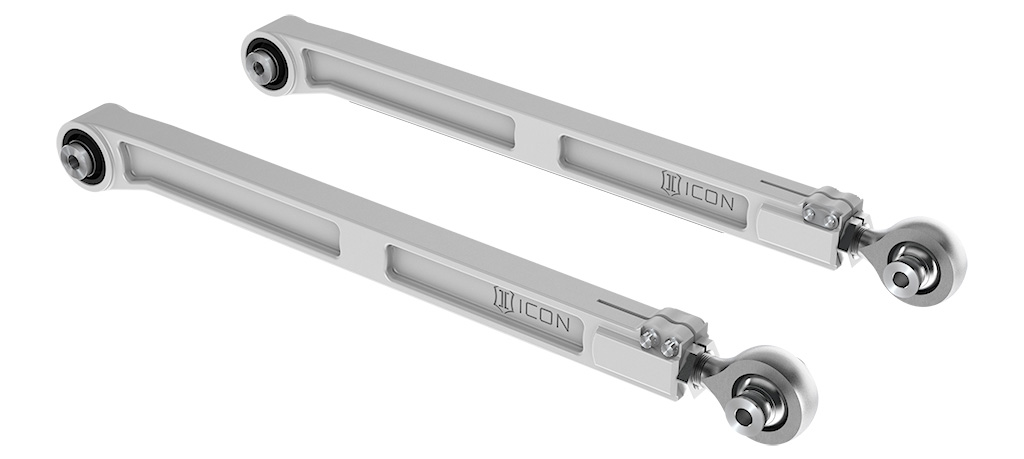 ICON's Billet Aluminum Rear Trailing Arms for the 2022 Toyota Tundra are a great replacement for weak factory lower links. These trailing arms are light, strong, and have been engineered to increase the off-road ride quality of the vehicle. Constructed out of 6061 CNC-machined billet aluminum, these arms stand out when bolted up on the vehicle. They include JM16-1T FK Rod Ends that have a load rating of over 40,000 lbs of pressure as well as a dual rate bushing on the axle side for excellent articulation characteristics with minimal deflection. A replaceable nylon rock slider is incorporated into the design of the arm to prevent any hang-ups on the trail.
On vehicle adjustment for different ride heights and pinion angles using ICON's Double Adjuster System
Vehicle specific, high clearance design for reduced link contact with obstacles
Replaceable Nylon Rock Slider to protect the link from damage
CNC machined 6061 aluminum construction
Maintenance free, dual durometer bushings for maximum angularity and noise isolation
On vehicle adjustment for different ride heights and pinion angles.
FK JM16T-1 PTFE-lined rod ends
No grease dual durometer bushing for maximum angularity and noise isolation.
Covered by ICON's Limited Lifetime Warranty
BILLET REAR ADJUSTABLE TRACK BAR -
22-UP TOYOTA TUNDRA

The ICON Billet Rear Adjustable Track Bar helps center the axle of your lifted 2022-UP Toyota Tundra while freeing up suspension articulation. Massive PTFE-lined FK Rod End help to yield the maximum travel and articulation. Use of right- and left-handed rod end threads allows easy "on-vehicle" fine adjustment of track bar length without requiring removal or disassembly of the track bar. Simply loosen the jam nuts then rotate the bar, using the machined wrench flats, to adjust link length. This allows for easy correction of axle location and dialing in precise tracking whenever adjustments are made to ride height. The track bar is CNC machined from solid 6061 aluminum bar, and anodized to match the look of ICON's billet upper and lower links. Hit the trail with the confidence of knowing your suspension components are covered by ICON's Limited Lifetime Warranty.
CNC machined 6061 Aluminum bar anodized to match the look of the upper and lower links
On vehicle adjustable for precise track alignment using left and right rod ends
Vehicle specific design
FK RSMX12T PTFE-lined rod end
Covered by ICON's Limited Lifetime Warranty
Helps to free rear suspension from binding