NEW PRODUCT | ICON CDEV & IIC FOR 2005-2015 TACOMA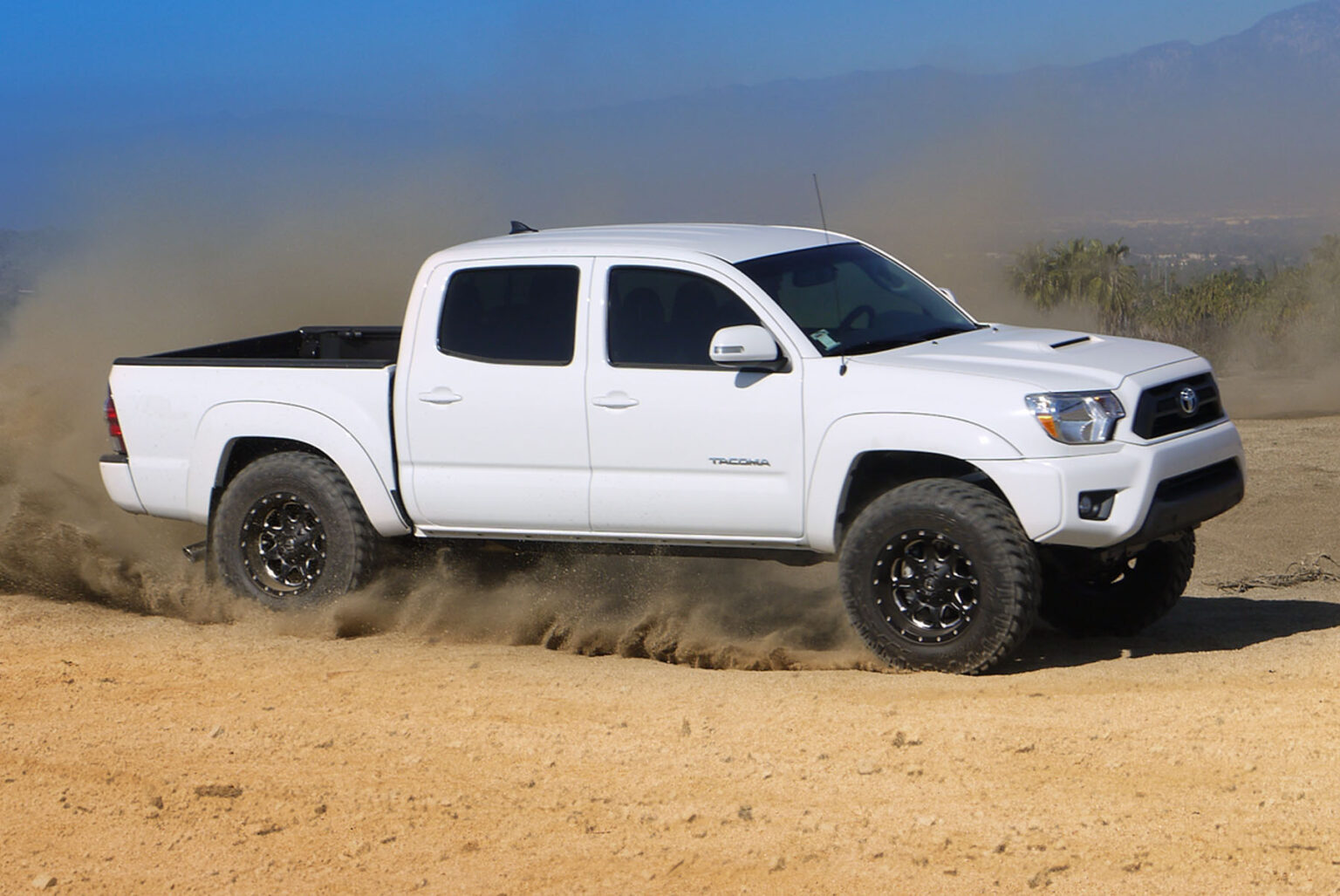 THE FUTURE OF SUSPENSION TECHNOLOGY
ICON Vehicle Dynamics is proud to release their IIC Install Kit for 05-15 Tacoma!
ICON Intelligent Control (IIC) is the computer that monitors, analyzes, and processes data in real-time. Information from the onboard G-force sensor and Gyroscope perform calculations based on algorithms and user-defined settings to predict terrain and wheel position. IIC has the capability to collect information at over 1000 times per second, process the data and make adjustments, then deliver those changes to Compression Damping Electronic Valve (CDEV) in the shock absorbers in under 40 milliseconds.
IIC also works as a data driver to connect the user to ICON's proprietary mobile App interface for monitoring and adjusting shock settings. The IIC is mounted to the 2005-2015 Toyota Tacoma using application specific mounting brackets, hardware and wire harnesses, ensuring an easy and clean looking install.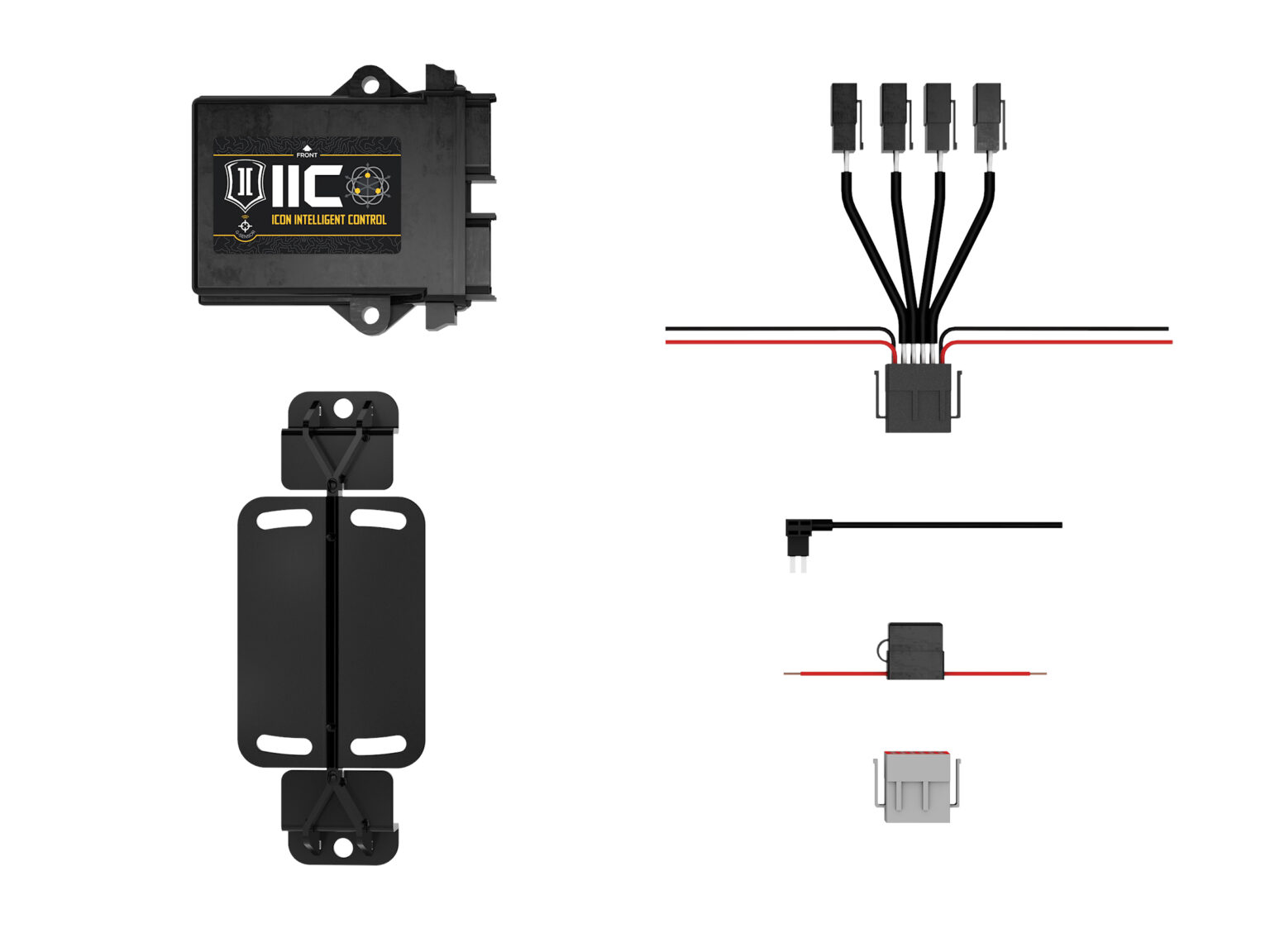 The IIC App brings all of this technology together by offering a user-friendly interface to monitor, record, and adjust the system's performance via Bluetooth connection. Users can easily alter the shocks' baseline settings for firmness, as well as adjust the sensitivity of vertical "G-Boost" and lateral "Corner Boost" with a few simple taps from their favorite iOS device.
The App includes several preconfigured 'Drive Modes' (Normal, Desert, and Haul) but also offers the ability for users to create an unlimited number of unique presets using their own custom settings. To top it all off, you can record data from your trip including time, speed, distance and G-Forces for your very own ICONIC Overview.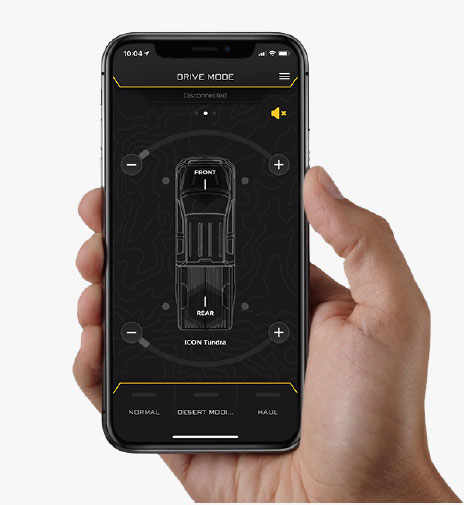 IIC Install Kit 2005-2015 Toyota Tacoma – PN 53507 (2016-Up – PN 53502)
KEY FEATURES
Offers selectable active shock damping adjustment and manual adjustment of baseline settings without exiting vehicle
Onboard sensors monitor G-forces and movement of vehicle chassis
Performs calculations based on sensor inputs, custom algorithms, and user defined settings at a rate of over 1000 times per second
Sends necessary damping adjustments to CDEV shocks that react in under 40 milliseconds
User interface provided by IIC Mobile App via Bluetooth connection to iOS device
Mobile app offers preconfigured "Drive Modes" as well as the ability to create custom presets
Also functions as a data logger for time, speed, distance, and G-force allowing you to record data from your trips
Application specific mounting brackets, hardware and wire harnesses
TECH NOTES
Also requires installation of CDEV front shocks (Part# 58735E) and CDEV rear shocks (Part# 57826EP)
Fitment for existing parts numbers 58735E and 57826EP has been updated from 2016-UP Toyota Tacoma to 2005-UP Toyota Tacomas
Not compatible with 2005-2015 2WD 5-Lug Toyota Tacoma models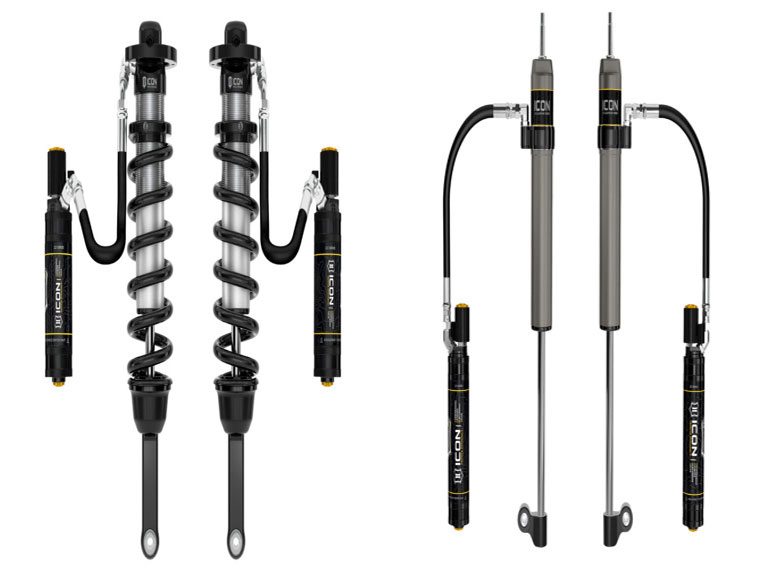 58735E – ICON 2005-UP Tacoma Extended Travel 2.5 VS RR CDEV Coilover Kit
The ICON Vehicle Dynamics V.S. Series 2.5" remote reservoir coilover shocks w/ CDCV are an incredible upgrade for the front end of the 2005-UP Toyota Tacoma. ICON's Vehicle-specific valving provides a sport tuned feel on and off-road while offering 0-2.75" of lift height adjustability for use of larger, more aggressive wheel and tire combinations. ICON's larger 2.5" shock body and increased piston area over stock components provides improved damping ability and outstanding ride characteristics across varying types of terrain.
Remote reservoirs ensure optimum performance by increasing the duration of consistent damping regardless of situation, keeping the shocks at a cooler operating temperature during heavy use. The ICON CDE Valve upgrade is included for those desiring an easy way to tune the ride electronically from inside the vehicle.
57826EP – ICON 2005-UP RXT Rear 2.5 VS RR CDEV Pair with 2005-UP Toyota Tacoma
ICON Vehicle Specific (V.S.) 2.5 Aluminum Series shocks with CDEV are designed and built to give your vehicle outstanding performance off-road and a smooth ride on the street. These shocks are configured specifically for each application in both length and damping tune.
For piggyback and specific remote reservoir applications, ICON'S unique use of a 6061 billet aluminum manifold a few inches below the top cap of the shock creates an internal Bump Zone that when used creates an additional 20% of damping force. This additional force helps prevent harsh bottom outs and controls the suspension when compressing at high velocity.
This RXT rear shock features a side-mount eyelet making it shorter in collapsed length, longer at extension, and still fit in the factory mounting location, allowing for additional wheel travel when paired with ICON Multi-Rate Leaf Springs. Like all ICON'S Shock Absorbers, V.S. 2.5 Aluminum Series shocks with CDEV are 100% rebuildable and 100% revalveable.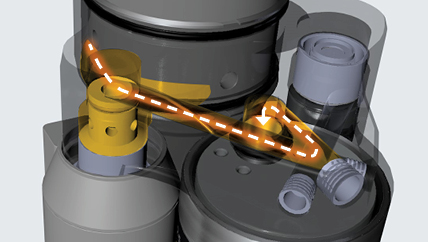 What does all of this mean?
The beauty of the IIC and CDEV system is the fact that it seamlessly adjusts all of the shocks to their ideal setting for any given terrain or driving style without ever having to take your eyes off of the road or trail. For example, if you're blasting down a high-speed washboard road and suddenly come across a larger obstacle, the system will automatically increase shock damping to help absorb the impact. Conversely, if you've just completed a fast, rough section of trail and things start to slow down, the system will reduce shock damping to provide a compliant and comfortable ride.
Whether it's hardcore off-road performance, smooth on-road comfort, or anywhere in between, IIC and CDEV have you covered for every situation.
For more information about ICON's proprietary suspension technology CDEV & IIC, learn more here.