NEW PRODUCT: 2007-UP JEEP WRANGLER JK CENTERLINE STEERING STABILIZER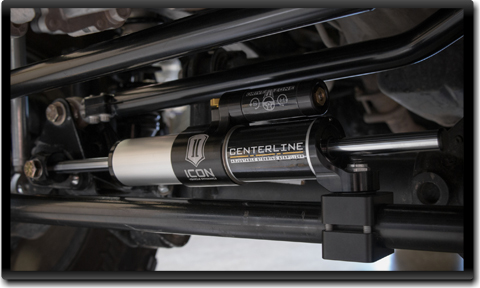 ICON Vehicle Dynamics is proud to announce the release of our new Centerline Steering Stabilizer for the 2007-UP Jeep Wrangler JK. Engineered to provide consistent steering damping with a through-shaft design, the new ICON Centerline Steering Stabilizer features an adjustable "Drive Zone" that can be custom-tailored to an individual's desired steering feel. Developed with the range of aftermarket JK components in mind, this stabilizer is a high clearance design with a rotatable reservoir that allows for fitment on all ICON lift systems as well as most other lifts on the market.
In addition to providing steering damping without the push or pull associated with a traditional stabilizer, the ICON Centerline Stabilizer features an adjustable "Drive Zone" with 9 levels of damping that affects 110 degrees of steering wheel input to the left or right of center. This allows the end user to customize how tight or how loose their vehicle handles in the middle of the steering range.
This new Centerline Steering Stabilizer shares the same great build features as our proven ICON 2.0 Aluminum Series shocks. These features include a clear anodized 6063 aluminum shock body for corrosion resistance and a 5/8" chrome plated hardened steel shaft for durability, premium 5WT shock oil that provides consistent damping characteristics across a wide operating temperature range, and a high temperature long wear seal pack that stands up to harsh conditions found both on and off-road. The CNC machined billet aluminum Centerline Stabilizer 1-3/8" tie rod clamp and rod end also feature FK Rod End bearings for precise and reliable operation.
ICON products are all proudly made in the USA at our Southern California based facility by a dedicated team of off-road enthusiasts. With a reputation for quality, performance, and service it's clear that ICON Vehicle Dynamics is the top choice for performance suspension systems and shock absorbers for the 2007-UP Jeep Wrangler.
KEY FEATURES
Through shaft design eliminates push/pull associated with traditional stabilizers
Increased steering damping over stock unit
Provides symmetrical steering feel throughout input range
Adjustable "Drive Zone" with 9 clicks of damping adjustment
100% bolt-on installation
High clearance design and rotatable reservoir for proper fitment on all lift heights
Mounts to OE 1-3/8" tie rod
Fully serviceable ICON 2.0 Aluminum Series shock
6063 clear anodized aluminum shock body provides excellent corrosion resistance and superb heat dissipation
5/8" chrome plated hardened steel shaft
5WT shock oil for consistent suspension damping along a wide temperature range
FK Rod End bearings for precise function
TECH INFO
This kit is intended for use with a 3-6″ lift and will not work on a stock vehicle. A minimum of 1″ bump stop spacer is required for adequate clearance.
4.5″ kits and taller allow the reservoir of the stabilizer to be rotated straight up above the shock body. 3″ kits require the reservoir to be rotated down behind the shock body.