NEW PRODUCT: 2017-UP FORD RAPTOR ATTITUDE ADJUSTMENT COLLAR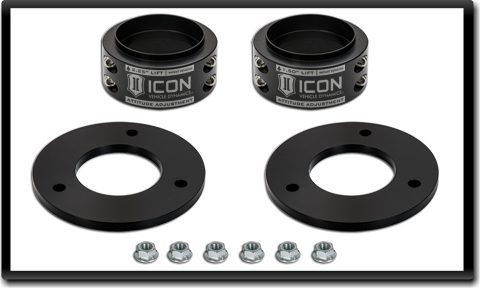 ICON Vehicle Dynamics is proud to introduce the latest addition to the IVD Leveling Suspension product line, the 2017-UP Ford Raptor Attitude Adjustment Collar. The ICON Attitude Adjustment Collar (AAC) is an industry first, patent pending multi-height coil spring collar that works in conjunction with a top load shim that can be configured in five unique ways to yield .5" to 2.25" of front lift height over stock.
Taking the front end dimensions of the "Gen 2" Raptor into account, the collar and shim design of this leveling system achieves this range of lift height while keeping the OE shock in the ride zone, maintaining factory ride quality. Other options on the market produce lift height solely through coil preload, which places the shock in the rebound zone at ride height and drastically impacts ride quality and performance in a negative manner.
Installation of this leveling system requires no disassembly of the shock, making it a simple and straightforward process as opposed to other options currently available. CNC machined 6061 billet aluminum construction and a black anodized finish mean this product can stand up to the test of time in the harshest on and off-road conditions. Made in the USA and backed by ICON's limited lifetime warranty, the ICON Vehicle Dynamics Attitude Adjustment Collar is the best leveling solution on the market for the 2017-UP Ford Raptor.
KEY FEATURES
Industry first, patent pending dual height preload collar
Multi-height design can yield 0.5" to 2.25" of front lift height
Does not require disassembly of the shock for installation
CNC machined 6061 billet aluminum construction
Black anodized finish for corrosion resistance and great looks
Keeps OE shock in the ride zone, maintaining factory ride quality
Lifetime guarantee against component breakage or manufacturer defect
Made in the USA
WHEEL & TIRE FITMENT INFO
OEM Wheels & Tires: Yes
Aftermarket Wheels: 8.5″ Wide, 5″ Backspace
Aftermarket Tires: 35 x 12.50 (Larger Tires May Fit but Fender Trimming and Modifications will be Required)
Recommended Wheel: ICON Alloys 'Six Speed' | 17X8.5, 5″ BS, 6mm Offset
TECH INFO
This kit is configurable to 5 different ride heights as desired. ICON highly recommends the 1.5″ lift setting which consists of the 3/8″ top shim and the collar. This will yield the best overall ride quality and performance.