ICON 2008-UP TOYOTA LAND CRUISER 0-3? SUSPENSION SYSTEMS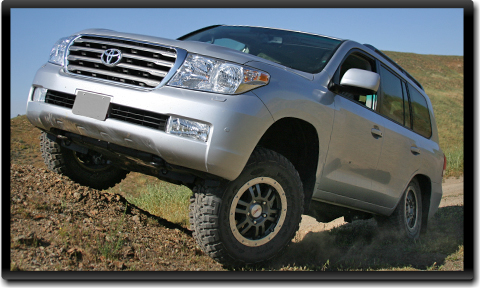 The 200 Series Land Cruiser is a luxurious vehicle packed with all sorts of bells and whistles, but underneath all of the sophistication it is still a very capable Toyota that sees heavy use both on and off-road worldwide. While the 200 Series has exceptional ride characteristics in stock form, it is clear to see that the suspension is in need of a serious upgrade if the vehicle is to serve any measurable amount of time in the dirt. ICON Vehicle Dynamics has addressed this need for a comprehensive suspension solution and is proud to introduce several suspension systems that increase the overall ability of the 2008-UP Toyota Land Cruiser.
Like any application that makes its way into ICON's research and development department, the 200 Series Land Cruiser was examined thoroughly in stock form in an attempt to find where the OE components were limiting performance or could be improved upon. Once this process was complete ICON engineers set out to create parts that would increase the Cruiser's ride quality, reduce body roll, maximize wheel travel, and provide sufficient lift to allow for the fitment of larger, more aggressive wheel and tire combinations. After miles of real-world testing and hours of in-house dyno work a collection of ICON components including coilovers, rear shocks, upper control arms, and lower links were organized into several staged suspension systems that each delivers a unique level of performance to the 200 Series.
These systems offer a range of lift from 0-3″ and are a 100% bolt-on design that makes for an easy install with the ability for the vehicle to be returned to stock if need be. A remarkable level of performance is established with ICON's Stage 1 system, and only improves as the increasing stages introduce more technology and more robust components. ICON products are all proudly made in the USA at our Southern California-based facility by a team of passionate off-road enthusiasts. With a reputation for quality, performance, and service ICON Vehicle Dynamics is the top choice for Toyota 200 Series Land Cruiser suspension systems and shock absorbers.
KEY FEATURES
Increased wheel travel and ride quality over stock
Decreased body roll
Vehicle-specific tuned front and rear shocks provide superior damping and control
Coilovers are adjustable from 0-3″ of lift height
Corrosion resistant CAD plated shock bodies with 7/8″ shafts
Shocks are fully rebuildable and revalveable
FK Rod End bearings for extended longevity and minimal deflection
CDCV technology allows for quick and easy compression damping adjustment without the need for tools
CNC machined 6061 aircraft-grade aluminum components
100% bolt-on system makes for a simple install
Made in the USA