ICON 2014-UP RAM 2500 4WD 2.5? SUSPENSION SYSTEMS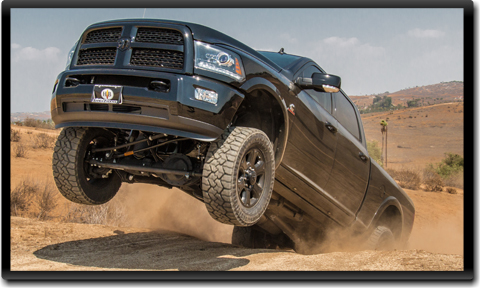 The 2014 RAM 2500 4WD is a heavy-duty beast of a truck suited for use as a job site workhorse, a family toy hauler for those weekend getaways, or an off-road rig capable of taking some serious abuse in the dirt. The new RAM's suspension has been completely redesigned with a radius arm front end and a multi-link, coil sprung rear. Because of this, ICON engineers had to step back and approach this platform from a new angle to develop an entirely new set of components that would deliver both ride quality and performance.
ICON engineers' primary focus for this system was to maximize wheel travel while developing a ride tune across the line of ICON shock absorbers that strikes the perfect balance between on-road comfort and off-road performance. This combination of ICON components has been organized into staged systems that deliver unique levels of performance to the 2014 RAM 2500. In standard ICON fashion a remarkable level of ride quality is established with our basic Stage 1 system, and only improves as the increasing stages add more technology and more robust components to the equation.
The ICON 2014 RAM 2500 4WD 2.5" Suspension System is made up of dual-rate front coil springs, necessary bracketry and hardware, as well as 2.0 Aluminum Series and 2.5 VS Series front and rear shock options. Additional components include adjustable front and rear track bars that allow the vehicle to maintain proper alignment throughout the range of travel. The 2.5" lift that this system yields allows for the fitment of larger, more aggressive tire and wheel combinations up to 35". After a comprehensive evaluation of the finalized product, hours of in-house shock dyno tuning, and an extensive amount of on and off-road testing ICON is proud to introduce this suspension system to the market. Proudly manufactured in the USA by a team of passionate off-road enthusiasts, the ICON 2014 RAM 2500 4WD 2.5" Suspension System is a great option for RAM owners looking to lift their vehicle and increase ride quality.
KEY FEATURES
Increased wheel travel and ride quality over stock
Decreased body roll
ICON engineered 2.5″ dual-rate coil springs
Adjustable front and rear track bars feature PTFE lined FK rod ends
Level stance from front to rear
Allows fitment of larger, more aggressive tires up to 35"
Adjustable track bars allow for on-truck alignment
Shocks are fully rebuildable and revalveable
Springs guaranteed for life against sagging or breakage
Made in the USA