ICON 2011-UP FORD RANGER T6 SUSPENSION SYSTEMS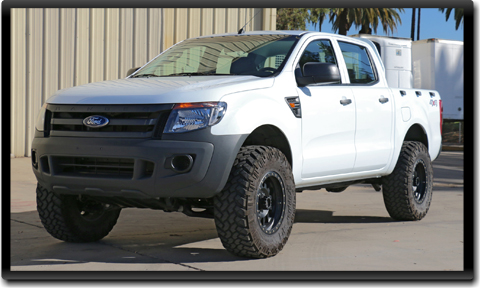 The 2011-UP Ranger T6 (or Global Ranger) is a mid-size pickup that has been dubbed "the most capable small pickup" that Ford has ever built. With a sturdy body-on-frame construction and a well-designed front and rear suspension layout, the Ranger T6 is a perfect platform for performance suspension upgrades. With this in mind the ICON engineering team went to work on the Ford, assessing the vehicle from front to back looking for possible wheel travel increases, improvements to damping ability, and weak points in the OE components.
When the research and development process came to a close, the ICON team yielded products that included 2.5 VS (Vehicle-Specific) Series coilovers and 2.0 Aluminum Series rear shocks. These components were then combined together with additional options to form three staged suspension systems that suit different driving styles, vehicle setups, and intended uses. All three of these stages offer the T6 1-3" of lift, which is adjustable to compensate for larger wheel and tire setups or the addition of accessories such as winches and bumpers. Performance is never sacrificed with ICON products, as even Stage 1 systems have been engineered to deliver increased wheel travel and damping characteristics for an improved overall ride. Moving from Stage 1 onward introduces technology such as remote reservoirs for increased shock cooling and the ICON CDC (Compression Damping Control) Valve for the ability to dial in ride comfort in different situations.
The Ranger T6 is used around the globe in many applications including a commuter vehicle, an off-road capable weekend warrior, and an industrial workhorse. This fact motivated ICON engineers to develop a line of products that were robust enough to handle the most extreme conditions while still being versatile enough to allow the vehicle to be used in every-day scenarios. ICON Vehicle Dynamics' Ford Ranger T6 suspension systems have been designed with maximum performance, versatility, and the serious driver in mind. This attention to detail is why ICON Vehicle Dynamics performance suspension systems are the ultimate solution for the Ford Ranger T6.
KEY FEATURES
Increased wheel travel and ride quality over stock
Vehicle-specific tuned front and rear shocks for superior damping and control
Adjustable 2.5" diameter coilovers offer 1-3" of lift height
Corrosion-resistant CAD plated coilover shock body with 7/8" shaft
CDC Valve offers 10 user-adjustable compression settings for comfort in any situation
FK rod end bearings for extended longevity and minimal deflection
100% bolt-on makes for easy install and ability to be put back to stock
Made in the USA