ICON 2005-UP TOYOTA HILUX 0-3-INCH LIFT SUSPENSION SYSTEMS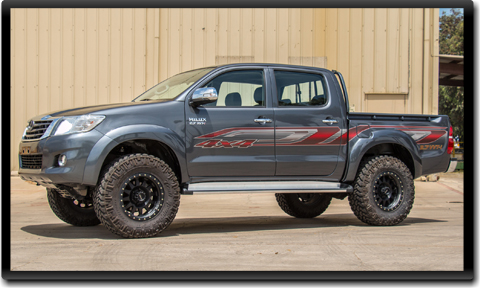 Although many think the Hilux is more or less similar to a Tacoma it is, in fact, a very different vehicle. The frame is very stout, and the rear suspension is designed for quite a bit more load and service than a Tacoma. These differences prompted an approach to this international chassis that was quite different than the USDM counterpart. In standard fashion, ICON engineers took an all-encompassing approach and addressed the Hilux's suspension as a whole rather than focusing on one particular component. The result of this is a dramatic increase in wheel travel and damping ability, translating into outstanding vehicle control and ride quality both on and off-road.
This unique approach to vehicle dynamic theory allows our team to maximize performance by developing coilovers, shocks, control arms and other products that are all designed to work at their full potential when used with each other. These parts are then organized into several stages that suit different driving styles, vehicle setups, and intended uses. Each available stage offers 0-3" of lift allowing the use of larger, more aggressive wheel and tire combinations. The Toyota Hilux Stage 1 system provides a baseline level of performance that will drastically improve the on and off-road ride characteristics of the vehicle. Each increasing stage adds to the suspension performance of the Hilux with additions such as rear shackles, remote reservoir shocks, upper control arms, and ICON's Compression Damping Control (CDC) Valve.
ICON Vehicle Dynamics' Toyota Hilux suspension systems have been designed with maximum performance and the serious driver in mind. The varying uses of this vehicle worldwide were acknowledged and catered to in ICON's research and development process. The stiffer chassis allows for the application of a much more robust overall shock tune, allowing for sufficient damping ability across varying terrains and differing vehicle payloads. Rear lift is achieved by utilizing a leaf spring lift shackle, which maintains the factory load rating while also allowing for more up-travel. This attention to detail is why ICON Vehicle Dynamics performance suspension systems are the ultimate solution for the Toyota Hilux.
KEY FEATURES
Increased wheel travel and ride quality over stock
Vehicle-specific tuned front and rear shocks for superior shock damping and control
Adjustable coilovers provide 0-3″ of lift height
CNC machined 6061 aircraft-grade aluminum components
Corrosion resistant CAD plated coilover shock body with 7/8″ shaft
FK rod end bearings for extended longevity and minimal deflection
100% bolt-on system, no drilling, cutting, or welding necessary for install
Made in the USA