ARKANSAS CUSTOMS 2014 GMC SIERRA – RESURRECTED PROJECT TRUCK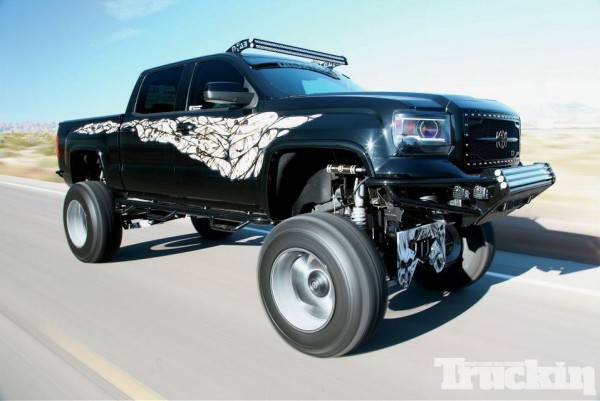 Few words in the motorsports world get spectators fired up like Sunday, Sunday, Sunday. Scenes run through your mind of monster trucks flying through the air, dragsters blasting down the 1320, and NASCAR racecars hitting the Turn 4 bank at 190 mph. That instantaneous recognition of speed, custom, and cool is what Ryan Robertson wanted when he built this insane 2014 GMC Sierra to represent his new shop Arkansas Customs. The Alma, Arkansas, resident wanted a loudspeaker to tell everyone about his new endeavor, and he used this monstrous ½-ton to get the word out one exclamation point at a time.
Purchasing the first 2014 Sierra Crew Cab in his neck of the woods, Ryan and his team at Arkansas Customs sought o create a SEMA-worthy shop truck before most people had seen any stock ones cruising around. With the truck so new at the time and with a big lift on the to-do list, Ryan recruited the help of Bradley Russell and B&C Offroad in Pasadena, Texas. A giant 17-inch 3rd Coast Suspension lift was fabricated for the new truck and bolted on using ICON Vehicle Dynamics coilovers and Eibach coil springs. Out back, similar Icon coilovers and Eibach springs were used to replace the antiquated leaf springs, and a 3rd Coast four-link keeps the axle centered. The Sierra was looking nice and tall, but it was missing the appropriate rolling stock to match the aggressive looks. Dramatically changing the appearance of the 2014 is a set of 22×14 Fuel Maverick wheels mounted inside 40-inch Interco M-16 mud tires.
Big trucks are nice, but Ryan wanted something truly unique. Erik Contreras of Exile Airbrush, in Tomball, Texas, was the first and last person Ryan reached out to for what can only be described as an attention-getting paintjob. Erik specializes in custom baggers and choppers, so with a truck's vast expanse of sheetmetal, he really got to relax and go crazy on the GMC canvas. Menacing skulls and stretched skin adorn the front fenders, all four doors, and bedsides. While he was at it, Erik also airbrushed the front drop crossmember, wheels, four-link bars, and rear differential cover to tie the undercarriage in with the body. It's a look that turns heads and drops jaws wherever Ryan goes. Back at his Arkansas Customs shop, Ryan then addressed all of the details that can make or break a big project. Up front, a Royalty Core RC2 grille replaces the original GMC grille and NFab bumpers were bolted on front and rear. Three single-row Rigid IndustriesLED lightbars are found atop of the front NFab bumper, while two single-row Rigid lightbars are secured above the windshield via an NFab bracket. Plain an Simple added HIDs and LED strips to the stock headlights for superior nighttime visibility. Other custom touches include the Undercover paint-matched tonneau cover, Bed Rug carpet kit, and Undercover SwingCases in-bed storage systems. Hornblasters' train horns were installed under the bed for maximum volume and Ryan can clear a path in traffic with a simple blast.
Inside the Crew Cab, two-tone Katzkin leather seat covers with Barracuda perforated inserts and a black suede headliner add elegance, while airbrushed plastic trim brings a little flair from the wild paintjob found on the outside. Arkansas Customs handled all of the interior modifications. From start to finish, the Sierra build only took four months and Ryan was able to make his SEMA 2013 deadline with one of the biggest and most custom 2014 GM trucks at the show. When we asked him what his favorite part of the truck was, he told us, "The airbrush on the wheels — the eyes catch everyone's attention." Getting eyeballs to look his way was the goal, and it looks like he and his team accomplished their mission.
"The truck was keyed on the driver side the day after our photo shoot. Tell the haters to keep hating because they will see it more and more in the next year."- Ryan Robertson
2014 GMC Sierra – Resurrected GMC
Owner and City/State: Ryan Robertson • Alma, Arkansas
Engine
Type: 5.3L EcoTec3 V-8
Induction: Airaid intake
Exhaust: Borla Cat-Back exhaust
Tuner: HP Tuners ECU tune
Built by: Arkansas Customs
Drivetrain
Transmission: 6L80 six-speed auto
Rearend: 9.75 ring-and-pinion
Front suspension: 17-inch 3rd Coast Suspension lift kit with ICON Vehicle Dynamics coilovers and Eibach springs
Rear suspension: 15-inch 3rd Coast Suspension four-link lift kit with Icon coilovers and Eibach springs
Wheels & Tires
Wheels: 22×14 Fuel Off-Road Maverick with custom airbrushing
Tires: 40×14.50R22 Interco SS M-16 M/T