ICON VEHICLE DYNAMICS 2014 SPRING ROAD TRIP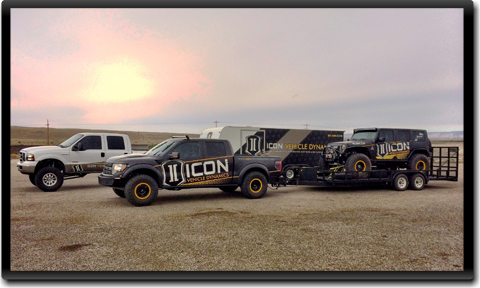 The arrival of Spring usually means chirping birds, blooming flowers, and more of that mushy stuff we all know so well. For the ICON Vehicle Dynamics team, Spring brings us two large events which we support – the 2014 Texas Raptor Run in Blackwell, TX and Easter Jeep Safari in Moab, UT. Rather than birds, flowers, and such, this means hours of driving cross-country, lots of junk food, and some good ol' road trip karaoke. Don't let the description fool you – this is the stuff we love! If it weren't for opportunities to hit the road and get out in the dirt with the rest of the off-road nation then we would have some serious problems being a credible manufacturer of performance suspension systems. It is a combination of real-world testing and enthusiast feedback at these types of events that allows us to continue to design and develop top of the line suspension components. After arriving back at our Riverside, CA headquarters and reviewing everything we learned in Texas and Utah, it's clear that ICON is making an undeniable presence in the off-road community.
The first stop on ICON's 2700 mile Spring road trip was the Texas Raptor Runs TRR 2014 event. TRR is a huge gathering of Ford Raptor enthusiast and vendors in one location to enjoy 44 miles of off-road terrain on the beautiful Texana Ranch in Blackwell, TX. Leaving Tuesday morning we hammered down and headed East in the ICON Raptor towing our '26 enclosed. We pulled into the Ranch Wednesday night for set up and took the opportunity to catch up with event organizer Trey and some of the TRR staff. Thursday morning the gates were opened up and trucks began rolling in to camp. With an event start time of 3:00PM, a drivers meeting took place and it was on to the 10 mile parade lap where new and experienced drivers could get acquainted with the terrain before they were let loose.
Thursday and Friday consisted of open driving on the 44 mile course, and the good times were definitely rolling. During this time we were able to further test our ICON Raptor products while offering rides in the truck to help educate fellow Raptor owners why ICON suspension systems are a must-have to improve your on and off-road experience. Saturday was the group dinner and raffle where ICON donated a complete 3.0 Raptor shock system with proceeds being donated to charity. Following the raffle 150+ Ford Raptors were led on the ICON Exotics tour to see animals like long horn & buffalo to name a few. The Rogue Motorsports crew put on a show by airing out the Robby Woods Pro 2 for some event-closing entertainment.
Ford was out to support the event, and we want to thank them and their amazing support this year. As we look forward to the future of the Ford Raptor , we can't wait to see what they will offer with the next-gen release around 2016. All-in-all Texas Raptor Run 2014 was a great event, allowing ICON to hang out with true enthusiasts, educate people about our Ford Raptor products, and support a community that looks to run strong for many years to come.
The 2014 Easter Jeep Safari was a great time, as always. It's amazing to watch Moab, UT go from a relatively quiet town to a Jeeper's paradise overnight thanks to the organization and planning of the Red Rock 4-Wheelers club. If you are into Jeeps and have not been to this event, you should definitely make plans to attend as soon as possible.
In 2013 we debuted our 1.75 – 4" Coilover Conversion System on our JK, thinking it'd be enough to draw some attention on its own – wrong! During this week-long event all "norms" are out the window, as 37-40" tires, 50" light bars, and $100K Jeep builds seem to dominate the landscape. With the notes we took from last year, we had to be sure to update the look of the ICON JK in time for EJS 2014. As a manufacturer of performance suspension systems, form always follows function – but this year we wanted to make sure our Jeep would turn heads based on both its ability AND its looks. To accomplish this task ICON hooked up with Riverside-based Monster Media to have an awesome new wrap installed on the ICON JK. KC HiLites helped to take our build to the next level with a ton of quality lighting components including LED Cyclone rock lights and a 50" C-Series light bar. We wrapped our custom powdercoated 17" ProAm Racing beadlock wheels in 40" Nitto Trail Grappler tires that could get our rig just about anywhere. After some other minor additions and a thorough detail job we loaded up and hit the road.After a 17 hour drive ICON rolled into town under cover of the night. The following morning we were eager to grab a bite and hit the trail with our "new" Jeep. A quick morning stretch on Steel Benders trail took place, and we were happy to be back in Moab to say the least. The ICON JK was performing flawlessly and stood out like a sore thumb (in a good way). As the week progressed we continued to run the trails and cruise the town, catching up with any activities we could. One of these was an awesome night run hosted by the Axial Racing crew. The only catch – we were wheeling with vehicles 1/10th the size of your average Jeep. If you have yet to check out Axial's SCX10 Jeep JK do yourself a solid and look into it (just try not to get hooked!). Other notable events included a Nitto-sponsored meet / BBQ at the Blu Pig and a trip up Potato Salad Hill for the ICON Raptor.
As Thursday rolled around it brought with it the Easter Jeep Safari vendor show, where the biggest companies in the industry gather to display their products and interact with enthusiasts. As always, the ICON booth was on point with product on display, information to be had, and the ICON JK twisted up on our wheel stand serving as a real-life display of our Coilover Conversion System. We were extremely pleased with the amount of Jeepers that stopped by our booth showing interest in our suspension systems and our company as a whole. Following some of the conversations we had with show attendees, we are looking forward to making some JK owners very happy in the near future.
When our week in Moab came to a close, we felt very good about ICON's future with the Jeep crowd. With a 3", 4.5" and 1.75 – 4" Coilover Conversion Suspension System ICON offers something for everyone looking to drastically increase the capabilities of their JKs. We are already looking forward to Easter Jeep Safari 2015, and hope to see you there!