ICON TOYOTA 07+ FJ CRUISER / 03+ 4RUNNER REAR SHOCK UPDATE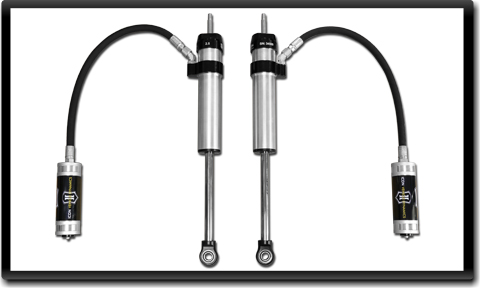 At ICON Vehicle Dynamics we are constantly looking for ways to develop new products or improve upon our existing offerings. When our engineers sought to implement our CDC Valve technology into our 07-UP Toyota FJ / 03-UP Toyota 4Runner 2.5" rear shocks it was clear that some changes were needed to make this a more realistic feature. Until now, the ICON Vehicle Dynamics 2.5" rear shocks for these applications were in a 5" piggyback reservoir configuration. While this design works extremely well, our search for efficiency and performance led our engineers to utilize a 7.5" remote reservoir which allows for the ICON CDC Valve to be a viable upgrade for these shocks. This new shock layout of our 57810 and 57810C has superceded the older design of the piggyback 57710 as of January 1st, 2014.
The new shock hose length and reservoir placement has been strategically engineered to retain maximum off-road capability while placing the reservoir in a conveniently accessed location. Rather than crawling under the vehicle to make trail-side CDC adjustments, users can now comfortably reach inside of the rear wheel well to dial in their ride quality for peak off-road performance. While these shocks now feature a larger reservoir for CDC integration and better cooling capability, the new ICON FJ and 4Runner 2.5" rear shocks retain all of the features of the previous design and remain 100% rebuildable and revalveable.
2.5″ diameter shock body with 7.5" remote reservoir
7/8" NitroSteel® shaft
Stem to eye construction ensures OE fitment and easy installation
Increased wheel travel over stock
Industry exclusive bump zone built in
Large FK bearing for longevity, minimal deflection, and no binding
100% rebuildable and revalvable
Made in the USA
Supercedes ICON Part #57710
CDC Valve provides 10 external user adjustable compression settings
Large adjuster knob with positive stops allows for easy-to-feel adjustments, even with gloves on
2.5″ diameter shock body with 7.5" remote reservoir
7/8" NitroSteel® shaft
Stem to eye construction ensures OE fitment and easy installation
Increased wheel travel over stock
Industry exclusive bump zone built in
Large FK bearing for longevity, minimal deflection, and no binding
100% rebuildable and revalvable
Made in the USA