THE TACOMA GS – A CAPABLE "ADVENTURE" BASED TOYOTA THAT GETS THE JOB DONE.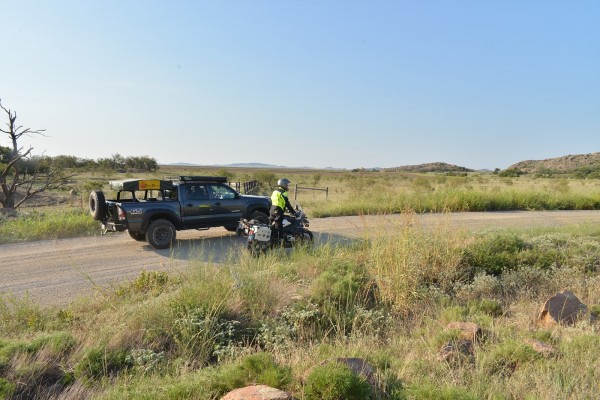 Two wheels or four, does it really matter when the road ahead says "ADVENTURE?" It does when the wife wants to come along, unless she's the rare variety of the fairer sex who can tackle an off-road machine in the rough. My work as a moto-mounted adventure journalist has taken me to the nether regions of the world, often where the closest thing to pavement is the baked mud wall of a stick-framed hut. Last year as I sat in a Rocky Mountain coffee shop watching the aspen turn gold, describing the scene to my tolerant wife via telephone, she mentioned joining me. I was all for it. Although a good rider in her own right, she pointed out that she would not be riding her own bike on the gnarliest of trails, the places I most enjoyed exploring in the U.S. As I pondered how to tell her I was reluctant to take the road most traveled, she interjected, "Let's build an overlanding vehicle." That was music to my ears!
My motorcycle of choice is a BMW R1200GS Adventure. The idea of building a truck with similar capabilities spawned the idea of The GS of Trucks…GS being an abbreviation for the German words Gelande Strasse, meaning land, or more specifically dirt, and street. Although not light by off-road motorcycle standards, a GS in the right hands is a capable off-pavement machine and is a proven platform for adventure travel worldwide. Duplicating this amazing machine in a truck would be an intriguing challenge.
A notable characteristic usually separating motorcycles from their four-wheeled counterparts is the motorcycle's ability to cover rough ground rapidly. In the overlanding realm the gap, in most cases, becomes a chasm. Loaded with fuel, living quarters, gear, food and all the necessities of life in the wilderness, patience usually replaces agility as a means of covering ground in a well equipped truck, and the travelers slog where motorcycles eat miles like a Japanese passenger train.
We chose a Toyota Tacoma Double Cab 4×4 as the basis for our build. Although ours was a holdover 2011 TRD, suspension and other componentry fell far short of sufficient to run rally style over the rough. After researching several options, we chose ICON's Stage 5 suspension to provide the three inches of lift with additional travel and damping we needed. Anything taller would upset the center of gravity beyond my comfort zone since we would also be sporting an Eezi-Awn tent atop the bed and Baja Rack luggage rack over the roof. ICON's 2.5" remote reservoir coilovers, billet upper control arms, and remote reservoir rear shocks seemed beefy enough to take the hard hits when we got the urge to sprint down backroads. Installation was professionally handled by Fowler Toyota of Norman, Oklahoma, but I could see this being a reasonable weekend project for a capable home mechanic. Combined with BFG KM2 Mud Terrain tires from our local Hibdon Tires in a "Pizza Cutter" P255/85×16 profile and Teflon-coated American Racing Mojave wheels from Wheel Pro, we were well on our way to the fast traveling teepee we had hoped for. At half the weight of steel, the stunningly beautiful Aluminess Bumpers and a Warn 9.5 Cti winch with Spydura cable helped keep the weight down while protecting the truck from inattentive driving. A Pro Link winch cable thimble from Factor 55 complements the synthetic line. Toytec provided a top quality stainless steel extended rear brake line to ensure wheel travel without yanking out the stocker. Bushwacker fender flares round out the wheel wells and offer that extra bit of protection needed to keep flying mud and rocks at bay.
We chose Ram mounts to secure our GPS and iPhone, and Rigid was the logical choice for all forward lighting. Small in stature, tough, and miserly in their use of electrical power, they simply turn the world white on the darkest night. One pair of D2s was fabricated into the bumper. A second pair was mounted outboard on our Baja luggage rack and a 30-inch dual spread light bar stretches in between. Additional shade is provided by Ironman's model 1400 awning, mounted to the luggage rack.
As any GS owner will tell you, farkling, the fitment of cool accessories, is half the fun of owning and operating an overlanding machine. By taking our time and choosing wisely, our GS of Trucks is shaping up to become a nimble and versatile, fast overlander, equipped to take us on many an adventure out west and beyond. Initial test runs have proven the trucks ability to tackle the back country at motorcycle speeds without feeling as if we're in a failed Ford commercial. Thanks to Icon, the ride is nothing short of incredible. Handling is spot on, whether drifting a turn or crawling over rocks on our way to a remote campsite. Many adventures await the GS of Trucks and we are eager to share our stories as they happen.