NEW FORD SVT RAPTOR ICON 3.0 PERFORMANCE SHOCK SYSTEM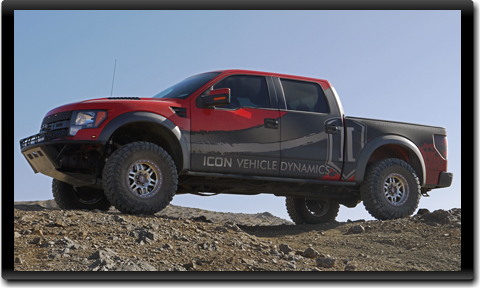 ICON Vehicle Dynamics is known for its extensive research and development put into every product; the revolutionary outcome of this research is what sets ICON apart from the off-road industry standard. The Ford SVT Raptor was the first production truck, designed & built, to bridge the gap between a standard street "pickup truck" and an off-road pre-runner. ICON Vehicle Dynamics new 3.0 Performance Shock System for the SVT Raptor was rigorously tested both on- and off-road for several months to enhance the overall performance and ride quality.
The engineers at ICON Vehicle Dynamics took a different approach to position sensitive performance in the front coil over shock system. Instead of bypassing a small internal piston at the cost of poor control, road holding, and cornering like a traditional internal position sensitive shock, our shock starts with a 3" main piston that has robust features such as digressive rebound and flutter stack compression. This combination produces outstanding control, great response, and unparalleled ride performance. To achieve even more control for extreme off-road use, an additional internal hydraulic system produces the extreme forces required during the last 40% of travel. These multiple stages of compression and rebound have been tuned independently to maximize overall performance of the SVT Raptor front suspension. For owners who wish to optimize the ride specific to his or her liking, the front coil-over shocks are equipped with an external, "Easy to Adjust" Compression Clicker, that is effective for the entire stroke of the shock.
The Rear Shocks are a 3.0", three tube External Bypass shock. These are far from the norm when compared to a traditional bypass shock you see on Trophy Trucks and other off-road race vehicles. Each bypass valve has a specific port design and individually equipped with a different spring rate to ensure proper performance at each zone of shock travel. These same bypass valves feature dampened valve stops for quiet and precise operation. The biggest difference in these shocks versus an industry standard bypass shock, are the "Easy-to-Adjust" knobs and the replaceable bypass tubes. The "Easy to Adjust" Clicker Knobs do not require any tools for adjustment, and can be adjusted in seconds from plush off-road performance to firm on road manners for extra control while driving the mountains or towing a trailer. A unique feature of this shock is the replaceable bypass tubes that can be swapped out during a standard rebuild if any damage were to occur, where a normal bypass shock body would need to be completely replaced, saving you hundreds of dollars.
3.0 Front Raptor Coil Over Shock Features:
· 3.0 OEM Replacement Remote Reservoir Compression Adjustable Front Coil Over Shocks
· Internal Hydraulic Bump Zone Designed for Maximum G-out Control in the Last 40% of Travel.
· Easy-to-Adjust High Resolution Compression Adjuster Offers Fine Tuning Adjustments
For All Types of Terrains
· Direct Bolt in to OEM Location and Optimum Reservoir Positioning for Superb Heat Dissipation
· Nitrogen Charged 6063-T832 Aluminum 10" Remote Reservoirs that are Precision CNC
Honed & Hard Anodized
· Adjustable Ride Height from 1 – 3.5" of Lift
· Eibach 3 5/8" ID High Quality Chrome Silicon Steel Springs that offer increased
travel and performance
· Multi Stage Cad Plated Finish with Polished and Anodized Top Cap / Rod Ends
· Com 12 Teflon Lined Bearings Ensure Maximum Strength and Durability
· Oversized 1" Heavy Duty CNC Machined Shock Shafts
· Extended Droop Travel and Increased Overall Performance
3.0 Rear Raptor 3 Tube Bypass Shock Features:
· 3.0 OEM Replacement PiggyBack Reservoir ZETA 3 Tube Bypass Rear Shocks
· Easy-to-Adjust Detended Adjustment Knobs Offer Quick Adjustability without the Use of Tools
· High Resolution Bypass Valves Designed for Noticeable Fine Tune Adjustments in
Rebound and Compression
· High Flow CNC Machined Welded Bypass Blocks designed to Increase Fluid Flow for Enhanced
Performance & High Definition Tuning
· Replaceable Bypass Tubes That Can Easy Slide in to Position if you were to Dent or Damage One
· Direct Bolt in to OEM Location with Bypass Adjustment Knobs Easily Accessible for
Tuning Adjustment
· Special Engineered Dampened Valve Stops for Quiet and Precise Operation without the
Standard Bypass Loud "Clicking" Noise you will find with Other Brands
· Multi Stage Cad Plated Finish with Polished and Anodized Top Cap / Rod Ends
· UHMH Machined Shaft & Rod End Protective Shin Guards Standard with Every Kit