ICON VEHICLE DYNAMICS AT THE LA AUTO SHOW…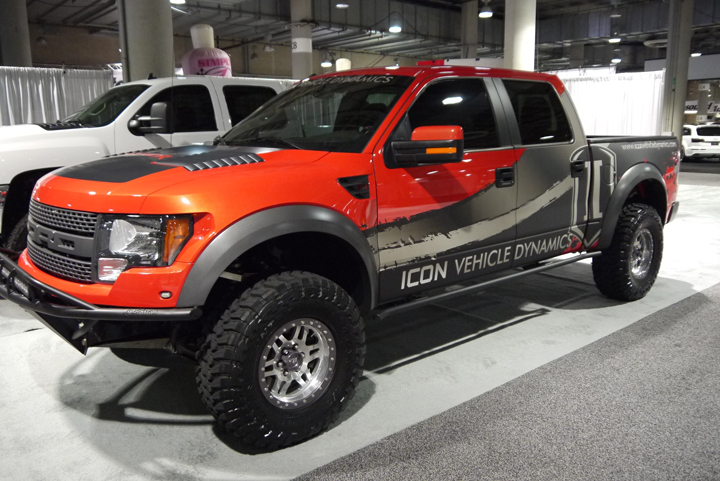 ICON Vehicle Dynamics has teamed up with Dirt Alliance to place some vehicles at this weekends LA Auto Show as well as some vehicles we sponsor. Dirt Alliance asked Icon Vehicle Dynamics to bring out several vehicles that are purpose built for off-road, but still have mass appeal. We also have a second Ford Raptor built by Street Concepts located in the Wheel Warehouse Booth.
The Los Angeles Auto Show is one of the top automotive events worldwide, bringing together the latest new vehicles from auto manufacturers around the world. With no shortage of exotic vehicles, concept cars & stock rides, we wanted to make sure the Dirt Lifestyle was represented as well.
Be sure to get out there and take a look at vehicles that are second to none. This is an amazing opportunity to not only see ICON vehicles up close, but the hottest new releases from many other manufactures as well.
ICON Vehicle Dynamics – Ford Raptor with Billet Upper Arms, ICON 3.0 Coil Over and rear 3.0 Bypass Shocks
ICON Vehicle Dynamics – 2011 Chevy 2500HD with 5-8″ Lift Kit with ICON V.S. Series 2.5″ Shocks
Street Concepts – Ford Raptor with Billet Upper Arms, ICON 3.0 Coil Over and rear 3.0 Bypass Shocks
ICON Vehicle Dynamics 3.0 Suspension on the Street Concepts Ford Raptor