ANOTHER SWEET DMZ TACO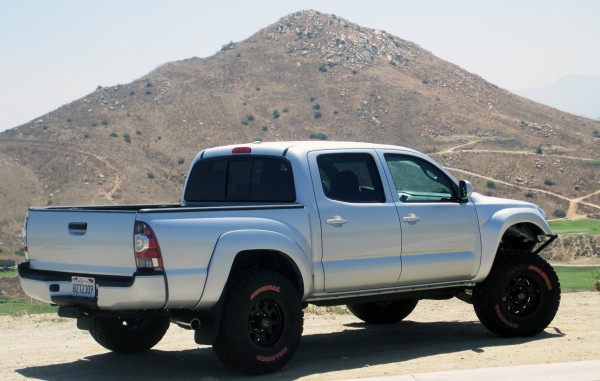 Taking your truck in for a face lift is always exciting. Dreaming of the day you will get it back with a fresh new look occupies the brain more than all other responsibilities. What makes it especially hard is when you buy a Total Chaos Long Travel kit, ICON Vehicle Dynamics 2.5″ Remote Reservoir Coilovers, ICON Vehicle Dynamics 2.5″ Rear shocks, 33×11.5″ General Tires Grabber, Blacked Out KMC Wheels, Glassworks Front Fenders and an install at the taco supreme: DMZ Fab and Race Prep.The DMZ Crew made quick work of Sammy D's 2010 Double Cab Toyota Tacoma taking it from a stock daily driver to a picture perfect Prerunner. When it comes to reliability and defining the industry standard, the Total Chaos LT Kit is the hands down choice. ICON Vehicle Dynamics' 2.5″ LT Shock is a race shock tailored to work with LT kits and factory Toyota confinements. When coupled together they allow for the largest amounts of wheel travel possible while retaining the stock coil buckets saving the Tacoma owner the costs of custom engine cages and shock hoops. And lucky for the owner of this Tacoma, the ICON Vehicle Dynamics 2.5″ Rear shocks are 100% bolt in as well, and complement the rear suspension extremely well.
The Total Chaos kit lifts the truck enough to fit some 33″ General Grabbers. The new DOT Approved tires have great race appeal when fitted on some KMC Wheels, widening the stance and getting the truck to sit pretty. Now widened, the painted Glassworks fenders go back on and almost complete the front end package, but it wouldn't be complete without a great looking and 100% functional DOM bumper and aluminum skid plate all built by the guys at DMZ.
With a truck this pretty it's hard to picture it in the dirt. Sitting atop some hills with 4 people in the cab ready for some fun is where this truck will be found. It's an easy life looking clean, yet always prepared for anything the asphalt demons or dirt devils can throw at it!