ICON, DMZ & CAMBURG REVIVE AN FJ CRUISER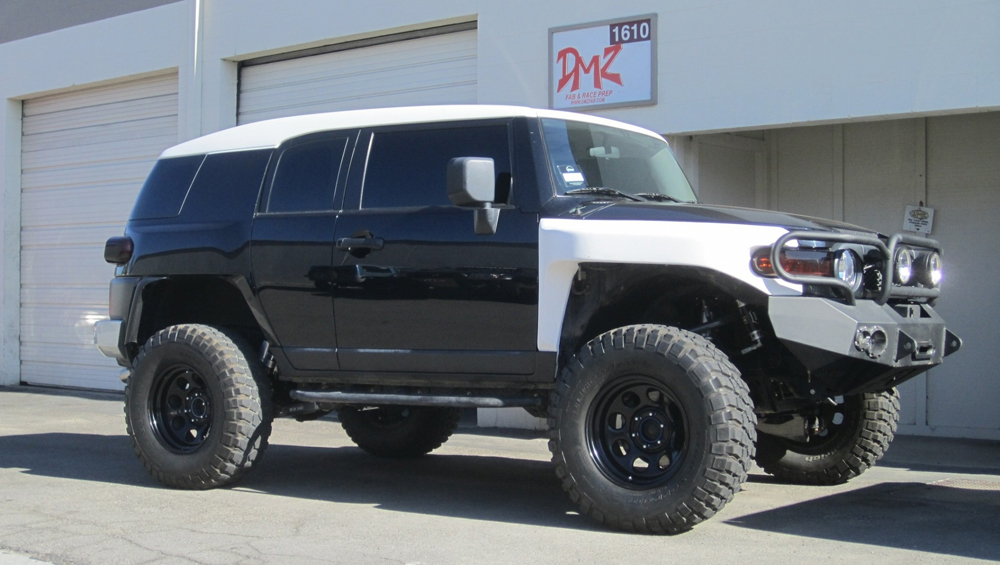 Tim Duncan of DMZ Fab expected a battered FJ to arrive when his Customer Andy Co told him his 2008 FJ would be delivered on a flat bed. Fortunately for the FJ it was going to be in the hands of one of So Cal's finest Toyota builders.
When decisions were being made it was clear Andy wanted the best of the best, and nothing else will do. Camburg Engineering's 3.5″ Wider Long Travel Kit was retained because of their highly reputable product line proven to be winners in some of the harshest desert races out there. ICON Vehicle Dynamics 2.5″ Coilovers were 1st on the short list of shock competitors. With ICON's world re-known ride quality proven on a multitude of platforms, Andy knew there was NO other choice for him and his FJ.
With ICON Vehicle Dynamics' roots trenched in epic battles won and lost in the heart of Baja and proven in the rolling rocks of Moab, their rear Billet Upper and Lower Links, Adjustable Track Bar and 2.5″ V.S. Series shocks were going to be the only BOLT ON rear suspension company that could keep up with the long travel front suspension. The billet links are machined out of aircraft grade aluminum and the use of heims and high strength bushings free up suspension allowing more wheel travel and a ride quality matched by none!
Andy's FJ was needing some serious love and a fresh breath of life! 6″ Drop brackets removed; shock spacers removed. Camburg FJ Long Travel Re-Installed; 2.5″ ICON Vehicle Dynamics front and rear shocks installed: This FJ is destined for greatness with the MIDAS touch from Tim at DMZ Fab!