APRACING IS FOCUSED ON THE LUCAS OIL REGIONAL RACE AUGUST 20TH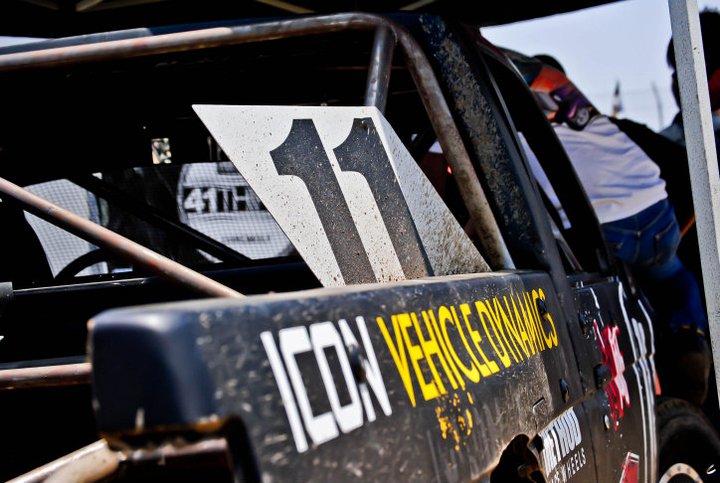 Riverside, CA. Monday August 1st, 2011- In the midst of the Southern California summer, the Lucas Oil Regional Off Road Series will host their third round at the outstanding Glen Helen Raceway in San Bernardino, CA. Team Icon Vehicle Dynamics will be in full support of their female driver, Andrea Pathiakis as she prepares to take the podium again on August 20th, 2011.
Those in attendance at Pathiakis' premiere short course race were astounded by her quick ability to hold off a packed course full of other "trophy motivated" racers. Andrea outdrove the rest of the field with speed comparable to the larger classes in the series. She held a strong lead in the June 11th race at Glen Helen until a notable hole was blown in the side of her motor yet hat was not enough to keep the #11 driver off the podium. She finished with an admirable 3rd place trophy.
After the June LORORS race, Andrea was motivated as ever to keep the success going as she ordered her new motor the week after her premiere race. Pathiakis had this to say; "A lot of thought and precision has gone into the build of this mini stock. The replacement of the old motor isn't too big of a task, but with this being only our second race we are looking to shave off as much time as we can around this tight track."
With the support of her sponsors Icon Vehicle Dynamics, Nissan Motorsports, SDHQ, Method Race Wheels, and Off-Road Vixens; Pathiakis is ready to take the #11 Nissan Mini Stock to the top of the podium again. "On top of starting to work with some amazing companies and potential sponsors, I have been hard at work prepping and also training physically. An efficient body makes for a responsive racer, but I won't tell you all of my secrets." Pathiakis also has plans for the Nissan Mini Stock to race in the Arizona regional series next to her SDHQ teammates.
This is an exciting time for the female racer. Pathiakis will continue driving towards another podium finish and starting off a winning streak for the rest of Lucas Oil Regional Off Road Series. While gaining respect in the short course series, Pathiakis is also building a outstanding fan base and can be found via social networking: www.facebook.com/AndreaPathiakisRacing. Also through: www.iconvehicledynamics.com.