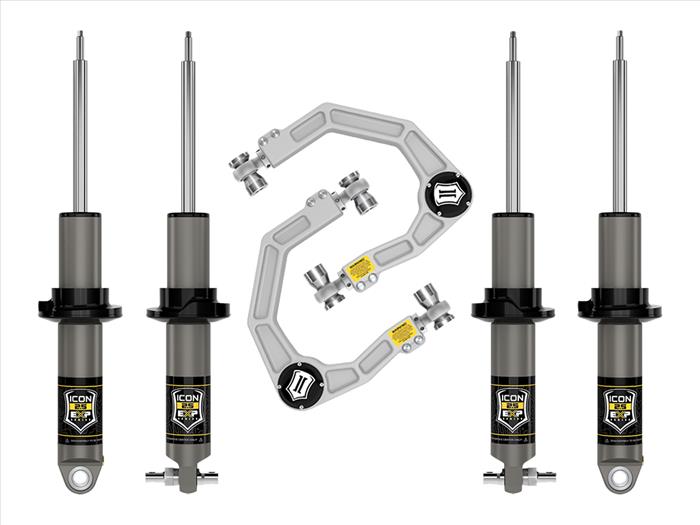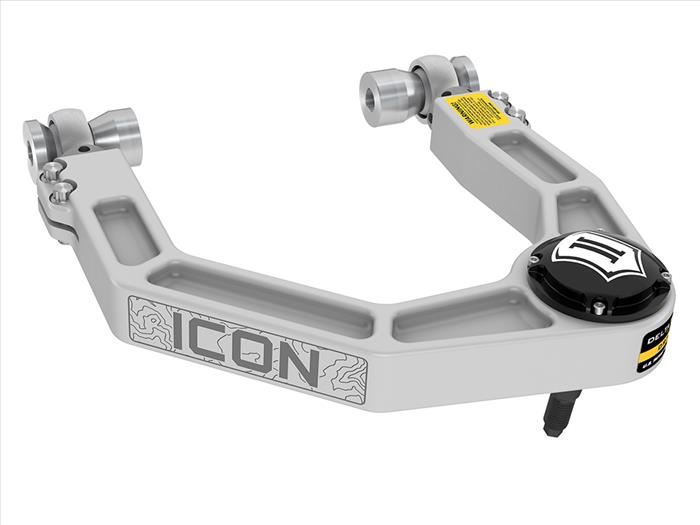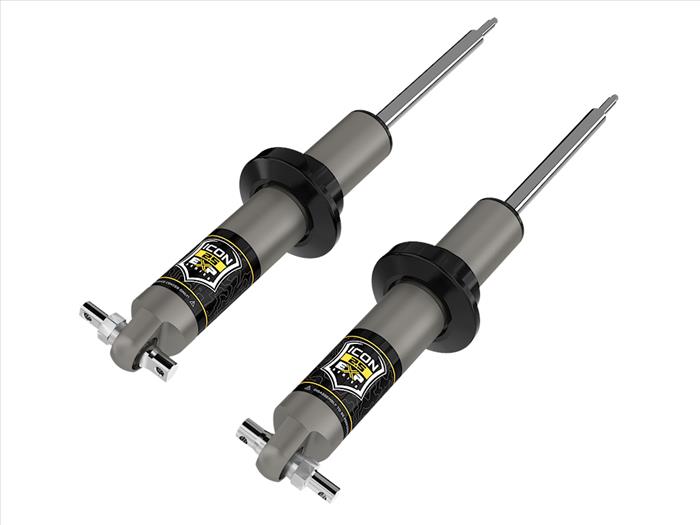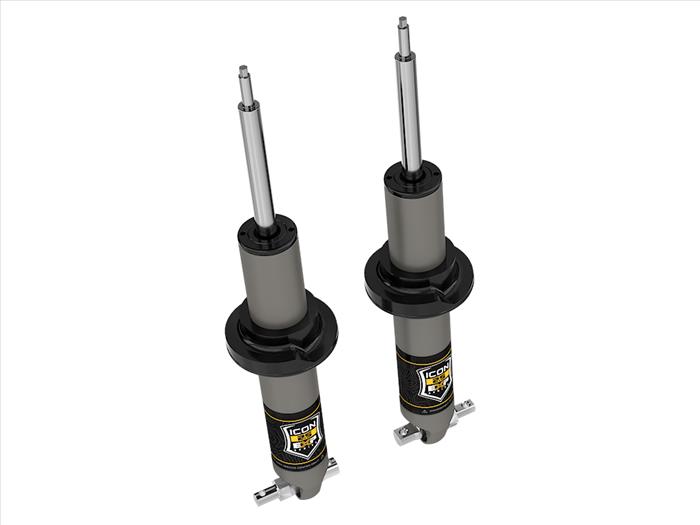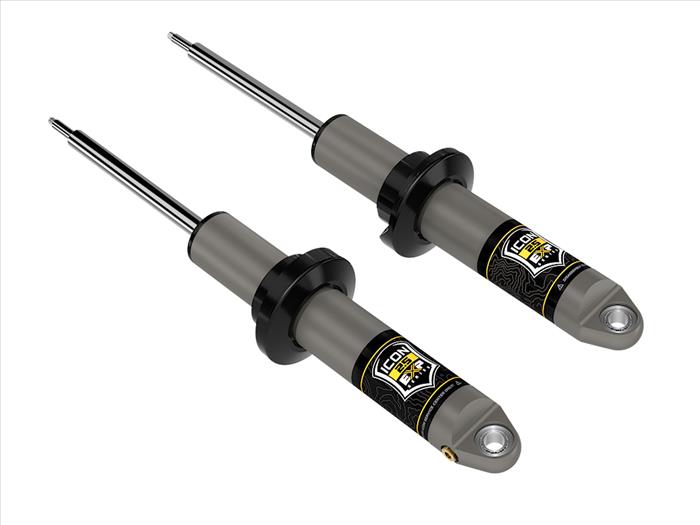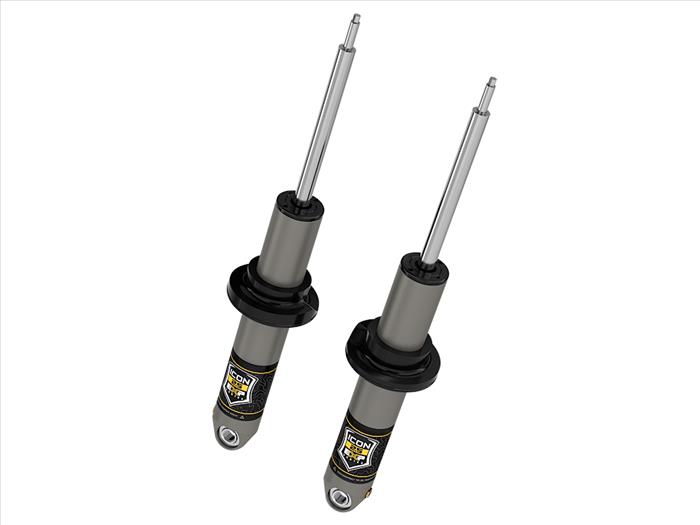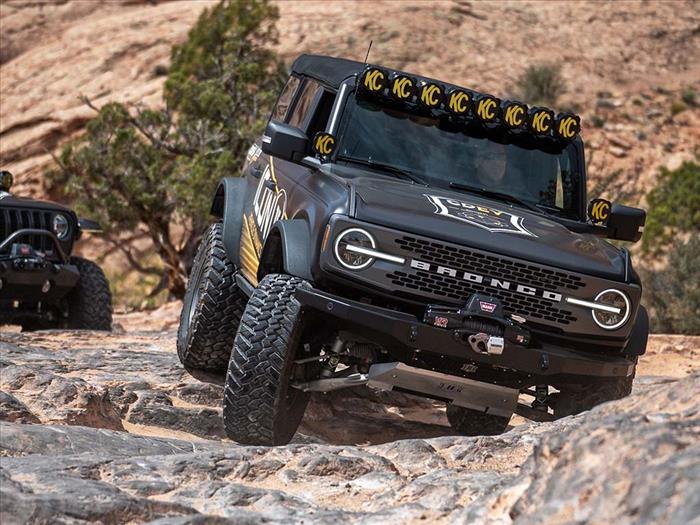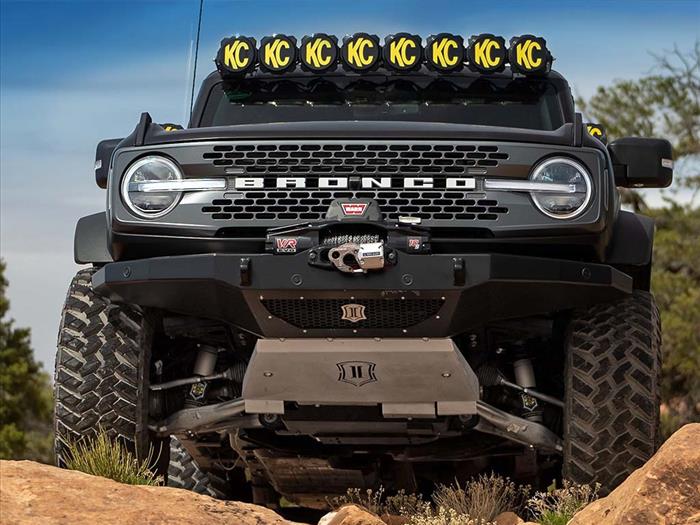 overview
The ICON Vehicle Dynamics Stage 2 Suspension System for the 2021-2023 Ford Bronco features front and rear 2.5 EXP Series coilovers to yield increased wheel travel along with superior ride quality and suspension performance both on and off-road. 2.5 EXP Series coilovers combine the performance of a fully rebuildable 2.5-inch diameter premium shock absorber with the convenience and cost-benefits of re-using the Bronco's factory coil spring and other components. EXP coilovers use a series of snap-ring grooves machined into the shock body to provide easily-selectable ride height adjustment from 0-2" of front lift and 0-1.75" of rear lift over stock on Bronco's equipped with the OE HOSS 2.0 suspension package.
EXP Series is based on ICON's proven 2.5-inch diameter Aluminum Series shock absorber, featuring a one-piece impact-extruded aluminum shock body. Hard anodizing provides a great-looking, consistent finish with superior resistance to abrasion and corrosion. The massive 7/8-inch diameter shaft is induction hardened and chrome plated. EXP shocks use the factory shaft-up orientation, with the shaft ends machined to re-use the Bronco's OE upper shock and spring mounts.
EXP Series shocks utilize a one-piece digressive piston design and are custom tuned for the Bronco in conjunction with their stock coil springs to maximize damping performance and provide unsurpassed ride quality, on and off-road. The increased piston size and shock oil volume provided by the 2.5-inch diameter aluminum body also provide superior heat dissipation compared to the smaller, steel bodied OE shocks, resulting in longer-lasting shock performance over prolonged use at higher speeds and through rougher terrain. For those who would like to further tune their suspension, EXP shocks are fully re-valvable (and rebuildable) by any qualified shock technician, with parts available from ICON.
To accommodate the increased lift height afforded by the ICON EXP front coilovers, this Stage 2 kit comes with Billet Aluminum Upper Control Arms which provide on-vehicle caster and camber adjustability and feature our patented Delta Joint PRO, which allows for up to 90-degrees freedom of movement.
HOSS 2.0 is Ford's upgraded suspension system for Broncos of the Base, Big Bend, Outer Banks and Black Diamond trim levels WITH the optional Sasquatch package, and it is also standard on Badlands, Wildtrak, First Edition and Everglades. HOSS 2.0 is most easily identified by the YELLOW shock bodies of the OE shocks.
features & Benefits
Vehicle specific design for 2021-2023 Ford Bronco with HOSS 2.0 Suspension Package
Vehicle specific tuned shocks for superior shock damping and vehicle control
Kit includes full set of (4) 2.5 Aluminum Series EXP Shocks with Internal Reservoirs
Adjustable ride heights from 0-2" of front lift and 0-1.75" of rear lift over stock with the use of snap rings
Utilizes factory coils and coil hardware
Inverted shaft up design featuring 7/8" diameter, induction hardened, chrome plated shafts
One-piece, impact extruded, hard anodized aluminum cylinders offer excellent corrosion resistance and consistent finish
CNC machined 6061 aluminum components with a black anodized finish
PTFE lined spherical bearings for extended longevity and minimal deflection
Billet aluminum UCAs for added strength, durability, and on-vehicle caster/camber adjustment for optimum drivability
UCAs feature the patented (U.S. Pat. 10,731,700) Delta Joint Pro with 90 degrees of total articulation
100% Bolt-on - no cutting or welding necessary for installation
Fully rebuildable and re-tunable
download installation guide
Tech Info:
OEM Wheels & Tires Fitment: No
Recommended Aftermarket Wheels: ICON Alloys - 17x8.5" w/ 4.75" Backspace / 0mm Offset
Recommended Aftermarket Wheels: ICON Alloys - 18x9" with 5" Backspace / 0mm Offset
Recommended Aftermarket Wheels: ICON Alloys - 20x9" with 5" Backspace / 0mm Offset
Recommended Aftermarket Tires (Without Sasquatch Package): 35" x 12.50" (Requires high clearance crash bars, ICON part number 42000. 37" tire packagesrequire coilover bump stop spacers along with trimming and modifications)
Recommended Aftermarket Tires (With Sasquatch Package): 35" x 12.50" (37" tire packages require coilover bump stop spacers and may also require fender trimming and modifications)
APPLICATION NOTE #55: Shocks Are Fully Serviceable. Lift Heights Indicated Are For A Stock Equipped Vehicle.
APPLICATION NOTE #66: 2 Door Models Will Sit Taller Than 4 Door Models.
APPLICATION NOTE #138: Recommend High Clearance Crash Bars Part #42000 On Non-Sasquatch Equipped Vehicles When Running 35" Tires
APPLICATION NOTE #139: When Running 37" Tires Crash Bar Removal May Be Required But Is Not Recommended
APPLICATION NOTE #147: When Running 37" Tires Use Bump Stop Spacer Kit Part #611082 In The Front
TECH NOTE: Only compatible with Ford Broncos equipped with HOSS 2.0 Suspension Package
TECH NOTE: Not compatible with Bronco Raptor
System Components:
48602 (QTY: 2) | 21-23 BRONCO HOSS 2.0 PKG 2.5 FRONT EXP COILOVER
48500DJ (QTY: 1) | 21-23 BRONCO BILLET UCA DJ PRO KIT
48612 (QTY: 2) | 21-23 BRONCO HOSS 2.0 PKG 2.5 REAR EXP COILOVER
Request a Quote
Don't Forget
the wheels