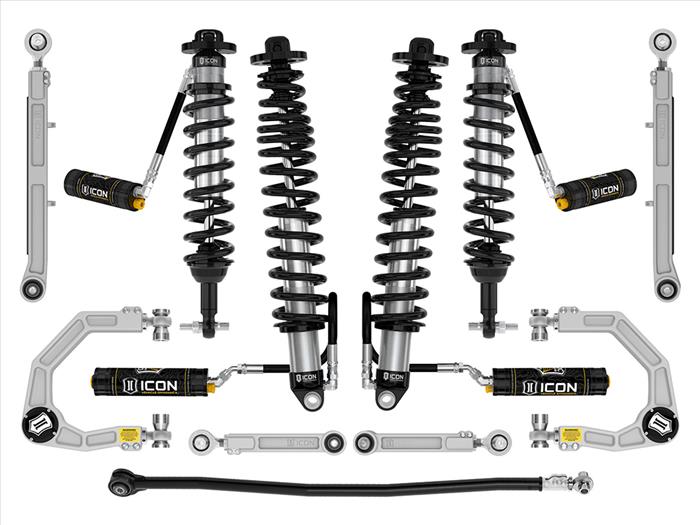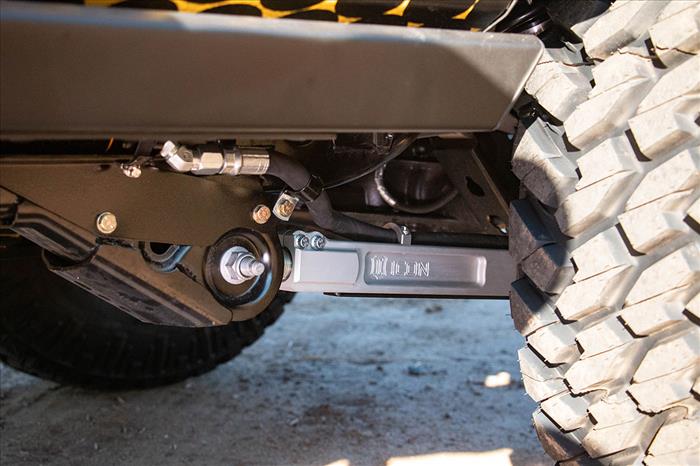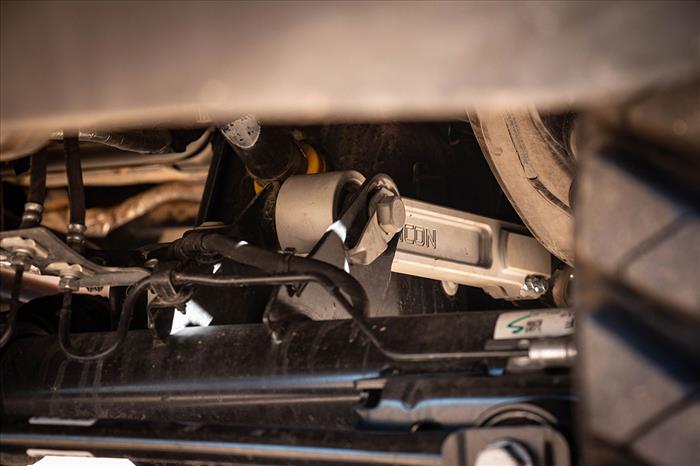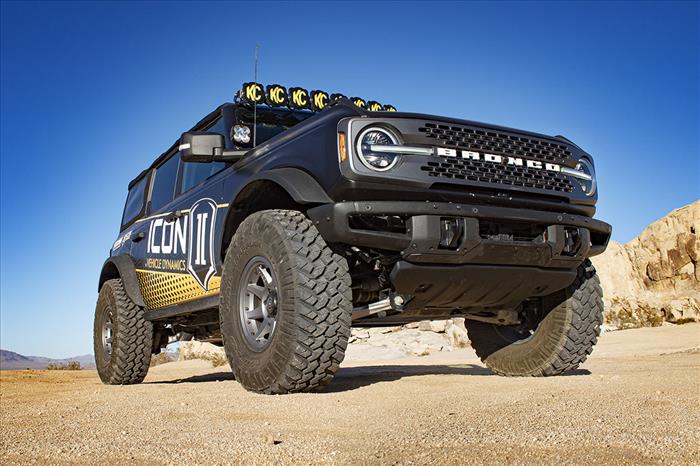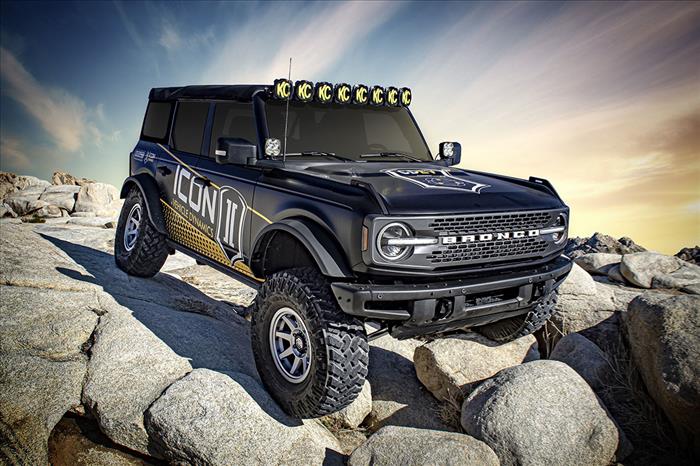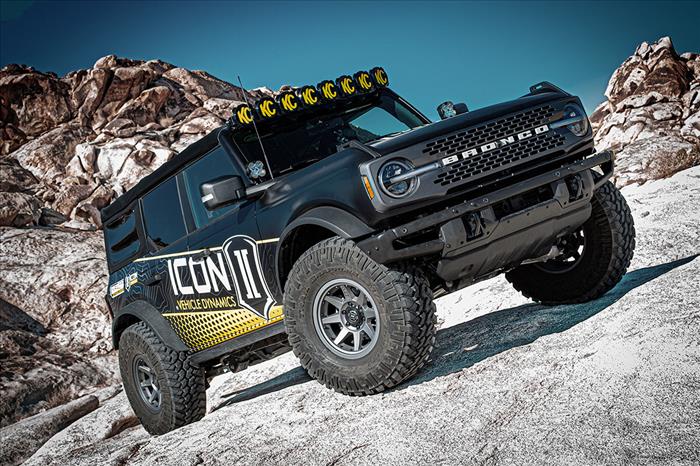 overview
The ICON Vehicle Dynamics Stage 7 Suspension System for the 2021-2023 Ford Bronco features our precision-manufactured, custom valved remote reservoir coilover shocks with CDCV to yield the maximum travel possible along with superior ride quality and suspension performance both on and off-road. These coilovers also allow for the adjustment of ride height to yield 3-4" of front lift and 2-3" of rear lift over stock 4-door Broncos without the Sasquatch Package. The rear shocks are oriented shaft-up with unique triple-rate coil springs to achieve the most rear suspension travel and the best ride quality possible. Remote reservoirs greatly increase shock oil volume and heat dissipation surface area to resist overheating and cavitation under hard use, which can lead to damper fade, ensuring sustained shock performance at speed through rough terrain. The included CDC Valves control fluid flow under compression, allowing you to achieve the perfect shock tune whether driving on the street, slow-crawling through the rocks or mobbing across the desert at full throttle.
To accommodate the increased travel and lift height afforded by the ICON Coilovers, this Stage 7 kit comes with Billet Aluminum Upper Control Arms which provide on-vehicle caster and camber adjustability and feature our patented Delta Joint PRO, which allows for up to 90-degrees freedom of movement. Stage 7 also includes the complete billet rear link kit including upper links and ICON's tubular Adjustable Rear Track Bar. The added upper links have been designed for clearance from the fuel tank during maximum articulation and feature greaseless bushings, massive FK rod ends, and on-vehicle adjustability just like the lower links. The Adjustable Track Bar also features our dual-durometer greaseless bushing and an FK Rod End, as well as on-vehicle adjustability for perfectly aligning the Bronco's rear axle for any lift height.
This suspension system is designed to provide up to 11.5" of front suspension travel and 14" of rear suspension travel when used with 35X12.50 tires. It may be safely used with 37" and larger tires if using the optional up-travel limiters (sold separately). The factory crash bars on non-Sasquatch equipped Broncos must be removed to clear 35" and larger tires, but ICON now offers a replacement High Clearance Crash Bar set for those who would like to run larger tires and retain the functionality of the crash bars.
features & Benefits
Improved suspension performance and ride quality over stock
Up to 11.5" front / 14" rear wheel travel with 35" tire fitment
Vehicle specific tuned remote reservoir front and rear coilover shocks for superior damping and vehicle control, even under hard use
Coilovers equipped with CDC Valves for 10 settings of compression damping adjustment, from soft to hard
Adjustable coilovers yield up to 3-4" of front lift height and 2-3" of rear lift height over stock 4-door Broncos without the Sasquatch package
PTFE lined spherical bearings and application specific mounting hardware
6061 Aircraft grade aluminum CNC machined components
Corrosion resistant CAD plated coilover shock bodies with 7/8" diameter shafts
ICON engineered coil springs featuring a unique triple rate rear coil design
High strength alloy CNC machined lower bar pins
Billet aluminum UCAs for added strength, durability, and on-vehicle caster/camber adjustment for optimum drivability
UCAs feature the patented (U.S. Pat. 10,731,700) Delta Joint Pro with 90 degrees of total articulation.
Billet rear lower links improve rear end articulation and allow for on-vehicle pinion angle adjustment
Adjustable billet rear upper links improve fuel tank clearance under max articulation and help further free up suspension bind
Adjustable rear track bar helps to free up bind during rear suspension travel and articulation and offers on-vehicle rear end alignment
100% Bolt-on system - no drilling, cutting, or welding necessary for install
download installation guide
Tech Info:
OEM Wheels & Tires Fitment: No
Recommended Aftermarket Wheels: ICON Alloys - 17x8.5" w/ 4.75" Backspace / 0mm Offset
Recommended Aftermarket Wheels: ICON Alloys - 18x9" with 5" Backspace / 0mm Offset
Recommended Aftermarket Wheels: ICON Alloys - 20x9" with 5" Backspace / 0mm Offset
Recommended Aftermarket Tires: 35" x 12.50" (Recommend high clearance crash bars part number 42000, 37" tires require coilover bump stop spacers along with trimming and modifications)
APPLICATION NOTE #55: Shocks Are Fully Serviceable. Lift Heights Indicated Are For A Stock Equipped Vehicle.
APPLICATION NOTE #66: 2 Door Models Will Sit Taller Than 4 Door Models.
APPLICATION NOTE #132: When Running 37" Tires Use Up Travel Limiters Part #611075 In The Front
APPLICATION NOTE #133: When Running 37" Tires Use Up Travel Limiters Part #611074 For The Rear
APPLICATION NOTE #135: Lift Heights & App Notes Based Non-Sasquatch Equipped Vehicles
APPLICATION NOTE #138: Recommend High Clearance Crash Bars Part #42000 On Non-Sasquatch Equipped Vehicles When Running 35" Tires
APPLICATION NOTE #139: When Running 37" Tires Crash Bar Removal May Be Required But Is Not Recommended
TECH NOTE: Fitment testing done with ICON & OE steering components. Due to tight clearances to front coilovers, certain aftermarket steering components may not be compatible.
TECH NOTE: Triple rate rear coils are optimized for improved suspension performance and ride quality for a near-stock weight Bronco. Their softer initial spring rates will net lower than advertised ride heights as weight is added to the rear of the vehicle. For heavier equipped Broncos, consider part number K40007X.
TECH NOTE: Not compatible with Bronco Raptor
System Components:
48700C (QTY: 1) | 21-23 BRONCO FRONT 2.5 VS RR CDCV COILOVER KIT
48500DJ (QTY: 1) | 21-23 BRONCO BILLET UCA DJ PRO KIT
44100 (QTY: 1) | 21-23 BRONCO BILLET REAR UPPER LINK KIT
44000 (QTY: 1) | 21-23 BRONCO BILLET REAR LOWER LINK KIT
44200T (QTY: 1) | 21-23 BRONCO REAR ADJ TRACK BAR KIT
48710C (QTY: 1) | 21-23 BRONCO REAR 2.5 VS RR CDCV COILOVER KIT
Request a Quote
Don't Forget
the wheels