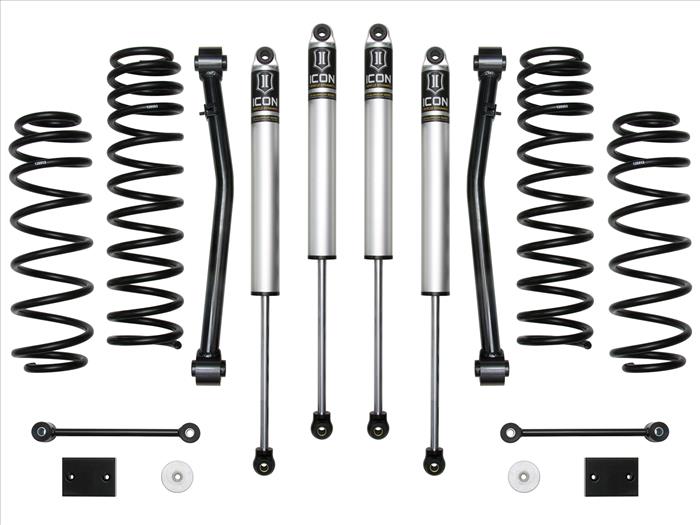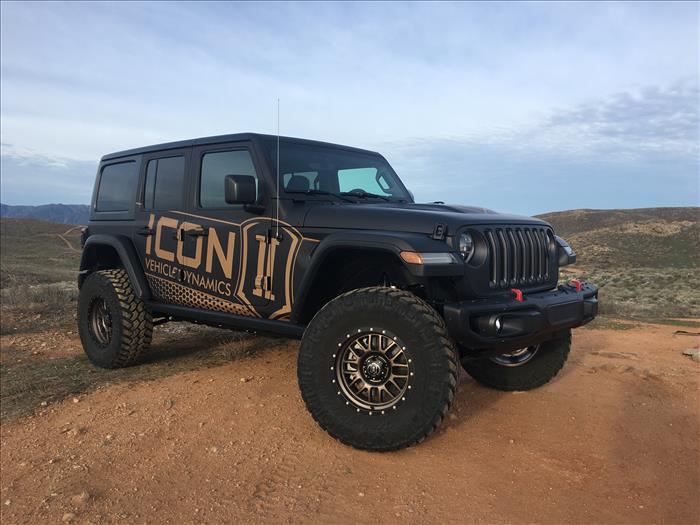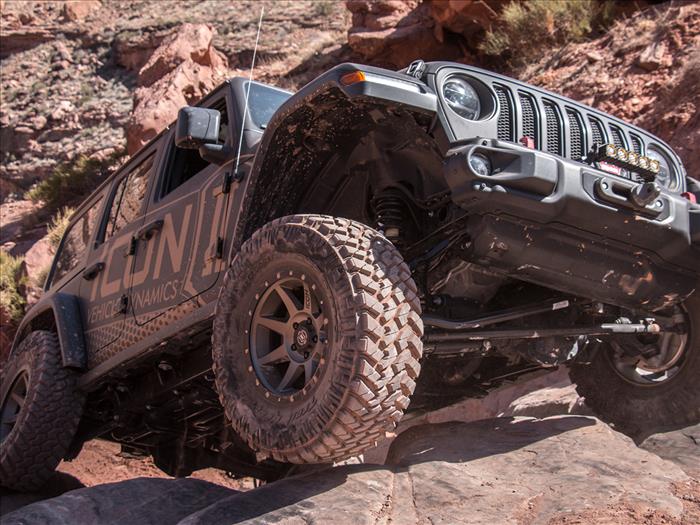 overview
Through an accelerated testing process dubbed the "ICON1K" R&D program, ICON has logged over a thousand miles in the dirt pushing the JL to off-road extremes to identify limiting factors in OE components, develop products that remove these limits, and further extrapolate performance out of this vehicle. This 2.5" suspension system has been tweaked, tuned, and revised several times over the course of this ICON1K testing in an effort to provide unparalleled ride quality and vehicle dynamics for everything from rock crawling to high-speed desert running.
The ICON Vehicle Dynamics Stage 2 2.5" Suspension System for the 2018-UP Jeep Wrangler JL is designed for the driver looking to drastically improve the performance and ride quality of their vehicle. This Stage 2 system includes 2.5" lift dual rate coil springs, Vehicle Specific 2.0 Aluminum Series shocks, tubular steel front lower links, bump stop spacers, sway bar links, and all necessary hardware to complete the installation. With this combination of components, ICON was able to increase wheel travel numbers by over 30% (3" front, 2" rear), redefining the potential of the 2018-UP JL. The front lower links included with this system are constructed from thick wall steel tubing, provide increased castor numbers, and feature dual durometer bushings for noise free operation, maximum articulation, and minimal bind. The Stage 2 system allows for fitment of 35" tires when used with ICON's recommended wheel specifications. For users looking to install 37" tires, an optional bump stop spacer kit (PN: 22029) is available.
Holistic Engineering - the ICON Difference: When developing suspension components for a new vehicle, ICON takes a different approach than many others. Rather than focusing in on one particular part, ICON engineers look at the vehicle as a whole, identify inherent strengths and weaknesses, and set a target for performance. With a focus on maximizing wheel travel and improving ride quality, ICON will develop components that address (and often times replace) OE limiting factors. This "holistic engineering" philosophy often results in the development of several parts designed to work together as a system to provide a balanced on and off-road performance upgrade. Because ICON is designing and manufacturing all of the components necessary to improve the performance of a vehicle from front to back, end-users can rest easy knowing they are dealing with ONE manufacturer, ONE standard of quality, and ONE awesome warranty to back it all up.
features & Benefits
2.5" lift height
Fits 35" tires (37" with optional bump stop spacer kit PN: 22029)
3" front, 2" rear increase in wheel travel
Improves on and off-road ride quality over stocK
Dual rate coil springs with lifetime guarantee against sagging/breakage
2.0 Aluminum Series shocks with vehicle specific valving
Tubular steel link arms with dual durometer bushings for noise free performance, maximum articulation, and minimal bind
100% bolt-on system makes for an easy install
"ICON 1K" tested under rigorous off-road conditions to validate tune, performance, strength, and durability
download installation guide
Tech Info:
OEM Wheels & Tires Fitment: Yes
Recommended Aftermarket Wheels: ICON Alloys - 17x8.5" w/ 4.5" Backspace / -6mm Offset
Recommended Aftermarket Wheels: ICON Alloys - 18x9" w/ 4.5" Backspace / -12mm Offset
Recommended Aftermarket Tires: 35" x 12.50" (37" x 12.50" with optional bump stop spacer kit PN: 22029)
APPLICATION NOTE #30: An Adjustable Track Bar May Be Needed To Realign The Axle From Left To Right, Or To Add Additional Strength
APPLICATION NOTE #66: 2 Door Models Sit Slightly Higher Than 4 Door Models But Remain Level When Installed
APPLICATION NOTE #150: Shocks Are Fully Serviceable
TECH NOTE: ICON's advertised lift heights are based around a typical Jeep JL build which usually includes added weight of accessories such as heavier front bumper/winch and heavier rear bumper/spare tire. Lift heights may be higher than advertised if installed on a stock weighted vehicle.
TECH NOTE: Not compatible with Wrangler JL 4xe or Unlimited Rubicon 392 trims. See ICON Help Center for more information.
TECH NOTE: Diesel models will net approx. 1.75" of front lift over stock due to their heavier weight.
Ships In Multiple Boxes
System Components:
22021 (QTY: 1) | 18-UP JL/20-UP JT FRONT FIXED LOWER LINK KIT
22025 (QTY: 1) | 18-UP JL/20-UP JT 2.5" FRONT DUAL RATE SPRING KIT
22026 (QTY: 1) | 18-UP JL 2.5" REAR DUAL RATE SPRING KIT
26523 (QTY: 2) | 18-UP JL/20-UP JT 2.5" FRONT 2.0 VS IR
26524 (QTY: 2) | 18-UP JL 2.5" REAR 2.0 VS IR
Request a Quote
Don't Forget
the wheels